No35 [Travel] The hidden face of Yokohama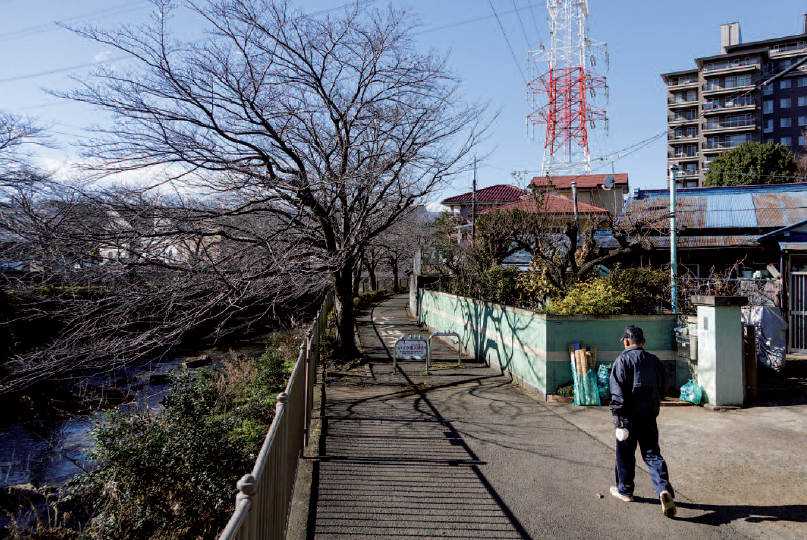 The second largest city in Japan is known for its harbour and Chinese quarter. Let's discover its hidden treasures.
Ten years ago I discovered the manga writer Taniguchi Jiro thanks to a work of his called "Aruku Hito" (Translated into French and English as "L'Homme qui Marche" and "The Walking Man"). The protagonist of this charming little book is a 30-something salaryman who enjoys strolling around his house in the suburbs in his free time. Nothing really happens in these stories, but there is always something – a little detail, a subtle sound – which manages to catch his attention. While most people hurry from one place to another, this man lets his curious gaze wander, like a suburban flaneur, until even small familiar things turn into extraordinary epiphanies.
I was recently re-reading this book when I realized that the place where I lived in Yokohama was very similar to the one depicted by Taniguchi. So I decided to follow the example of the "walking man" and explore my neighbourhood with a new attitude and my eyes and ears wide open.
The district around my railway station has recently been redeveloped. Gone are the dusty old shops, and in their place we now have a tower block, a brand new supermarket and the obligatory family restaurant. However, the area behind my house hasn't changed at all since I moved here 13 years ago. I only have to turn a corner down the street to have a wonderful view of cultivated plots and a small river that slowly winds its way toward Tokyo Bay. I love to walk along the many paddy fields and see how they change with the seasons. In early June the irrigated fields reflect the changing sky and in summer they turn into a sea of lustrous green – a shade I've never seen in Europe, that never ceases to enthral me. The harvesting season is when thousands of rice straw bundles appear overnight, like serried ranks of soldiers lined up on parade. The river runs between two high concrete walls and is home to dozens of grey carp. These are huge voracious fellows that hurriedly gather along the banks every time someone leans over the fence, hoping they are going to be fed some bread. While this river is anything but an exotic place, there are times when, if you're lucky, you can see a single stork-like bird standing perfectly still in the middle of the shallow stream. In its elegant beauty it's like a ghostly apparition.
Speaking of birds, my neighbourhood seems to be full of them. One day, I was coming home from the station, taking a shortcut through an apartment complex, when I noticed a couple of swallows zipping in and out of the arcade. I decided to follow them and, lo and behold, I found their nest under the ceiling. Apparently they come back every year and the residents have even built a wooden shelf in order to protect the nest… and passers by from the birds' droppings. After that discovery I began to pay more attention to my surroundings and I became aware of all the birds that were flying around my house every day. There are sparrows that constantly hunt for food and big scary crows that rule the street, bullying the smaller birds and scavenging in rubbish bags. For the first time ever this spring, a couple of magpies made their nest in the house of my neighbours, a family called the Tanabes, wedging their home in a narrow opening between the wall and the window. As Japanese houses stand so close to each other, it was very easy for me to observe the comings and goings of the young parents, alternately feeding their brood. The Tanabes' cat, Chibita, also spends much of his time lazily strolling around the neighbourhood, looking up at all those birds. In the afternoon she can usually be found at the nearby temple taking a nap, and probably dreaming of catching one of them. Birds are even featured on the manhole covers in the huge park near where I live. That made me think about all the different designs on Japanese manholes. One day I visited my local library to learn more about them, and I was surprised to find several books on the subject, from "Complete Book of Manholes" to "People Who Are in Love with Manholes". It seems people here take manholes very seriously, as I even found an organisation called the Japan Ground Manhole Association on the Internet. Almost 2,000 municipalities have their own original design, mainly featuring flowers and animals. Then you have geometric patterns, bright yellow fire hydrant covers and even full-colour masterpieces. Today I was lucky enough to finish my work earlier than usual. My wife met me halfway from the station and together we walked to the paddy fields where we ate the cake she had just made, while watching the tiny local train that slowly marks the time in our lives. Train-spotting and sweets: what more do you want from life?!
Jean Derome
Photo: Jérémie Souteyrat