No41 [Travel] Nara and Kyoto, food and drink (1/2)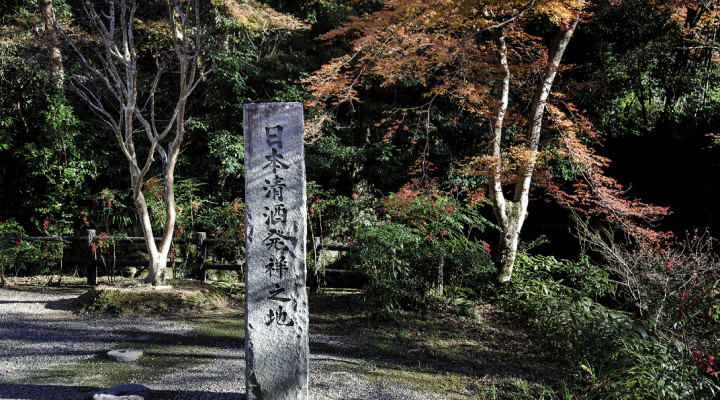 Japan's two ancient imperial cities are full of history, and have a long tradition of fine cuisine.
Kyoto and Nara are two cities that are almost obligatory destinations for visitors to Japan. Both ancient imperial capitals are full of hidden treasures, and the charms of the numerous important temples, shrines, gardens, and other historical buildings receive high praise within the pages of the guidebooks. It would be unthinkable to travel through these cities, which played such a crucial part in Japanese history, without visiting the famous Golden Pavilion and extraordinary Kiyomizu temple in Kyoto, or the Todai-ji temple and Kasuga-taisha shrine in Nara. However, on top of their architectural and historical gems, both cities have a great deal more to offer visitors with adventurous taste buds. Just as tourists go on wine tasting tours in France, you too can travel to Kyoto and Nara with the aim of discovering the wines and local cuisine. These two bastions of Japanese gastronomy display a variety of cuisine as rich as their monuments. Some of the locals are sake makers, brewing the "drink of the gods" which is served in the many restaurants you'll find there.
To begin this gastronomic and historical journey, travel to "Nara, in all its radiant beauty, with colours like flowers that blossom fragrantly" as the city is described in Manyoshu, the the first anthology of Japanese poetry, dating back to the 8th century. As the imperial capital between the years 710 and 784, Nara played an important role in the development of certain characteristic elements of Japanese culture, such as sake. You only need to visit the Sho- raku-ji temple, founded in 989, where Buddhist monks developed the first "moto", a kind of yeast and the ingredient without which fermentation cannot take place. Before entering the small monastic complex, which once occupied a vast area, the visitor will see a little monument with a simple sign indicating the very spot where sake was born. "We have access to very pure water, which contributed to its development," says Ohara Koshin, who manages the temple. This link with religion isn't surprising, as sake was initially considered a sacred drink. Its consumption was used both as a means to connect to the divine and to forge social ties. Sake once occupied a major place in rituals related to the running of of the State. Nowadays, the drink is enjoyed outside of the sacred context as well, but remains closely linked to numerous ritual ceremonies that take place throughout the year. "To help with revitalizing the city, we invested a good deal of money in research over the past few years, which has allowed us to experiment. We've been successful, and now provide our yeast to nine local brewers," says the priest, while proudly presenting us with several of the bottles they sell on site.
Though you cannot sip one of these delicious drinks while contemplating the Shoraku-ji garden for reasons of decency, you are encouraged to enjoy a bottle while communing with nature if you decide to spend a night in the remarkable Tsukihitei Inn situated just a 10-minute walk away from the Kasuga-taisha shrine and the Todai-ji temple. The inn was built in 1903 to welcome the guests of Nara prefecture's governor, and is located within a sacred area. Its serves fine foods and all three of its Japanese style rooms offer a view over the Kasugayama forest, which is registered as a World Humanity Heritage site. Alternatively, if you would rather spend the night closer to the city centre, you could opt for Mikasa, a hotel that overlooks the old imperial town with a breathtaking view of the Todai-ji. Some of its Japanese and western style rooms even offer rotenburo (outdoor baths). The cuisine at Mikasa cannot be bettered and will greatly please gourmets, particularly after a long day of walking through the city. Being able to relax in a bath before getting dressed in a yukata (a light cotton kimono) for dinner is also something Mikasa can offer, unlike most of the more classic hotels.
Among the many sites to visit in this ancestral city is the Nara-machi, or old town. These narrow streets are full of surprises, and buildings from different periods are home to all kinds of shops including a traditional pharmacy, a sweet shop, and the amazing Nara Gango-ji concrete post office situated close to the temple of the same name, all helping to create a charming atmosphere. If the sun is shining you will have great fun taking photos. To learn more about the neighbourhood's history, visit the Naramachi Nigiwai no Ie, a perfectly preserved traditional townhouse, which was built in 1917 and is open throughout the year. In addition to a beautiful garden and rooms equipped with tatami, it has a kamado (traditional stove) where you can savour rice cooked in the traditional manner, as well as take cooking classes. The Naramachi Nigiwai no Ie is not simply a museum, but also helps to promote knowledge of local culture by hosting conferences, courses, concerts and other events. Nearby is Shika no Fune, a little tourist complex including an old converted warehouse that has been turned into an art gallery, an early 20th century house where you can consult books or listen to lectures, and a restaurant: The Kamado. It is situated in a modern building, but the food is prepared in the traditional way, in front of the customers, and there is also a cafe where you can take a break in modern surroundings. For the complex designer, who works alongside the local authorities, its a new way of attracting visitors by making various activities available in the same location.
Kubo Toshihiro, the head of Kurumi no Ko, which manages Shika no Fune, is convinced that this will encourage more tourists to the city, and hopes that it will experience a new wave of success. That's why he's established a little shop in the restaurant where one can buy local products, another way of promoting the city's specialties. One of the rarest of these local delicacies is narazuke, or "Nara pickles" that are not even available at the shop. Their appearance – sometimes as black as coal – can be off-putting when compared to the tsukemono (pickled vegetables) usually served with Japanese meals. The dark colour is due to the sediment of the fermented sake used to macerate the ingredients (cucumber, white radish, aubergine etc.) instead of salt, vinegar or soy sauce. Narazuke is generally left to mature for a period of six months to a year, finally turning slightly amber coloured. Nevertheless, one of the oldest narazuke producers who is still active, Imanishi Honten, developed a longer maturation period taking three to sixteen years, which gives the produce its jet black colour.
This method helps get rid of the salt and moistness in the ingredients and ensures it will keep for two years after opening. While wandering through the shop, the visitor will discover the full diversity of products that Nara has to offer, as well as the extraordinarily high cost of some of them. Narazuke is an original gift to take home, especially as Imanishi Honten's techniques eliminate the characteristic smell of brine, making it good to eat with cheese, for example. Okuda Masaaki, head chef of the Kawanami Restaurant, does not offer such dishes on his menu however. He calls himself a "Cook of the earth" (Tsuchi no ryorinin), and promotes a cuisine consisting of home-grown organic vegetables served in pottery dishes he made himself. His little business is open from 12am to 2pm and 5pm to 9pm (a reservation is required in the evening, call 0742-35-1873). It doesn't look much, but the attention given to the cooking and the quality of the produce make it a unique place to eat. And it's also on the way to Kinetsu Shin- Omiya station, on the Kintetsu Nara line, from where it's easy to travel to Kyoto, the second stop on our gastronomic-historical adventure. To be continued in the next issue…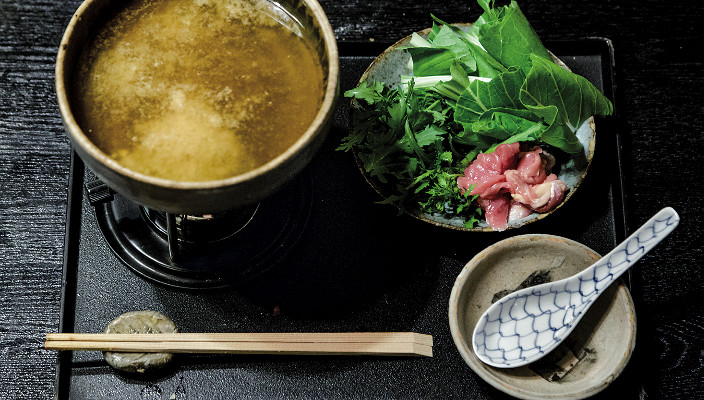 This is the simple cuisine that the "Cook of the earth" offers his clientele.
HOW TO GET THERE
From Tokyo, catch the Tokaido Shinkansen to Kyoto, then get the Kinetsu line from the same station, stopping in in Nara. From Osaka, the Kintetsu trains from Namba or Uenomachi will take you to Nara and Kyoto.
ADDRESSES
Shoraku-ji
157 Bodaisen-cho, Nara 630-8413
Tel. 0742-62-9569
Entrance fee: 400 yen.
Tsukihi-tei
158 Kasugano-cho, Nara 630-8212
Tel. 0742-26-2021
From 28,080 yen per person.
Mikasa
728-10 Kawakami-cho, Nara 630-8202
Tel. 0742-22-5471
www.naramikasa.com
Starting at 14,000 yen per person.
Imanishi Honten
31 Kami Sanjo-cho, Nara 630-8228
Tel. 0742-22-2415
Kawanami
Sawai Bldg. 101, 4-6-14 Shibatsuji-cho, Nara 630-8114
Tel. 0742-35-1873
www.nara-kawanami.jp
GABRIEL BERNARD