No.68 [EXPERIENCE] In the footsteps of the mangaka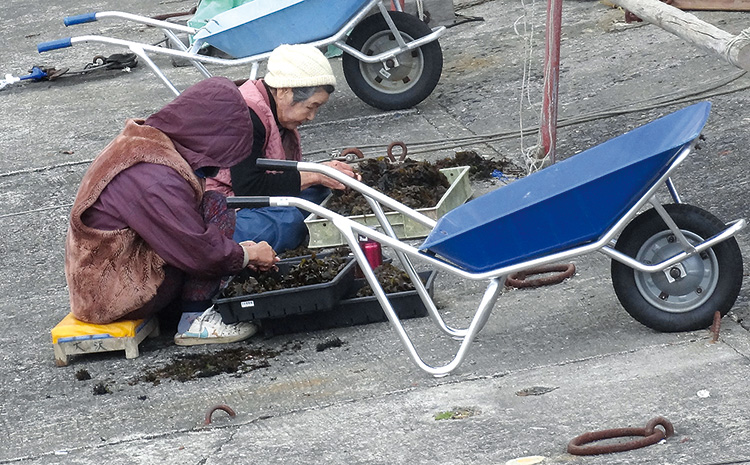 Futomi, a fishing village in decilne, is one of the places that made an impression on the author of "Neji-shiki".
As a fan of a Japan that has disappeared from the cities, Tsuge has always had a soft spot for Chiba. We went to visit it.
Chiba Prefecture is not exactly a popular travel destination. While the Boso Peninsula, which comprises a good part of the prefecture, looks inviting on a map, it's actually far less attractive than the Izu Peninsula, to the south of Yokohama, lacking its tourist facilities, beautifully rugged coastline and whitesand beaches, besides having far fewer hot springs. On the other hand, if you want to visit a piece of "real" Japan near Tokyo, far from the hordes of tourists, where people still live at a slower pace, you may want to check it out.
Tsuge Yoshiharu is a big fan of Chiba. To him, the place has all the characteristics of the ideal travel destination: it's plain, unglamorous, sparsely populated, and both its rural areas and seaside towns feel lonely and desolate. He loves this region so much that it features in a number of his works.
That's why on a cold December morning, I decided to check out the place for myself. Actually, this was my second trip to Chiba: the first, about 20 years ago, hadn't been particularly successful as my wife and I had "celebrated" New Year's Day in Onjuku, one of the peninsula's more popular spots, which in summer is full of tourists (I mean, those too lazy or poor to travel to Izu or other more appealing places), but in winter looks bleak and unforgiving despite its fake cacti and colourful Mexican-themed shops (Acapulco is a twin city, after all).
So this time, I skipped Onjuku and went instead to Ohara (today a part of Isumi City), a mere 10 kilometres north of Onjuku, where Tsuge's mother's family lived and he spent part of his childhood. At the time, his mother's brother owned a few fishing boats, while her sister was an ama (female diver). In one of his essays, Tsuge recalls the time when he visited the town with his mother, and he ate tokoroten, a jelly made with tengusa (a kind of red seaweed) his aunt had gathered.
Tsuge lived in Ohara between the ages of four and five. It was during that time that his father died while working in Tokyo as a cook. His mother had opened a shop which sold oden (a Japanese one-pot dish) in winter and ice-creams during the summer, but after her husband's death, she took her three sons to Tokyo.
For Tsuge, Ohara isn't necessarily a source of good memories: in 1944, when he was in first grade, he was evacuated to Ohara in his grandparents' care, but according to his essay, he was mistreated during his three-month stay.
The day I visited, it was supposed to be sunny, but when I got off the train at 9:00 a.m., the sky was covered in ominously black clouds. I actually took this as a good omen because many of Tsuge's comics are moody and dark, and black clouds and even heavy rains feature in "Umibe no jokei" (A View of the Seaside), a story set in Ohara.
So I rented a bicycle and headed to the sea, the strong wind making my eyes water. "Umibe no jokei" starts and ends at Ohara Beach, but the place's current location is different: after the story came out in 1967, a fishing port was built in the middle of the bay and the beach was moved further north. In summer and autumn, lots of surfers come down to Ohara and Onjuku to challenge the relatively gentle waves, but when I arrived, the place was nearly deserted. I walked on the dark wet sand, looking out to sea where angry waves constantly crashed against the rocky breakwater. I expected to find some seagulls at least, but instead the sky was patrolled by a number of black kites, slowly circling high over my head.
Next I rode my bike south, past the fishing port, to visit Cape Hachiman, the other main location in "Umibe no jokei". In the past, this spot was an infamous suicide spot. Even the young man in the story mentions an incident in which a mother had killed herself and her baby, and their bodies had been found by the local fishermen. Overall, Ohara almost felt like a ghost town, probably because I visited during the off season. More importantly, though, the old residential district facing the fishing port had been abandoned. Row upon row of houses, made of wood and corrugated iron, were falling apart, their tiny gardens overgrown with bright orange aloe. I was sure that Tsuge would have enjoyed the scenery.
Ohara's narrow winding streets reminded me of the many fishing villages dotting the Italian Riviera near my hometown. This impression was further strengthened when I reached my next destination: Futomi. Located further down the Sotobo coast, this tiny place, together with Ohara, is the most visited Tsuge-related location. It's here, in fact, that some of the most iconic scenes in "Neji-shiki" are set.
By the time I reached Futomi station, the sun was breaking through the clouds. I passed the cottage-like police station (complete with a massive palm tree) and made a beeline for the Holy Grail of Tsuge fans: the spot where in "Neji-shiki", a steam engine suddenly bursts onto the scene between two houses. The actual spot resembled Tsuge's drawing closely enough, but I was surprised to see that there was no passageway between the two houses. The spot is easily recognisable even by the more distracted visitor because a copy of Tsuge's original drawing has been attached to the wall beside the house, complete with the artist's name… which, sadly, has been misspelled. Continuing my exploration, I found a number of stone stairways leading up the small hill, upon which all the houses had been built crammed together. Walking up and down the narrow paths made me feel as if I was snooping into other people's lives, but all the grannies I met (there only seemed to be elderly women around) didn't seem to mind my intrusion as more than one greeted me and rescued me from the many cul-de-sacs.
The only man I met announced that I had reached the top of the village and I couldn't go any further up the hill. We struck up a conversation, and he was only too happy to indulge my curiosity. He told me about the hard times into which Futomi had fallen recently (a dwindling and fast aging population, the recent closure of the once-popular flower market) and regaled me with tales of his old fishing days, when he would rush to the port only to realise he had forgotten something, and had to run back home up those damned stairs.
In the meantime, the sun was setting and the chilly air coming in from the ocean had finally reached my bones. So I retraced my steps to the station, only then noticing the strange absence of cats. I had imagined that each fishing village had its own gang of local felines. Instead, during the whole day I saw many dogs, but only one cat. On the way back to Ohara, where I was to spend the night, I reflected on Tsuge's fascination with the Boso Peninsula. The region is certainly not for everybody (I don't think I would ever move there, like Tsuge tried to do more than once), and it's not so picturesque or lovely as the Mediterranean coast where I grew up, but while the local train was making its slow progress up Chiba's east coast, I felt I understood why someone could be attracted by its lonely windswept landscape, and found myself coming under its spell.
J. D.