No.69 IN THE EYE OF ERIC RECHSTEINER
Kato Shrine, Kumamoto city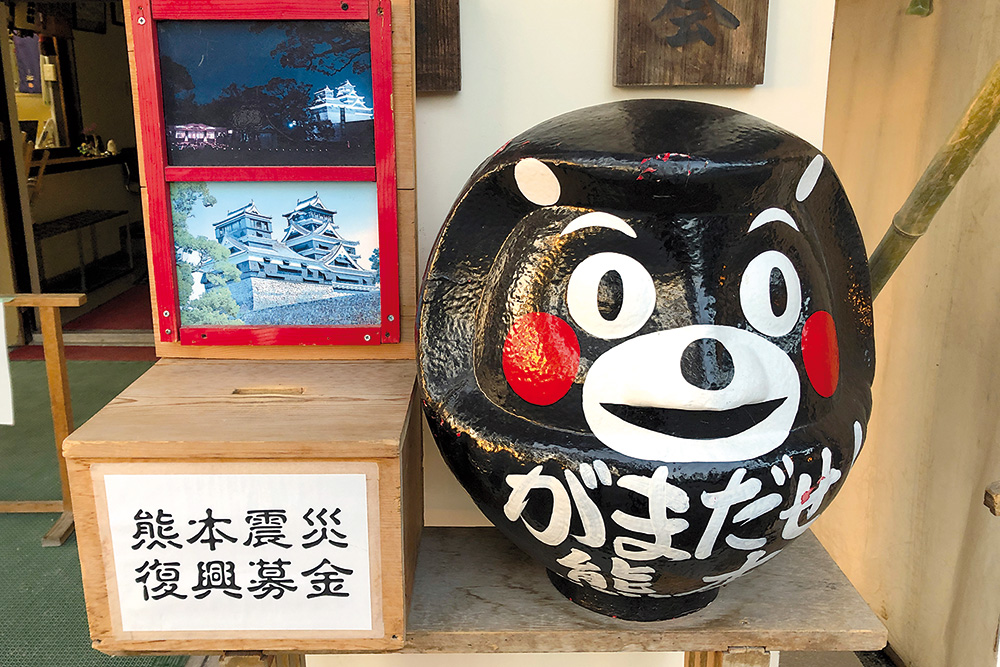 © Eric Rechsteiner
To devote an issue to Kumamoto Prefecture without mentioning Kumamon would be like talking about Paris without referring to the Eiffel Tower. Created in 2010 to promote the Kyushu Shinkansen in Kyoto, this mascot rapidly became the emblem of the Kumamoto region. It has proved very useful, not least in drawing attention to fundraising appeals following the earthquake in April 2016.
[MEMORY] High-speed marathon
Olympic fever continues apace in Japan, with two honours for Kumamoto-born Kanakuri Shiso, the "father of the marathon" in Japan who was born in the onsen town of Tamana. First is a yearlong television drama series on NHK, Idaten, which partly focusses on his life. Second is a special JR Kyushu Shinkansen in the Olympic colours which will travel between Hakata, Kumamoto and Kagoshima until May this year.
[CINEMA] Minamata with Johnny Depp
It's due to the American photographer William Eugene Smith that the world knows about the terrible effects of Minamata disease (see p.6). Titled simply Minamata and featuring Johnny Depp, director Andrew Levitas will dedicate his next film to this story of poisoning. It's an opportunity to remember this tragedy, which has left an indelible mark on the region and the lives of this small city's inhabitants.
[DITORIAL] Window
This is not the first time that Zoom has taken a look at the island of Kyushu, but this time we wanted to concentrate on Kumamoto Prefecture. It has much to offer, and many families have been encouraged to leave behind large cities to settle and build a new life there. Its rich and varied nature as well as its equally important history continue to attract our attention. This is the third issue we have devoted entirely to a single prefecture. Following on from Hiroshima of Honshu island, and Hokkaido in the extreme north, we want to broaden your horizons. Kumamoto offers us the perfect destination.
THE EDITORIAL TEAM