No61 [SERIES] Expressing oneself through rap music
Gakudan Hitori, aged 30, has found his life has been enriched by choosing to place music at its heart.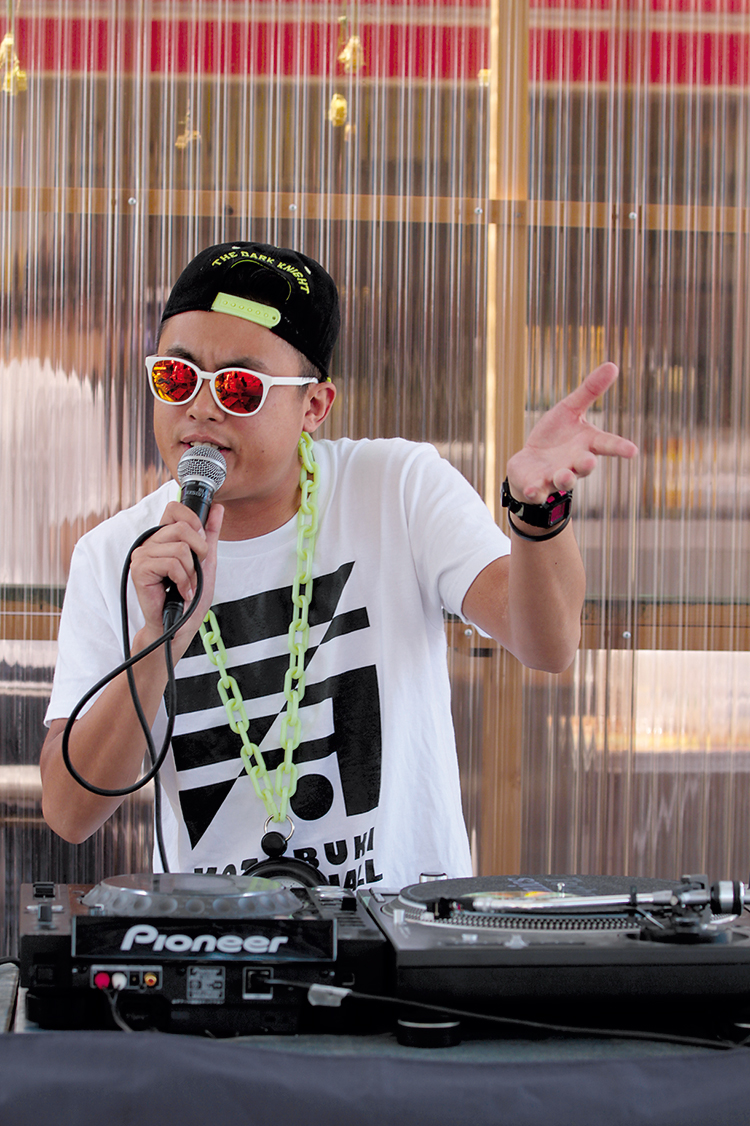 Since the age of 15, Gakudan Hitori has found that rapping has given his life meaning.
GAKUDAN Hitori was born in the city of Higashi-Matsushima, a municipality near Ishinomaki, where he's lived all his life. On leaving secondary school, he enrolled at a school of graphic design before starting work at a delivery company. At 30 years of age, he looks like any other ordinary person, but with a mike in his hand, his rap poetry sets his audiences on fire. "I never reveal my real name," he tells us, as he wants to preserve his anonymity in his home city, preferring to use a pseudonym: Gakudan Hitori, meaning Solitary Band.
His first Cd, bought in his last year at primary school, was a cheap copy of the film-score for Evangelion, made up of short pieces of classical music. After leaving primary school, he was given a Cd by Hide, the guitarist with the famous rock-group X Japan. Two years later, while watching a television programme, he discovered the group Rip Slyme, which was his first encounter with the world of rap music. "Rap allows you to say anything," he says. It was like a kick in the head.
Later, in secondary school, he enrolled in the music club in the hope of getting to do some rapping. But he was the only one wanting to do so! That didn't prevent him from writing a rap poem, which he performed to a backing of a rock version of Country Roads sung by his fellow club members. "Country Road, the way that leads to my home, one day, it's the one I must follow," he used to sing. It was then that he chose his stage name "Raiden" (Thunder), which he kept until the age of 23.
In the second year of secondary school, he released a Cd with 12 tracks, at a time when there were no other rappers on the scene. Completely hooked, and all on his own, he continued to perform rap at hip-hop concerts. In this way, little by little, his circle of friends and fans grew, allowing him to arrange numerous concerts. Once he'd left secondary school, he completed a course in graphic design, got one job, then another, and got married. during this time, rap music was his constant companion.
After his marriage at the age of 23, his circle of friends changed. "In a way, my marriage was like a complete break with my friends. But that didn't prevent me from carrying on making albums on my own," he explains. Afterwards, he released his first album as Solitary Band. Following the earthquake of 11 March 2011, he continued, via the Internet, to let people know what was happening in the devastated region around his home. He even appeared on stage at the largest hip-hop festival in Japan, B Boy Park, in Tokyo's Yoyogi Park. And he still regularly helps to organize the Kotobuki Festival in Ishinomaki. In 2013, he released another album "LOVE", and is presently working on a third.
"For me, rap music is a way of getting to know myself better. If you were to ask me what I want to do in the future, I'd simply reply: rapping," he tells us. When speaking about provincial cities, we're too ready to just dismiss them as "places with no imagination". But that's a rather conventional view. "What would I like to say to young people? — You haven't yet decided what you really want to do? It's up to you to think about it and find you own path. What the city of Ishinomaki has to offer should be enough to help you achieve everything you want to do in your own way," he concludes.
OHMI SHUN, HIRAI MICHIKO