MUSIC UK-JAPAN Bridge Together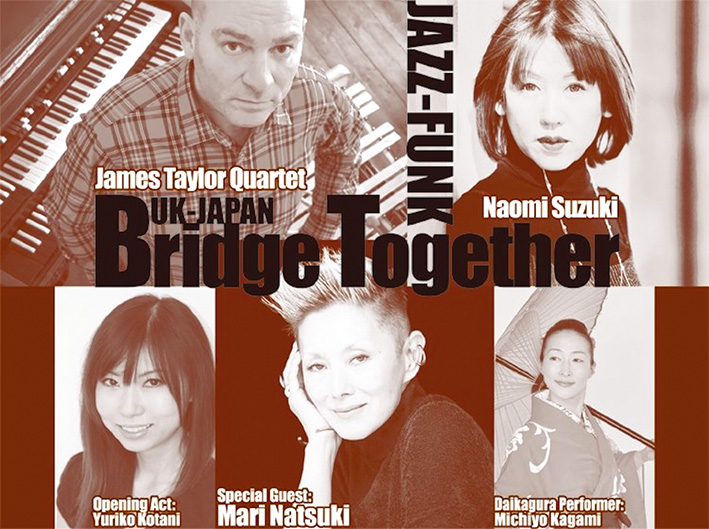 This is a special collaborative event, featuring the UK-based Japanese singer SUZUKI Naomi performing with the UK jazz-funk group the James Taylor Quartet. Bridge Together Project is an event produced by SUZUKI Naomi to celebrate the Japan-UK Year of Culture, and it aims to introduce the wide variety of Japanese culture to the world.
People from all over the world come to visit Japan, as a part of the 2020 Tokyo Olympic and Paralympic Games. Additionally, special guests will be the BBC New Comedy Award-Winning comedian, KOTANI Yuriko, and the well known Japanese actress and singer, NATSUKI Mari who has also participated in Musical theatre, including NINAGAWA Yukio's productions, and who is traveling from Japan for this special event. There will be a traditional Daikagura routine by KAGAMI Michiyo as well. Daikagura is a Japanese traditional performance that has been around since the Edo period. It was originally performed at the Shinto Shrines as a sacred performing art.
Tuesday 1 October 2019. 19:00. Admission: £30
Cadogan Hall: 5 Sloane Terrace, London SW1X 9DQ
020 7730 4500
https://cadoganhall.com/whats-on/james-taylor-quartet-naomi-suzuki/
FILM Japanese Animation Month at Barbican
Anime's Human Machines shows various aspects of humanity's response to tech-nological change interfacing the challenge of the man-machine through eight films. The films to be shown are Tetsuo, the Iron Man (TSUKAMOTO Shin'ya, 1989), Ghost in the Shell (OSHII Mamoru, 1995), Metropolis (Rintaro, 2001), Macross Plus The Movie (KAWAMORI Shoji , 1995), Summer Wars (HOSODA Mamoru, 2009), Paprika (KON Satoshi, 2006), Roujin Z (KITAKUBO Hiroyuki, 1991) and Patlabor The Movie (OSHII Mamoru, 1989).
Thursday 12 – Monday 30 September 2019 Admission: £5 ~ £12
Barbican Centre: Silk Street, London EC2Y 8DS 020 7638 4141
https://www.barbican.org.uk/whats-on/2019/series/animes-human-machines
EXHIBITION Kuroko – UK Japan Collaboration
Kuroko is a group sculpture exhibition of artists based in the UK and Japan. The theme Kuroko is an invisible character who is dressed in black from head to toe. In Kabuki theatre this role is to support the performers, handle props and assist the storytelling on stage.
Saturday 14 – Sunday 29 September 2019 Thursday – Sunday: 11:00 – 17:00,
Mon – Wed: Closed.
Venue: 223 North Street, Leeds LS7 2AA
https://indexfestival.org/listings/kuroko/
EXHIBITION Powerful Nature
An exhibition of Japanese watercolours and prints, including two of the most famous artists in Japan, KATSUSHIKA Hokusai (c.1760-1849) and UTAGAWA Hiroshige (1797-1858) from Derby Museum own collection. Also displayed are Japanese influenced objects like Derby Porcelain and a suit of Samurai armour from Lincoln University.
Friday 20 September 2019 – Sunday 26 January 2020.
Monday Closed, Tuesday-Saturday 10:00-17:00, Sunday 12:00-16:00
Admission: Free Derby Museum and Art
Gallery: The Strand, Derby DE1 1BS
01332 641901
https://www.derbymuseums.org/whats-on/power-ful-nature-inspiring-japanese-art-and-culture
info@derbymuseums.org
EVENT The Best Animation Festival in Wales
The Kotatsu Japanese Animation Festival is the best Japanese animation annual event in Wales, was created by organizer Mrs Eiko Ishii Meredith, Launched in November 2010 in Cardiff. Featuring the latest films, raffle, workshops, and shops which sell Japanese Anime related goods.
Friday 4 – Sunday 6 October 2019
Chapter: Market Road, Canton, Cardiff CF5 1QE
Saturday 19 – Sunday 20 October 2019
Aberystwyth Arts Centre, Aberystwyth University, Penglais Campus, Aberystwyth, Ceredigion SY23 3DE.
http://www.kotatsufestival.com/
EVENT Shinto theatrical dance – Kagura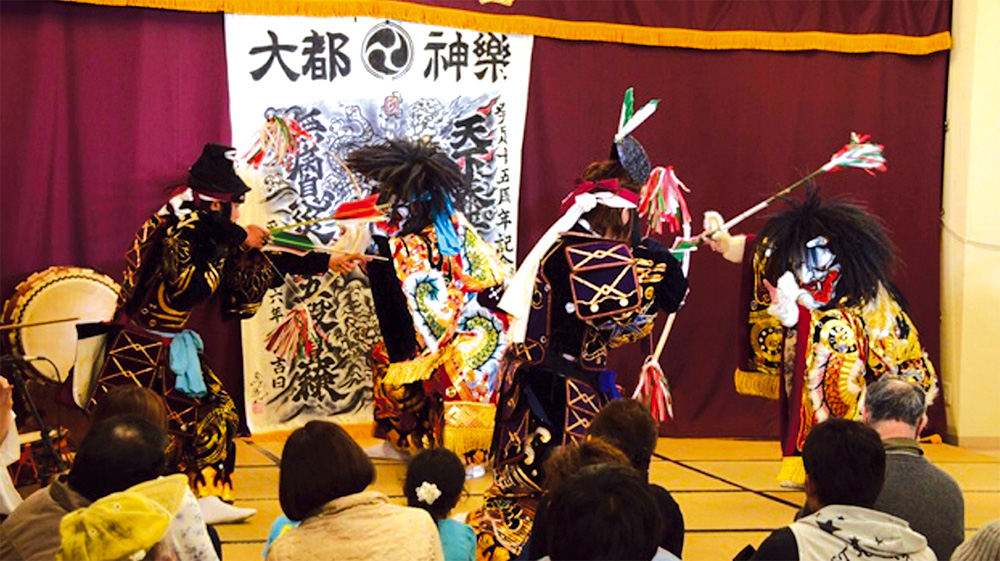 Kagura is a shinto ritual performance dedicated to the deities of japanese mythology. It is one of the five main japanese dance and music performance arts. "Iwami Kagura" is a form of kagura native to Iwami, shimane prefecture, which has about 300 years of history. It is performed annually in autumn to pray for good harvests throughout the year. This repertoire includes ritual dances and narrative plays based on myths with glorious dance, upbeat music, and flamboyant costumes as well. Before a performance in the entrance Hall, there is a lecture from Terence Lancashire of osaka ohtani University on Kagura.
Saturday 28 September 2019
Introduction 13:00 – 14:30
Performance 15:00 – 16:30
Admission: Free
Knowledge Centre, The British Library:
96 Euston Road, London NW1 2DB