No.76 [CULT] Wine at the heart of pop culture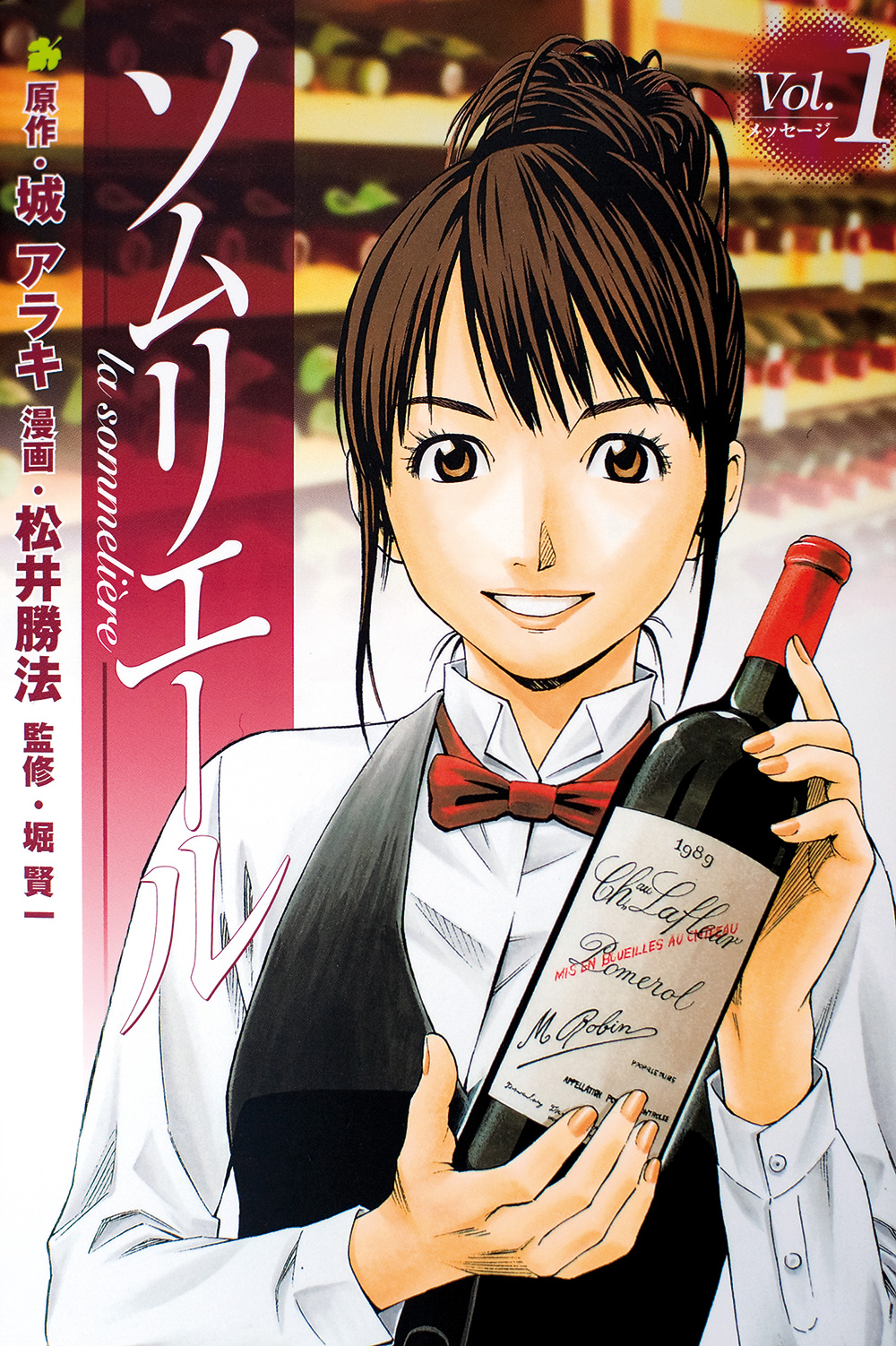 La Sommelière is the work of duo Jo Araki and Hori Kenichi, and is illustrated by MATSUI Katsunori.
The appearance of manga, novels and films about wine illustrates Japan's current interest in the subject.
Japan's love affair with wine might be a recent phenomenon, but manga, novel and film writers have wasted no time in using this new subject in their stories.
MANGA
Every conversation about wine and pop culture must start with Drops of God, the hit manga written by the brother-sister team of KIBAYASHI Shin and Yuko (who sign their stories under the AGI Tadashi pseudonym) and illustrated by OKIMOTO Shu. The protagonist, Shizuku, is the son of a famous wine critic. When his estranged father dies, he leaves behind a vast (and valuable) wine collection, but in order to acquire it, Shizuku has to recognize and describe 12 of his father's favourite wines.
The manga is gorgeously drawn and meticulous in its presentation of wine, thanks to AGI Tadashi's vast knowledge and enthusiasm. Indeed, its huge success among both comic and wine fans (3.5 million copies sold in Japan alone) is mainly due to the excitingly unorthodox ways wine is described. One of the most famous descriptions talks about "aroma like a rock concert, with notes of butterflies dancing over a pond and an aftertaste of Jesus Christ and his disciples". When Shizuku first tastes a Mont Pérat, he has visions of blurred faces, guitar-strumming musicians and raving fans. The band turns out to be Queen, and the wine's acidity is compared to Freddy Mercury's voice.
Drops of God became so influential that sales of the wine featured in the story rose 130% during the first year of publication. The mere mention of a single wine was enough to increase its sales by 20 – 30% in Japan and as much as 50% in Taiwan, China and South Korea.
The manga went on to win several awards and was even featured at the Angoulême International Comics Festival.
The 44-volume Drops of God ended with a few unresolved issues, so the authors decided to tie up all the loose ends by creating a sequel called Mariage. Introduced by the slogan "The long quest is about to reach its end", the new series sees our hero, Shizuku, completing his journey of initiation while he searches for the best pairing between wine and food. According to tradition, wine is supposed to be enjoyed with French or Italian cuisine, but the authors of this story go all out to prove that the "drink of gods" can be paired with any kind of food, and with surprising results.
When it comes to manga, cute girls are never far away. A couple of comic stories not only feature lots of them, but even have the same title Wine Girls. The first one is written by manga artist, dojinshi (indie comic) creator and self-confessed wine lover SANADA Ikki. First appearing as a web comic and later made into several volumes, it uses a gimmick that has become very popular in manga and anime: the depiction of objects such as World War II warships (Kantai Collection), animals (Kemono Friends) and other phenomena as teenage girls. In SANADA's story, the 12 main characters are anthropomorphic grape varieties, each one with her own distinctive look and personality.
In 2015, SANADA came up with the idea of introducing his favourite wine brands and production areas to manga fans, and began submitting his drawings and stories online. Each girl is based on a different grape and has a personality that somewhat replicates its main features.
Cabernet Sauvignon, for example, is a lively, cute girl with short hair, while her older sister, Merlot, is a more mature, long-haired young woman.
They get along very well. In fact, Cabernet Sauvignon and Merlot form the foundation of many of the great wines of Bordeaux where this classic blend (often dubbed "Bordeaux Blend") is thought to have originated. The two sisters appear in Sanada's first story.
Among other characters, Gamay (famous for being used to make Beaujolais nouveau) is rendered as a polite but childish girl while Pinot Noir, cultivated in Burgundy and renowned for its silky taste, is a rather haughty girl. Cabernet Franc, on the other hand, is a grape that thrives in cooler climates, and is appropriately turned into a girl who is fond of puns and bad jokes.
Not content with featuring only the usual popular names, Sanada is always on the look out for new wines. He often attends wine tastings and other related events to discover brands that are not well-known in Japan yet. So one shouldn't be surprised to find a Thai wine called Malaga Blanc has become a girl with short hair and light brown skin in the manga.
Wine Girls is in the format of a four-panel manga and features extensive notes at the end of each episode to help even beginners enjoy the fascinating but complex world of fine wine. The second Wine Girls story was created by multi-talented actor-singer MATSUYAMA Sanshiro, and takes place in Nagano, a prefecture that is famous for grapes and wine-making. According to the author's fervid imagination, there is a high school in Shiojiri City that features a wine-making course. The protagonist is a girl who has just moved from Kamakura to Shiojiri, where her mother's family lives, and is persuaded by another student to join this class. There, she meets two other girls. One is an award-winning student who has decided to give up her dream of becoming a doctor and wants to become a wine maker in order to save her family's winery from bankruptcy. The other has devoted all her time to playing tennis and dreams of becoming a professional player, but when her beloved father suddenly falls ill, and his thriving Italian restaurant is at risk of closing down, she decides to cheer him up by making a great wine with her own hands.
Under their strict but warm-hearted teacher, the three girls become fascinated with the exotic world of wine and, through trial and error, work hard to achieve their goal of making something special.
The creative team of scriptwriter JO Akira and wine expert HORI Ken'chi (content advisor) have come up with three different wine-related comic stories so far. The first one, Sommelier, is drawn by KAITANI Shinobu and features JO, a sommelier with an astounding sense of taste and smell who can judge wine like no one else. However, he rejects the world of contests and awards to travel the world in search of a mysterious wine he has only tasted once in his life, many years ago. The people he meets during his travels add warmth and a human touch to the story. Shin Sommelier Shun no Wain (New Sommelier Shun's wine) is the story of KITAMUrA Shun, an exceptional sommelier and a loner who has devoted his whole life to the art of fine wine and spends his days surrounded by it. After a chance encounter with an old friend, Shun accepts his offer to work in a new restaurant. The challenge of opening a new eatery turns into a process of growth and maturing for the somewhat aloof wine genius. This manga was later turned into a TV drama starring INAGAKI Goro, then a member of super idol group SMAP.
The usual team of JO Akira and HORI Ken'ichi has also explored the increasingly crowded world of female sommeliers in La Sommelière. This manga's main character is a girl who, after losing both her parents, enrols in a French university to study the science of distillation. After graduating, she returns to Japan and starts working at the restaurant L'Espoir as an apprentice sommelier. Her manager guides her through the learning process, but she finds it difficult to connect with her customers and is fired. Only after a number of challenges and hardships does she learn how to reach out to other people by putting her wine knowledge to good use. Like other works, this manga explains a great deal about wine culture and history and is particularly suited to beginner-level wine lovers.
The love relationship between manga and wine has even worked the other way around: in the mid-2010s, producers from the Katsunuma area (Yamanashi Prefecture) created an interesting Anime Wine collection. It included red, white and rose wines but its best selling point was the bottles themselves whose labels were illustrated with 45 different manga and anime characters, fromGegege no Kitaro, Akuma-kun and Captain Harlock to Himitsu no Akko-chan, Galaxy Express 999 and Mazinger Z. Predictably enough, the bottles sold out quickly.
LITERATURE
Compared to manga, Japanese literature and films have been slower in adopting wine as a viable subject. After all, the wine boom in Japan is pretty recent, and has to contend – even in the art field – with sake, beer and other spirits. One book where wine and food are centre stage is KONDO Fumie's novel Van sho o anata ni (Mulled wine for you) which is set at Pas Mal, a small central French restaurant with seven tables and a counter that sits five. The oddball Frenchtrained chef is as passionate about daily life's little mysteries as he is about cooking, and like a consummate detective, he has great fun solving them. Why does a costumer's frying pan always become rusty? What's the real identity of the lady who loves bouillabaisse? Why has Ms Miriam stopped making her divine mulled wine? This book combines great descriptions of dishes with first-rate light mystery.
MURAKAMI Ryu is one of Japanese literature's heavy-weights, and his Wain ippai dake no shinjitsu (Truth of a glass of wine), his 1998 short story collection, revolves around wine. Each tale features a different brand. Burgundy's La Tâche lends its complex bouquet to a story where confusion prevails. Château Margaux's aroma brings comfort to a night spent waiting in vain for sex. A Montrachet brings back childhood memories, when everything was extremely happy or very sad. And MURAKAMI adds his own trademark of sensuality.
CINEMA
When looking to make a wine-themed film, Japanese producers first searched abroad, and in 2009 remade Sideways, five years after the original American film garnered worldwide praise.
In 2014, MISHIMA Yukiko chose Hokkaido for the second time in a row to shoot her third feature film, Budou no namida (The tears of grapes). MISHIMA's characters are often passionate about their jobs (e.g. bread-baking in Shiawase no pan, dressmaking in Tsukuroi tatsu hito, books in Biblia Koshodo no jiken techo), and this film is no different. This is the story of two brothers who live in isolation, making wine and bread out of the grapes and wheat they grow themselves. Big brother Ao, in particular, is an obstinate, self-centred person who seldom smiles or even talks. One day, their almost monastic lifestyle is broken by a woman traveller who challenges their lifestyle, presents the brothers with a fresh perspective on life and happiness, and makes them understand that people, like grapes, cannot thrive in solitude.
The latest title featuring wine, Usuke Boys, came out in 2018 and won an award at the Madrid Film Festival for its acting. Based on a book by KAWAI Kaori that won the 2009 Shogakukan Nonfiction Award, this feature film tells the story of a group of wine aficionados and their relationship with wine industry legend ASAI Usuke, a wine maker who is considered to be the father of contemporary Japanese wine. The youngsters are convinced that Japanese wine will never be as good as the great European brands, but they change their mind when they taste ASAI's Kikyogahara Merlot. Their life transformed by this extraordinary encounter, they leave their jobs and start growing grapes in the hope of making great Japanese wine by implementing ASAI's methods. Look out for these works, and enjoy them with a good bottle of wine.
G.S.