No21 [Manga] Taniguchi at his best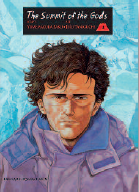 The author of A Distant Neighbourhood gives adventure a try with his new masterpiece.
In 1924 two mountaineers, Mallory and Irvine, attempt the first ascension of Mount Everest. Odell, a geologist, is part of the expedition but he isn't chosen for the difficult ascent. He is the last one to see the two mountaineers before they disappear. In 1993 Fukamachi, a photographer, is in Kathmandu after accompanying a Japanese expedition whose attempt to climb Mount Everest has failed. When nosing around in some shops, he comes across an old broken camera that will lead him to Habu Joji, a Japanese champion climber who disappeared several years previously… The Summit of the Gods is a 5 volume manga that was prepublished by Business Jump, and is based on Yumemakura Baku's novel. The novelist apparently hoped that if there were to be an adaptation of his novel as a manga, it would be by Taniguchi Jiro. The Summit of the Gods is an opportunity to discover his particular way of describing mountaineering, a topic rarely ever tackled by manga in English. It is part of a new new collection of manga launched by Kana, aiming to interest a completely new audience, lovers of action shonen. As usual, Taniguchi's drawing reveals "huge" characters, whether its their physique or their bearing, their posture or their attitude. The style is often described as solid and it perfectly suits the story in which a key role is played by the mountains themselves. Their strength is expressed in deceptively calm and contemplative scenes at times when drama and tragedy are waiting at the tip of an ice axe, when the characters need to demonstrate enough stature to make their battle for survival against the natural elements believable. The detailing is fine and precise, whether in the astonishingly expressive faces, the climbing gear and landscapes, or the mountain and its imperious beauty. The mighty peak expresses a quiet power and poetry, but all the while lacks pity, conscience or judgment, allowing no-one to cheat or lie. Taniguchi's intimate style is present in the gradual unveiling of Habu Joji's character, a force of nature that could elicit anyone's admiration for his fighting spirit and self-sacrifice, as well as his gift for climbing, if he didn't have another hateful side to his character. His flaws make him fascinating; behind the mask of a hot tempered man who behaves cruelly and doesn't spare those around him, he reveals a disarming and unconscious innocence, someone who is demanding and independent minded in a context where everything is based on trust and his ability to solve a problem. He will not concede or compromise and refuses, sometimes childishly, to give in when he has made up his mind, ready to do anything to attain his goal. He is a man who lives only for the mountains, however harsh they may be, without knowing whether he loves or hates them, fears or respects them, a man who sees his life only as a succession of challenges to be completed as quickly as possible, however difficult. However, he is far from being infallible or unbeatable; he can make tragic mistakes, which is difficult for a man who refuses to ever re-assess his decisions and who gains strength from his own self-confidence. A complex and fascinating character, revealed layer by layer, through the masterful exposition of Taniguchi.
Gabriel Bernard
Reference: SUMMIT OF THE GODS by Taniguchi Jiro & Yumemakura Baku