No.76 [DISCOVERY] The best way to drink
In her restaurant, IWAKURA Hisae shares her love of Japanese wine with her customers.
At the heart of the Asakusa district, La Maison de isshovin offers an introduction to Japanese wine production.
We are often hesitant when first introduced to a drink with which we are unfamiliar. With no guidance, we don't know where to begin and are fearful of making a mistake or being disappointed. That's not a problem, says IWAKURA Hisae, the owner of the restaurant-bar Maison du Isshovin, in Asakusa, one of Tokyo's tourist districts. She's been passionate about Japanese wines for around fifteen years, and talks about bottles of wine as she would about her beloved children.
The atmosphere in her restaurant is relaxed. The bay windows and the tables arranged around large kitchen hobs give it an air of a friendly bistro. According to how they feel and how hungry they are, clients can choose little tapas style dishes accompanied by Japanese wine, but homebrewed beer and plain sake are also available.
"In this bar, I want people to discover wine that they can drink a hundred times, and that they'll still want to drink for the hundred and first time. I also chose this cosy setting to create a feeling of intimacy between the clients, so that they're happy to ask people sitting at the next table which wine they would recommend. Here, everyone is free to choose how to spend their time. You can come just for a drink and a snack or eat in a group and order a magnum," she assures us. Moreover, the name of the restaurant, La Maison de Isshovin, is a play on the word isshobin (1.8 litre bottle) of sake or wine, referring to an issho (measure equal to 1.8 litres). Sake has long been bottled in 1.8 litre bottles, about half the size of a magnum. It appears that even in wine-producing regions such as Yamanashi, producers are using these sake bottles for wine destined for local consumption. Isshobin conjures up sharing, a friendly atmosphere and a certain intimacy. Wine is served informally in stemless glasses.
IWAKURA Hisae attaches great importance to this human connection, and tries to meet the producers from whom she buys the wine at least once. "What's really exciting is that it's often very small producers making Japanese wine, and there's almost a close connection between the people and the wine. The thoughts and ideas of each of them is present in the ambrosia they produce," she confides. She sometimes uses the word dashi, as in the Japanese soup stock, to describe the taste of wine. If wine is a product of fermentation, then it must follow that Japanese wines, produced from Japanese soil, must have something of dashi about them, or even miso (fermented soybean paste)…
But what if one is unfamiliar with the region and the grape variety? We asked her for guidance on our journey through Japanese wine, and what she would recommend to suit different occasions.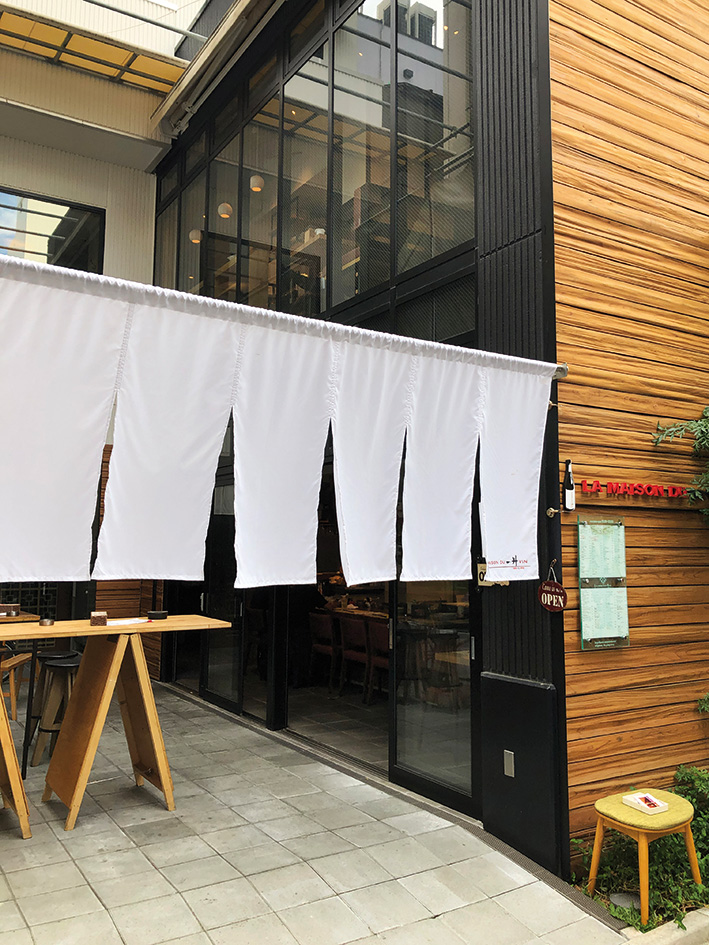 A customer from abroad has been on a short visit to Japan. it's his last night in the capital, and he flies home tomorrow. What would you advise him?
(Vintage name, year, region, grape variety, name of producer or winery)
1. Beau Paysage 2009, Yamanashi, Cabernet Franc, OKAMOTO Eishi (Beau Paysage) Charming, sensual, surprising, Asian temple fragrance. You can feel the the strength and complexity of the grape, you can't do without it once you've tasted it. Those who taste it never forget it.
2. Kido private reserve cuvée Akari 2010, Nagano, Chardonnay, KIDO Akito (Kido Winery) From a very small producer, with a pronounced finish. You're on a journey while drinking it. The thought behind the wine is very precise, well structured, you want to take time to enjoy it. We're proud of this Japanese wine.
3. Nana-tsu-mori Multi vintage, Hokkaido, Pinot Noir, SOGA Takahiko (Domaine Takahiko) Full-bodied, with a central core. You can enjoy it throughout the meal. A wine created thanks to a deep knowledge of grapes, which will energise him before he leaves to go home.
A sake lover comes into your restaurant. He's prejudiced against wine. What would you suggest to win him over?
Koshusan Budoshu, Yamanashi, Koshu, FUrIYA Tadao (Kitanoro Jozo) Made with very ripe grapes. Lots of umami, balanced, dense, served in an isshobin.
A young couple arrives. They might already be an item, maybe not, but they are obviously enjoying themselves. You want their evening to go well, and hope they'll have drawn closer before leaving your restaurant. What will you serve them?
1. Sans Soufre Blanc, (sparkling wine), Yamagata, Delaware, KISHIDAIRA Noriko (Takeda Winery) A wine produced by a woman, the first in Japan to produce a sparkling wine with Delaware, a grape variety traditionally grown in Yamagata. A pure taste, universal and reassuring, which progressively changes when the bottle is opened. relaxing, can be enjoyed by anyone at any time.
2. Koko 10 r Pinot rosé 2017, Tochigi, Pinot noir, Coco farm Created from the oldest Pinot Noir vines in Japan. Alluring, lots of umami, elegance and charm. An intoxicating fragrance. This bottle of wine will delight everyone.
Finally, can you recommend a bottle of wine we can drink on our own, at home or at a restaurant, when we're feeling a bit sad, a bit under the weather. something to give us strength and comfort?
Kurisawa Blanc, Hokkaido, a blend of different grapes (an average of ten varieties), NAKAZAWA Kazuyuki et Yukiko (Nakazawa Vineyard) They were the precursors of this method. The breadth of a Gewürztraminer, but not so sweet. Light profile. This wine will gently put an end to your fatigue and give you courage to face life again.
Now it's up to you to take the plunge and discover the world of Japanese wine.
SEKIGUCHI RYOKO
PRACTICAl INFORMATION
1-9-5, Asakusa, Tokyo (7 minutes from Asakusa station).
open every day from 15:00 to 23:00. Tel. 03-6231-5103.
snacks from 300 yen (just over £2), wine from 600 yen (£4.30) a glass, 3,000 yen (£21.50) a bottle, and from 4,500 yen (£32) for wine in an Isshobin.