[SUCCESS] Cooking Papa is a Master chef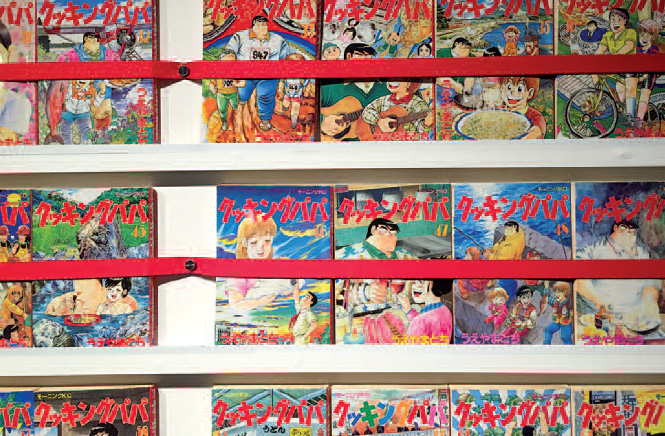 Over the past 32 years, Ueyama Tochi's manga has inspired millions of men to take up cooking.
For at least forty years, manga have been offering good advice about everything to do with cookery. Moreover, the "culinary manga" is a genre all of its own, much appreciated by readers of all kinds: adolescents to adults, men and women alike. Whether it's to illustrate how sharing meals round a table bonds family and friends; or for a non-violent "combat series" (e.g. "MasterChef"); or even for teaching purposes to depict what working in the catering trade really entails (there are already series about baristas, wine waiters, pastry chefs, sake brewers, master soba noodle makers, even a Michelin guide inspector), all these stories have grown in popularity,and nearly every magazine has at least one series devoted to the subject nowadays.
Cooking Papa by Ueyama Tochi is one of the best known. It's been running for 32 years, one of the longest ever, and 143 volumes of the series have been published to date with sales of over 37 million copies. Published in Morning, a weekly magazine for young adults, it can claim to be known nationwide; even those who haven't read it will have inevitably heard people talking about it, as it has been adapted as a cartoon film and a television series. It's a true phenomenon, which has largely broken away from the confines of manga. It's a story about 40-year-old Araiwa Kazumi, a company employee, father of two children, who likes to cook and shares his enthusiasm with those around him.
His life is enlivened by affectionate moments with his family, often while sharing convivial meals together. There are no upsetting dramas, the manga just evokes the daily life of an ordinary person, and it's become very popular with its numerous readers. Male or female, young or old, all can identify with one of the characters in the story. Though it's modelled on an average family, even career women can enjoy reading the manga, as Kazumi's wife, Nijiko, is a journalist on a daily newspaper, and it's her husband who does the cooking!
It's notable that Cooking Papa's family lives in Hakata, in the north of the island of Kyushu. Hakata is very accepting of foreign cuisine due to its proximity to other Asian countries, so family-friendly dishes originating from abroad appear in the series. The regional character of the series is revealed in the local dialect of its protagonists as well as some of the ingredients, whereas Oishinbo ("The Gourmet", not published in English), another national series, features the sophisticated cuisine of Tokyo and food from all around Japan. Thanks to where they've been set, both the regional travels of Oishinbo and the Araiwa's family life have allowed the majority of Japanese, wherever they may live, to identify with the series.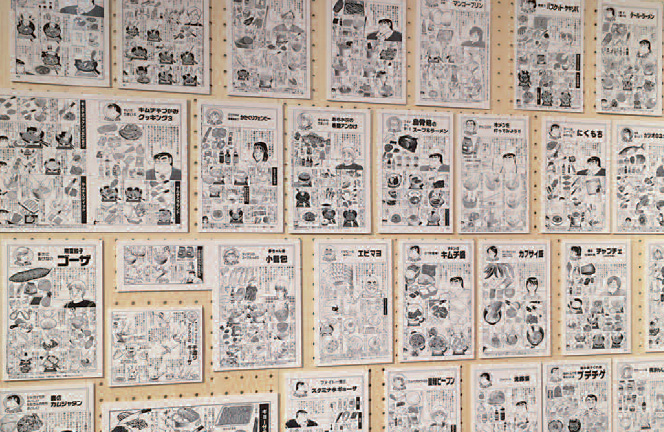 Though manga general rely on spin-offs such as television or film adaptions for success, the "culinary manga" has other attractions to offer: cookery books and food products bearing the name of the series. That's what happened in 2014, when, in order to celebrate the publication of the 130th volume of "Cooking Papa", a packet of instant curry with the same name was marketed both in supermarkets and in bookshops. Filled rolls were also sold for a time. In parallel with the series, a collection of cookery books was published with titles such as "Great Classic Recipes for Men by Cooking Papa" and "Signature Recipes from Cooking Papa". They were sometimes based on seasonal cooking: "366 Days with Cooking Papa", sometimes according to ingredients: "Favourite Meat Recipes from Cooking Papa"… the list is endless. The author himself launched a dish: onigirazu, based on onigiri, balls of rice, but a "simpler" version. Easier to make, more colourful and appealing to children, this dish has been a firm favourite with young mothers for some time. But it originated as a recipe in Cooking Papa a quarter of a century ago! The series also reflects a changing society. When it began, the person who started to cook to help out his newly-widowed mother concealed his passion for cooking. It was at a time when Japanese men rarely ever ventured into the kitchen. It was only with the appearance of the 50th volume, in the mid 1990s, that he "came out" to his colleagues and revealed his taste for cooking. Since then, the importance of cooking, even for men, has come to the fore. Other men have begun to learn about cooking, just like the hero's son, who's reputed to be as good a cook as his father. "Afterwards, I was able to introduce many more happy scenarios. It's allowed me to describe food prepared together, among friends and family," declares the author. To date, more than 1,500 dishes have appeared in the series, and it's this change in the narrative to include others who are starting to cook, whether they're good at it or not, but who take pleasure in preparing a meal, which has enhanced the manga and no doubt contributed to its longevity.
Nowadays, there's even an expression: Ryouri danshi (boys who cook), which could be a necessary skill if they want to attract girls. Recipe books aimed at men like "Easy Cuisine for over-60s" or "Dad's Dishes" are no longer a rarity. It seems to me that the reality lags behind this trend somewhat, but one thing is certain: at least the image of men who cook has changed drastically, and Cooking Papa has quietly given Japanese men permission to cook food with those they love.
SEKIGUCHI RYOKO