No.78 [ENTHUSIASM] A good knock-on effect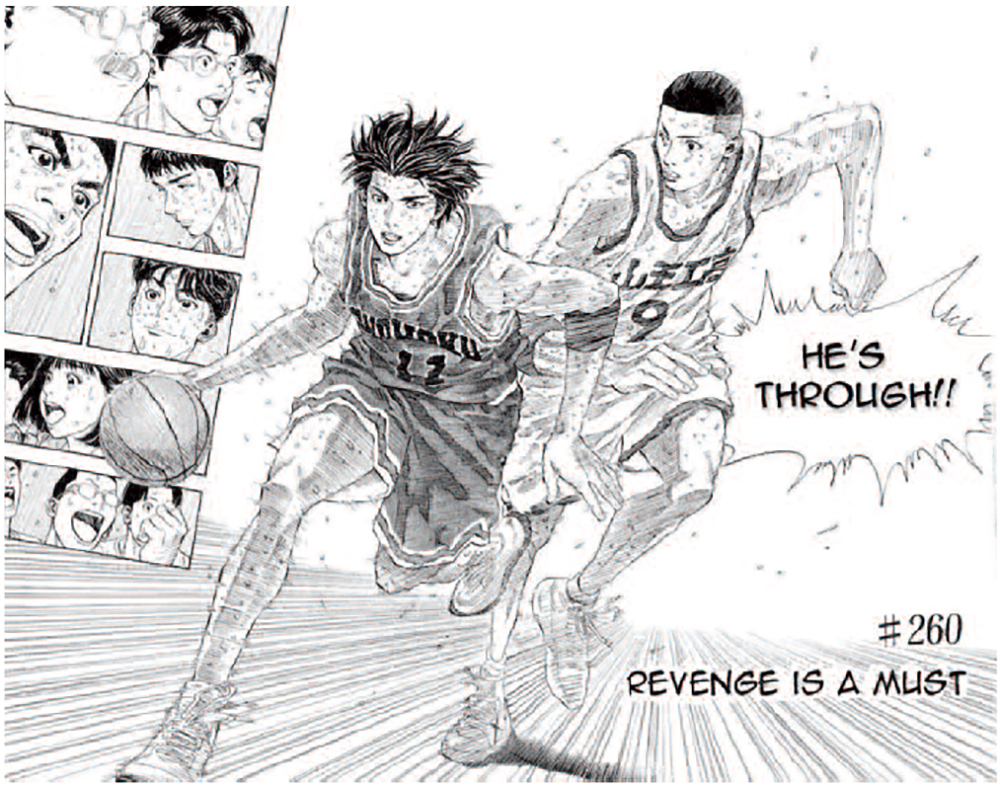 Slam Dunk by INOUE Takehiko helped to promote basketball in Japan.
Already avid readers of manga about sport, the Japanese are just as keen to put on their sporting gear.
in my former student days, I was crazy about football. I watched it on TV and played it almost every day with my friends in the playground after school. We even had our own team and used to challenge the kids from other neighbourhoods in what often looked more like field battles than football games.
School sports, on the other hand, held far less appeal for us. We saw Pe as a weekly chore we had to endure, and our teachers' supremely bored attitude didn't help. They would make us run endless laps inside the gym and do other mindless physical exercises that had nothing to do with our idea of having fun. Taking part in sports events was completely optional and most of us tried to avoid them like the plague.
So you can imagine my surprise when I moved to Japan and saw how important sport was in many kids' daily lives and even the school curriculum. It starts with simple activities in kindergarten then, in elementary and junior high school, comes the all-important annual undokai (sports day).
Another traditional rite of passage for many junior and senior high school students is joining bukatsu. This term is short for kurabu katsudo and covers all kinds of club or extracurricular activities, from foreign languages to science and the arts, but for many Japanese students bukatsu is synonymous with sports. Indeed, according to data from the ministry of education, Science, Sports and Culture, 85% of junior high students in Japan are likely to be part of a sports club, while in high school the number goes down a little to 70-75%. Put simply, Japanese education, being based on strong group identity and loyalty, encourages students to join a sports team or circle. So it's no wonder that many Japanese sport manga and anime are set in either junior or senior high schools: Kuroko's Basketball and Slam Dunk (basketball), Kyaputen Tsubasa, Daisu [Days] and Inazuma Irebun [Inazuma eleven] (football), Prince of Tennis (Tenisu no Ojisama, ed. Viz media) and Esu o Nerae! (tennis) are just a few famous examples.
The relationship between sports manga and school is even more important when one considers that many students actually decide to either take up or follow a sport after reading a particularly engaging comic story. According to a survey conducted in April 2016 by meiji yasuda Life Insurance Company of 1,600 readers between the ages of 10 and 70, 25% of the Japanese people who are into sports were influenced by manga. Teenagers and people in their 20s and 30s are particularly affected in this respect.
More precisely, 7.7% of them start practising a sport, while 17.6% become sports fans. The survey goes on to detail further the influence of manga on sports practice: football manga seem to have the greatest impact on young readers as 22.6% of them say they took up the sport after reading a comic book. Basketball manga account for 11.2% and tennis for 10.7%, while baseball is well behind with only 4.8%. Interestingly, though baseball is by far the country's most popular sport, the many comics devoted to it don't seem to play a major role in recruiting either players or fans.
Tokyo's prestigious Waseda University has devoted a lot of research to the influence of famous sports manga on sporting practice. In "On the Correlation between Increasing Sport Population and Popular Sport manga", for example, Professors HARADA Munehiko and SOGAWA Tsuneo (Faculty of Sport Sciences) both researched the literature on the subject and interviewed four people in charge of each of Japan's main sports associations, and examined the influence of manga on each sport by studying both hard data and popular opinions on sport manga.
"We found a clear correlation between manga readership and changes in the sport population of each sport", HARADA and SOGAWA say. "especially relevant was the influence of Hikaru no Go [Hikaru's Go]. This comic became a series in 1999, and was immediately recognised as a hit manga. One year later, it was already clear that the Go-playing population was growing rapidly. However, after the series ended (in 2003), the number of players fell accordingly. These data show how influential manga is (on sports practice)."
Hikaru no Go has sold more than 25 million copies, dramatically increasing the popularity of Go both in Japan and abroad, particularly among young children. On the other hand, HARADA and SOGAWA point out the fact that a number of factors – more than manga alone – contribute to an increase in the sport population. In the case of Hikaru no Go, for instance, Go's popularity among boys was also helped by two anime series where Go professional UMEZAWA Yukari (Japan's "best-looking Go player") had a one-minute special at the end of each episode instructing children on how to play Go.
Some people may baulk at the idea that Go is considered a sport. It is, after all, a strategy board game. But in Japan the divide between sports and games is often fuzzier than in the West. Also, most people probably don't equate video games with sports, but e-sports will actually be a medal event at the 2022 Asian Games (a traditional sporting event) and there is even talk of including them in the Olympics sometime in the future. UMEZAWA's presence as a technical advisor for the anime version of Hikaru no Go may have helped attract more people to the sport, but according to HARADA and SOGAWA's research, it is difficult to make use effectively of manga to popopularise a sport due to the uncertainty of not knowing which manga will become a hit. In other words, there certainly exists a link between famous comic titles and sport popularity, but this phenomenon is very difficult to predict.
The above-mentioned study was corroborated by research conducted by Waseda Professors MANO yoshiyuki and mIyAUCHITakanori. Titled The Effect of Sport Manga on Children, their essay points out that thanks to Slam Dunk's enormous success, almost 900,000 youngsters took up basketball in Japan between 1990 and 1995. The authors also cite an NTT COM Research survey according to which 80% of elementary schoolchildren interviewed liked sport and practised it at least 2-3 times a week, while only 20% of them said they didn't like it and only practiced it a few times a month.
An important generational divide (fathers vs. children) was noted regarding manga's influence on sports practice: "most respondents belonging to the older generation admitted that reading manga (especially baseball stories) was a decisive factor in taking up a sport," MANO and MIYAUCHI say. "However, their children said that their choices were strongly affected by their close circle of friends and other media such as television. They also showed an interest in minor sports (e.g. bicycle racing, handball, etc.) that was absent in their parents. Finally, both generations agreed that manga's influence was strongest at a younger age (elementary and junior high school) but decreased sharply in their senior high school and college years."
GIANNI SIMONE