No.97 [SEASON] Kakigori: Keeping cool!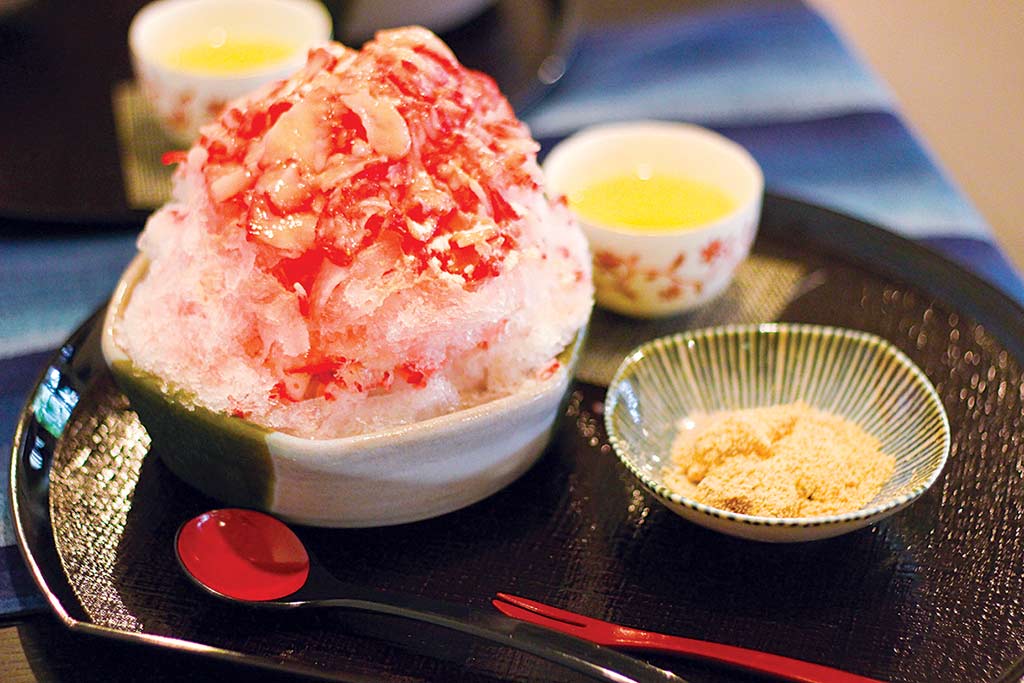 A summer speciality, this bowl of shaved ice with a variety of toppings is always welcomed.
Kakigori (shaved ice), an indispensable part of summer in Japan, has also been popular in other countries for several years now. This trend has spawned variations everywhere it has been introduced, like in Taiwan or Korea. Today, it can be found even in restaurants such as Shibuya in London, or Toraya, Tomo etc. in Paris.
Meanwhile, in Japan, it continues to evolve in its own way. According to figures from Line Research, it is adolescents who are the most ardent fans of this age-old dessert (Sei Shonagon wrote about it in her Makura no Soshi [Pillow Book] a millennia ago). But, while adults prefer traditional flavours like ujikintoki (matcha syrup and red beans) or azuki rennyu (red beans and condensed milk), youngsters are tempted by new flavours, such as mango, green apple or even banana, which have all recently made an appearance.
So, what are the latest trends in Japan? One thing is certain, though originally a summer speciality, it is now a dessert that is available all year round. And though it was once a simple sweet made at home or bought at the beach for next to nothing, today it is commercial outlets that supply evermore sophisticated versions. It is no longer unusual to find organic kakigori with homemade syrup made with real fruit, or even kakigori made with tennen (natural ice), which is produced during the winter in tanks or natural lakes.
They are then kept in a himuro (ice chamber) and the resulting kakigori are characterised by the purity of their taste and their transparency. At the start of the 20th century there were around a hundred ice chambers in Japan, but only six remain today.
In upmarket hotels, "luxury" kakigori proliferate. This year's star is one that is mounted on a melon cut in two. Those who are aware of the cost of fruit in Japan can easily guess that it includes a high price to pay for this sweet treat consisting mainly of water, from £23 up to £50! But that does not mean to say the Japanese have given up making kakigori at home.
Kitchen gadgets to make shaved ice cream are still sold and easily obtainable. There is a wide range to choose from a wide range to choose from: manual or electric, to create a variety of textures, easy to use (for children or professionals), at prices to suit anyone (from £20 to £260).
Among the most original kinds of kakigori are those made in the Mont Blanc style with either chestnut cream or Japanese black tea syrup, coconut milk panna cotta, or almond milk and amaretto. In 2018, Pierre Hermé had already created a rose and lychee flavoured "Kakigori Isphahan". Anything is possible with kakigori. There is no doubt that its simplicity and the fun to be had with the possibility of infinite variations is the secret of its success. At a time when heatwaves are evermore common, there is every chance that kakigori will become a permanent summer staple.
Sekiguchi Ryoko