No34 [Exhibition] Manga at the British museum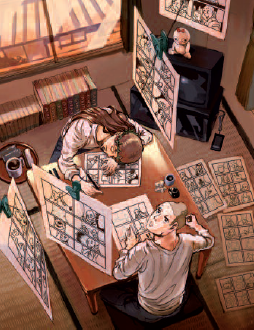 The museum is welcoming three of the finest mangaka. An opportunity to highlight the importance of this form of expression.
From a European perspective, Japanese culture has for a long time been seen as the reflection of an ancient, sophisticated and spiritual tradition. This might explain in part why manga is often not well perceived by some who have that perspective. Lovers of the Japan of yesteryear considered manga to be a blot on the beautiful landscape of their dreams. However, manga is deeply rooted in the culture, aesthetics and value system of Japan, reflecting both its soul and history in the same way as Zen gardens and tea ceremonies. So it should not come as a surprise to anyone when the very serious-minded British Museum decides to dedicate an exhibition of manga to mark 10 years of support from Asahi Shimbun, the Japanese daily newspaper which has maintained a special relationship with them. To celebrate this fruitful collaboration, it has been decided to focus on showcasing the work of three mangaka: Chiba Tetsuya, Hoshino Yukinobu and Nakamura Hikaru. As indicated by the title of the exhibition, three generations of artists are to be highlighted who have all contributed in their own way to making manga an art form of its own, ensuring it became a daily fixture in the lives of millions of people, firstly in Japan, then across the world. The first is the author of Ashita no Jo, a masterpiece from the end of the 1960s, which touched a whole generation of Japanese who would wait expectantly every week for a new episode in the story of a young boxer from a poor background. Hoshino Yukinobu is no stranger to the British Museum, having himself produced 'Manga: Professor Munakata's British Museum Adventure' in 2009. This lover of science fiction has produced a new work, featuring an original character called Rainman, just for this exhibition. The youngest of these three artists is Nakamura Hikaru. Born in 1984, she has built a solid reputation with her series Saint Oniisan, which recounts the adventures of Buddha and Jesus as they share a small apartment in the suburbs of Tokyo. Translated into several languages, with the notable exception of English, this series demontrates how manga is now recognized as a major art form. The many activities organized as part of this exhibition will confirm this, especially the conference on the 5th of November called Manga Now, Ukyo-e then by Tim Clark (1.15pm, Room 3). Not to be missed!
Gabriel Bernard
Photo: Nakamura Hikaru, Cover artwork for Saint Oniisan
vol.10, 2014.