No33 [Restaurant] Ramen, a very tasty bite at Muga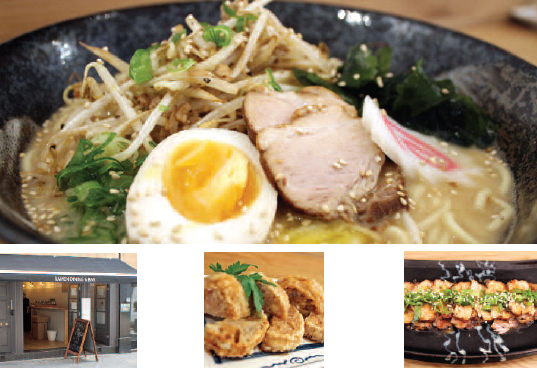 Ramen, ramen, ramen, ramen, ramen. Five choices of soup make for a tasty trip to Muga.
The latest arrival on the growing London nooble bar scene is Muga. Situated in Panton Street, right by the Comedy Theatre and just off the Haymarket it is very well placed to cater for business-lunchers, tourists and theatregoers all of whom are often in quest of a quick bite. And a very tasty bite they will find. Muga's full title is Muga Ramen Dining and Bar and its specialty is Ramen. So what's different about what Muga offers diners? Chef Osamu Mizuno explains:
"Most ramen places just offer a soup based on tonkotsu – traditional pork bone broth. We offer five different soup options. We believe our customers will enjoy the unique flavour of each of the choices on the menu. They are all quite different and prepared here every day."
Customers can also order thick or thin ramen according to their taste but just ramen – no soba or udon are on offer here. So the soup's the thing and I sampled three of them and can attest to the subtle differences in each. All start with the chef's own dashi, that elusive ingredient that all Japanese chefs strive to perfect during their careers.
Shio is seafood based with some salt added. It is served here with prawn oil which gives it a nice lift. It's simple and easy on the palette.
Tonkotsu is the most common ramen soup and is made from pork and chicken bone stock. The chef serves it with mayu – garlic oil – which gives the dish a real lift. The Miso ramen soup contains three different kinds of miso in a smooth, thicker soup. The addition of 7 chilli grains gives it a real chilli hit. The other two which I didn't sample are Shoyu based on soy sauce and Yasai with stock derived from vegetables.
So with this ramen choice who would need to look further? Well the Muga menu is very tempting with many traditional appetizers like edamame, takoyaki and agedashi tofu but I was drawn to the chicken-stuffed lotus root Renkon Hasami-age which was delicious and the batter on the gyoza was light and the chicken filling very tasty. The Aburi Charshu Pork was outstanding with a surprising – and delightful – kick in the taste buds from the ginger added to the pork belly slices. Diners eat at counters which line the walls and surround the open kitchen where it;s joy to watch the chefs at work. More formal tables and chairs for those who want to linger are provided downstairs where there is also a well-stocked bar – well the name is Ramen Dining and Bar, There's an informative sake menu, some innovative cocktails and Muga could become an upmarket izakaya for those on their way home from work or evening entertainment.
Mike Raggett
Photo: Mike Raggett
Reference
Muga Ramen Dining and Bar
http://www.muga-ramenbar.com/