No38 [Review] Genmai Hojicha the japanese tea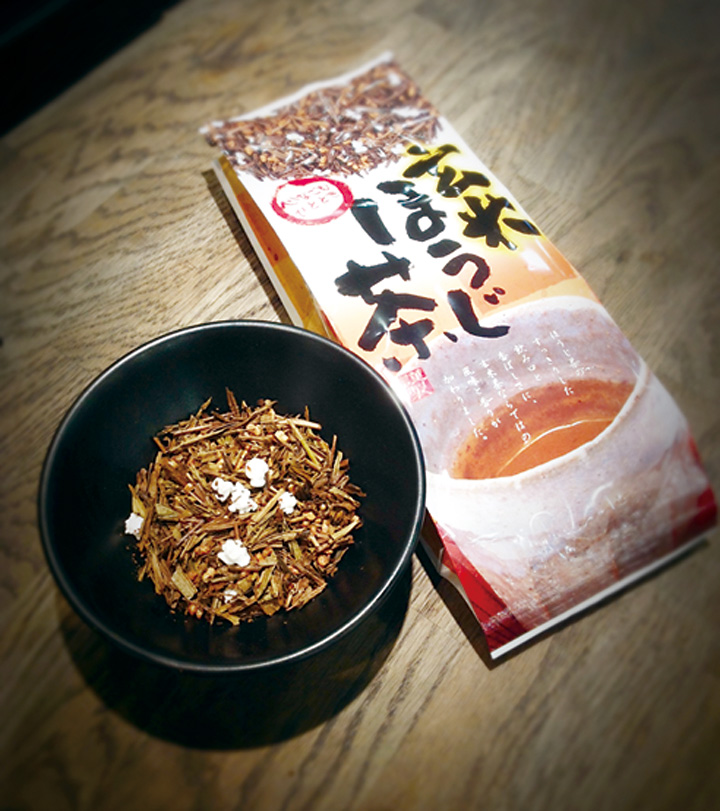 * We would like to apologize for the type mistake in the printed version. The correct spelling is "hojicha" not "hoijicha"
Genmai Hojicha (Roasted green tea made with brown rice)
In the cold of winter it is a wonderful feeling to enjoy that welcome relief from a warm and delicious cup of tea.
In Japan's Kamakura period (1185 to 1333), tea leaves soon became renowned for making a healthy drink after the monk Aisai, founder of the Rinzai sect of Buddhism, brought them back from Song China. Choosing a high quality tea made in a safe producing region is an important step for maintaining our health. Tea has many positive effects on the body, and these vary between different varieties, but the most basic benefits it offers are being high in polyphenols and the natural antioxidant catechin that can help to prevent cancer, and even aid in a healthy complexion.  This month I would like to introduce a unique kind of organic roasted green tea made with brown rice, known in Japanese as "genmai hojicha", that is made with a method based on using the stalks of the tea plant. Ususally, hojicha (containing only course tea from the second tea crop of the year) and genmaicha  (green tea made with brown rice) are treated as distinct varieties, but they both contain caffeine. However, in order to cut the caffeine from this special genmai hojicha blend, 31st generation master tea grower Shinbara Koutaro from Kagoshima prefecture in southern Kyushu's famous tea growing region of Chiran, has replaced the course tea component with tea stalks and combined it with brown rice based genmaicha to create a new and unique recipe.  As it contains no caffeine, this tea is perfect to drink before bed and can even be enjoyed by those with caffeine allergies, pregnant women or young children.  KAGOSHIMA-CHIRAN PROVINCE
Genmai + Kuki Hojicha Shinbara Special Mix loose tea, 150g packet.
(Roasted Chiran Green Tea Stems (kuki) with Organic Roasted Brown Rice)
* An everyday drink for after meals or before sleep.
* Has an extremely low caffeine content (0.000001mg)  due to the use of tea stems that naturally contain no caffeine.
* Is ideal as a night-time tea and for children.
* Coats the stomach walls to aids digestion, soak up cholesterol and help detoxify your system. * Brown rice naturally contains gamma-oryzanol which aids liver function.
* To brew, simply put 1 level tablespoon into a teapot and add approximately 1000mls of boiling water.
Eiko Staines
Ceo/Owner of es Food Trading,
Qualified tea master in the Omote-sen-ke & Ura-sen-ke traditions. produces the highest quality range of matcha and other teas selling at Minamoto Kitchoan, Partridges and Selfridges.
www.esfoodtrading.co.uk