No40 [Encounter] The man who sees only white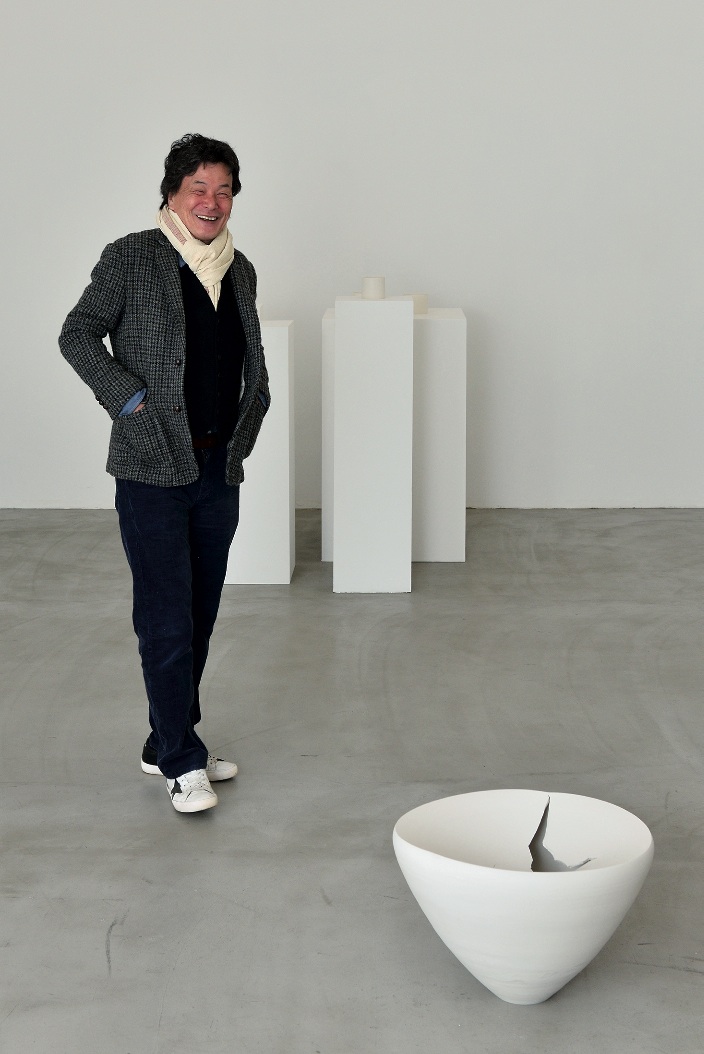 The celebrated potter Kuroda Taizo has travelled far in his search for simplicity.
Todai moto kurashi (lit. it's dark at the base of the lighthouse, i.e. you don't see what's under your nose) is a popular Japanese proverb which seems to fit many local artists, and Kuroda Taizo is no exception. The life curve of this well-respected ceramicist, now 69, has followed that of many other Japanese who left their country in search of fortune and inspiration before heading back home and reaping the fruits of their life-long quest for self-expression. After spending his formative years abroad, the pottery master returned to Japan and established himself as one of the best potters in the world. In the process he developed a style that, ironically, shows little influence from either Western modernism or traditional Japanese ceramics, as his work is actually closer to Joseon white porcelain from Korea (one of his favourite styles). It possesses a character that departs radically from the cold, technically perfect porcelain associated with Japan's famous pottery centres such as Arita, Kakiemon and Nabeshima.
I heard your love affair with pottery was born almost by chance.
Kuroda Taizo: That's right. Nobody in my family was a potter, and everything started with a chance encounter in a very unlikely place; a restaurant in Paris. In high school I was attracted to the west through all the movies I was watching, and going to France in particular had been a dream of mine. In 1966, the Japanese government finally allowed ordinary citizens to travel freely abroad, and I decided to take advantage of the new law. Plane tickets at the time were extraordinarily expensive – equivalent today to 3 million yen – and my mother was very worried, but for me it was a great adventure. I was 20 and penniless, and I had to find a job, so it was while waiting on tables at a restaurant that I met famous ceramicist and future Living National Treasure, Shimaoka Tatsuzo.
Shimaoka was one of the foremost representatives of the so-called mingei folk art movement, wasn't he?
K. T.: Yes, mingei means "the hand-crafted art of ordinary people", and these artists were attracted to the simple beauty of utilitarian objects made by common craftsmen.
So did you become his apprentice?
K. T.: Sort of, but not immediately. At the time, as I said, I had no real interest in pottery. However, Shimaoka-sensei introduced me to Canadian potter Gaetan Beaudin, now recognized as the father of the modern Quebec ceramic movement. That was when I began to take a real interest in ceramics. About a year later, in fact, I visited Beaudin in Canada, and for the first time in my life I actually touched a potter's wheel. Somehow I felt that working at a wheel would become my lifetime's work. That's why I decided to stay in Quebec and learn the art under Beaudin. All in all I spent 15 years abroad, 13 of them in Canada, mainly working as a designer for SIAL, Beaudin's company that produced functional dinnerware. During the same period I also returned to Japan twice, to study the Mashiko style under Shimaoka.
Your style is often compared to Western minimalism. do you agree with this definition?
K. T.: I really don't know the definition of Western minimalism, but I understand it's not really that different from Japanese minimalism. To be sure, the essential forms of my pieces, their lack of glaze and organic quality, are quite close to the Japanese tradition. The only thing I can say is that I've always been attracted to simple things, so I guess my sensibility has something in common with these styles. In the past, many people even said that my work reminded them of Italian painter Giorgio Morandi's still lives, though at that time I didn't really know him. To be frank, for me art is art, and this pureness of expression can be found everywhere in the world regardless of definitions.
You mentioned working with Shimaoka in Mashiko. This city in Tochigi Prefecture is famous for its simple and rustic style – brown with maybe a little red glaze.
K. T.: However, modern pottery made in Mashiko today is found in many styles because of the creative freedom brought to Mashiko-yaki by Hamada Shoji. People usually find a certain resemblance to his art in my work, which makes me happy as I love his work.
Did your return to Japan in 1981 affect your approach to pottery?
K. T.: Coming back to my country definitely opened a new phase in my quest for artistic expression. At the time I was still exploring different paths, trying out different materials and decorative styles, but every time I was unsure about what to do. It was after moving my house-cumstudio to the Izu Peninsula in 1991, that I realized that absolute freedom was actually a hindrance to my art, and that I needed to establish some limits. So I stripped my art of whatever I thought unnecessary and returned to basics. It felt liberating.
It seems that you have remained faithful to this approach for the last 25 years, just focusing on shape, colour (only white) and your made-toorder potter's wheel. How do you obtain that kind of white?
K. T.: I use a mix of different clays that I get from several places, including Hyogo Prefecture and New Zealand. The only way to attain expressive freedom for me is to restrict myself. Only by narrowing down my colour choice to white can I focus on my real objective, which is to establish a connection with people. I know that my pieces are usually praised for their artistic quality, but the fact is, I only make functional things that people can actually use, like tableware and flower pots. You can even find them in a number of restaurants. Like the mingei artists, I find beauty in simplicity. For example, many of the objects collected by the Japan Folk Craft Museum in Tokyo were made as simple tools, but for me they have outgrown their origin; they are just beautiful things. That's the only thing that really counts.
Your pieces are also famous for those impossibly thin edges that always seem to be near breaking point. Is it true that you don't use any sharpening devices?
K. T.: Yes, I like to work with my hands, they are my favourite tools. What you see is what comes out of my handwork at the wheel, without any further embellishments. But as I said, more than stylistic considerations, I always keep in mind my original motivation to make art. Each one of us is a tiny particle seemingly lost in the universe. My aim is to create something that I hope is going to touch other people's lives.
Interview By Jean Derome