No43 [Tradition] Fertility pure and simple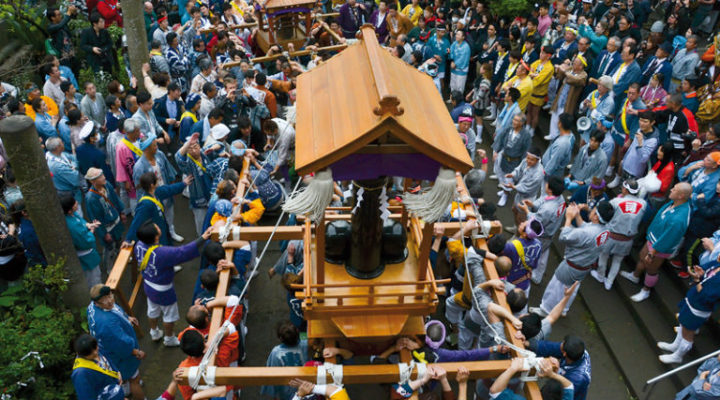 Every spring Kawasaki welcomes thousands of visitors who come to celebrate sexuality.
At the Kanayama shrine, a group of around twenty people are gathered in front of an altar upon which rice moulded into the shapes of two penises and vaginas have been placed. These intimate symbols of fertility are celebrated every year during the Kanamara matsuri, a Shinto festival that attracts thousands of people to the area around Kawasaki, just an hour away from Tokyo. However, now in its 38th year, the shrine's guardians have decided to reintroduce a little spirituality back into the "penis celebration", which had gradually lost its focus. This is the story of the ups and downs of a very different kind of matsuri (see Zoom Japan n°33, July/August 2015).
Nakamura Hiroyuki pushes his way through a row of men dressed in suits and ties and stands in front of the shrine to purify the air with his onusa, a holy stick decorated with white paper streamers. His jet black hair is pulled back in a bun under his priest's headdress and he's dressed in a long white robe reaching down to his calves. As the the young heir to this Shinto shrine he is planning to bring some sense of order back to the matsuri. "These last few years, our celebration has grown unexpectedly large," he says. "Nevertheless, I also believe its original spirit has been forgotten". It is the day before the celebration and the shrine is deserted. Only priests and their supporters are there to take stock of the situation. Situated on the former Tokaido highway, the route connecting Kyoto to Edo that was travelled by rulers of old (see Zoom Japan n°32, June 2015), this district of Kawasaki used to organizse a matsuri to seek protection against sexually transmitted diseases, which were particularly widespread among the prostitutes who accompanied the aristocratic rulers along the road. Four centuries later, this story inspired the Kanamara matsuri, famous for its three large scale phallic symbols that are paraded during the celebration. "More and more people find it strange that our Kanamara shrine parades phalluses through the streets. But fertility has been celebrated throughout the world since the beginning of time. Japan has always taken rituals seriously. For example, a 'God of the toilets' was thought up to teach children how to keep toilets clean, and this leads people from abroad to think that Japanese make gods out of anything," he says. The famous 'toilet god' is the subject of a successful Youtube music clip in which a grandmother teaches her granddaughter that toilets are also watched over by a deity. In Japan, anything to do with a Shinto deity needs to be properly cleaned and maintained. "Our shrine celebrates the Kanayama deities, and that's all we need to keep in mind in order to organize a successful matsuri tomorrow," concludes the young priest to great applause.
According to a 17th century legend, a demon fell in love with a young virgin. He hid in her vagina and castrated her husband on their wedding day. The young girl asked for help from a blacksmith who made an iron penis on which the demon would break his teeth. Ever since, the iron penis has become a holy relic and a shrine was built in honour of Hikonokami and Himenokami, the Shinto gods of Kanayama honoured and prayed to for fertility and the healing of sexually transmitted diseases.
On the following day the ceremony starts with a bonfire in the shrine where votive offerings are burned. The crackling of the fire, the sound of the bellows fanning the flames and the prayers repeated over and over again by the priests contribute to a very peaceful atmosphere. Outside stands a crowd of people of all ages and nationalities in outfits just as varied, taken from cosplay to the world of work, and with accessories such as penis lollipops, earrings and hair clips. Couples take selfies as they strike obscene poses around an iron phallus icon sticking out from the ground. Others hang on fervently to their little votive offerings, hoping they will bring them luck and pass the test of fire next year.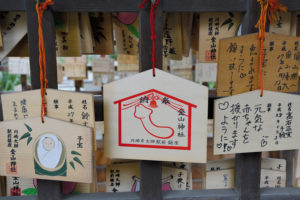 Messages include things like "Pray that my baby will be born healthy" or "Pray that I can have sex for many more years", sometimes illustrated with explicit drawings. As for two of the visitors, Takizawa Tetsuo and Yuki, they have come for business. They own an LGBT (lesbian, gay, bisexual, transgender) company and come every year to pray for good sales. "We are in the female to male business. We sell prostheses and provide advice and comfort," Testuo explains while receiving purification from an onusa held by a priestess. Whether for successful businesses, harmonious relationships, the desire for children or relief from sexual problems, the shrine's traditional rituals of purification remain open to all; and spring is the ideal season for renewal.
Under the cherry trees in bloom and sheltered from the light rain, 'Elizabeth', a pink two-metre- high plastic phallus decorated with streamers of sacred paper, takes pride of place. On the previous day a passionate debate took place to decide where 'Elizabeth' should be located in the procession, while a jar of traditional votive sake was drunk. 'Elizabeth' is the star of the festival and is usually placed on a mikoshi (a portable Shinto shrine) and carried around by a colourful troop of transvestites, homosexuals and eccentrics in blond wigs and pink aprons. The forty-something-year-old who usually organizes that part of procession with his friends decided not to attend this year after his managers recognised him on social media, so the others dropped out too.
In the shrine's office, used as a shop during the matsuri, Nakamura Kimiko is busy getting the offerings and other lucky charms out of boxes. "Nowadays, with the internet, it's difficult to keep one's private life secret," she says softly. As head priestess of the shrine, she conducts business with an iron fist and also organizes fund raising to fight AIDS. "It was my late husband who had the idea of organizing a matsuri in which everybody could take part," she smiles. "We went from attracting a hundred people to thousands of visitors. But this celebration needs to remain a demonstration of spirituality. That's why we've banned any performances that we judge not to be in line with the ethos of the the matsuri from taking place around the phalluses this year. But we do invite everyone to carry the mikoshi. It is a unique experience," she adds.
The tradition of carrying the mikoshi goes back several centuries and it involves transferring a symbol of divinity onto a palanquin and carrying it around to spread blessings throughout the neighbourhood. The carriers are then directly connected to the gods, who in the case of Kanamara are represented by three phalluses made out of wood, iron, and plastic. "If you want to carry the mikoshi, you need to borrow a happi!" explains Ishiwata Kazushi as he displays this short kimono jacket emblazoned with the neighbourhood's emblem. With permed hair and shades, this unorthadox head of an unorthadox religious organization located in and very much part of Kawasaki, organizes the Kanamara mikoshi carrying every year.
"Is it heavy? Look at this," he says with a smile while uncovering a huge bump on his left shoulder. It's a sign of prestige amongst matsuri practitioners. "When you're carrying the mikoshi, you're carrying a god. And however tiring it may be, you forget all of your worries," he says proudly. Towards twelve o'clock, rows of people crowd around the torii, the large gate at the entrance of the Shinto shrine. Policemen patrol the road crossings to block off the traffic, while the matsuri's security team deal with the rest. "Get out of the way! Back off for goodness sake!" The foreigners, rather shocked by this lack of Japanese civility, grumble and back away, while a swarm of smartphones rises into the air to capture 'Elizabeth's' first steps. However, it is quite a disappointment when she finally appears atop a simple cart, the glans modestly covered with a white veil.
Nakamura Hiroyuki leads the procession calmly, while smiling and waving to the people lining the pavement. Sales people, businessmen, yakuza, housewives, everybody is waiting to see the other Kanamara mikoshi that are competing with 'Elizabeth'. Soon afterwards the black iron phallus appears, carried by a human tide that continues to grow as the mikoshi gets closer to the main road.
People push and trample on one another to gain the privilege of carrying the sacred palanquin, while others watch skeptically. "It's strange" says Leona, a young Estonian who has travelled to take part in this much recommended tourist attraction. She finds the celebration very macho, with only men's phalluses on show. "I find it very interesting! It reminds me of fertility festivities in Indonesia" says Rita, a Muslim girl wearing a veil. The procession stops in a park strewn with cherry blossom petals before returning to the shrine. Visitors walk among the stalls selling all kinds of phallic gadgets, while gay couples hold hands and pose for selfies. The atmosphere may not be as crazy as in previous years and there's an all pervading calm in contrast to the presence of all the sexual objects. Suddenly, a loud murmur travels through the crowd as 'Elizabeth' appears, pushed in on her cart, and the organizers climb up to remove the veil and reveal the vivid pink phallus in all its glory to cries of "Oh!" and "Ah!". "I wonder why everybody reacts that way?" says a Japanese man while laughing and clapping. High priestess Nakamura enters regally at the same moment. According to her, the three pillars of Kanamara's matsuri are equality, fraternity and gratitude. All the rest "is a question of yin and yang!" she says with a benevolent gaze towards the crowd.
Practical Information
The Kanamara matsuri is an annual shinto celebration of fertility. It has taken place in spring every year since 1977. The main part of the festivity takes place on the first Sunday of April.
ALISSA DESCOTES-TOYOSAKI