No.72 IN THE EYE OF ERIC RECHSTEINER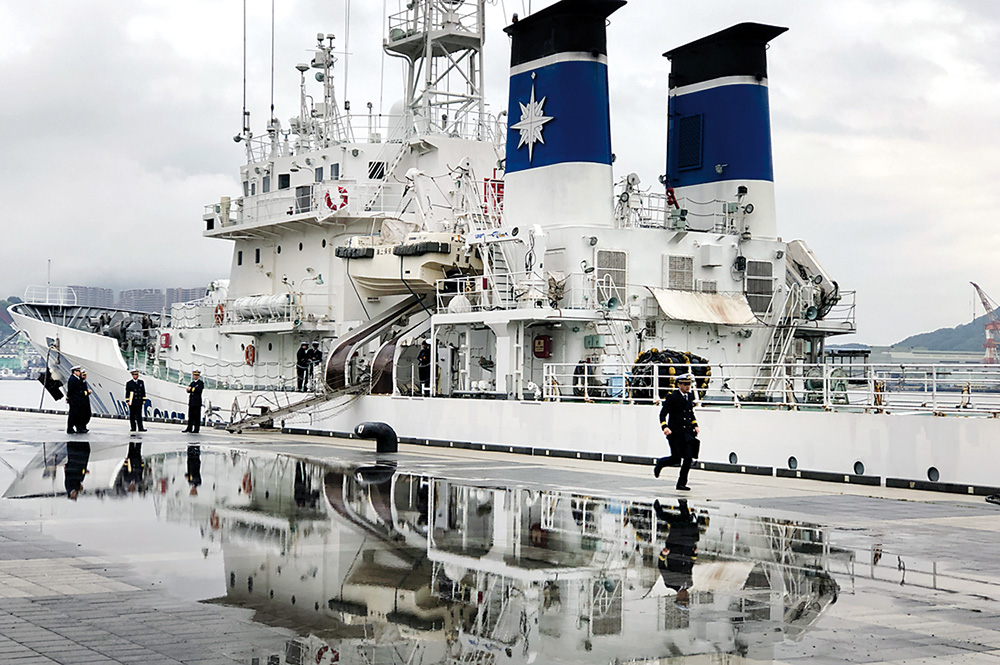 © Eric Rechsteiner
Port of Nagasaki, Kyushu island.
This picture of a Japanese officer running by a coastguard ship illustrates in its own way the importance Japan attaches to the country's self-defence today. In the face of China's growing power increasingly revealing its maritime ambitions, the Japanese authorities are focusing on the navy's role in protecting the country as well as ensuring freedom of navigation in the region. An example of this was its participation, at the beginning of May, in a multilateral operation in the disputed waters of the South China Sea.
UNUSUAL Birth of the pig bar
Following on from the fashion for cat cafes where clients can relax surrounded by furry felines, Tokyo could be launching another trend: pig bars. Since 1 March, in the Meguro district, the mipig cafe (https://mipig.cafe/) has offered its clients the opportunity to relax in the company of micro pigs. However, the bar has raised some criticism about the future of these animals, which, once fully grown, will not be adapted to adult life.
TOURISM No eating while walking
Famous for its temples and shrines, the city of Kamakura has decided to ban tourists from eating while walking. In an attempt to combat all the abandoned rubbish and food scraps, the city council wants to raise awareness, in particular among foreign visitors who are less careful than the Japanese. However, no fines will be handed out to offenders.