No73 [FUCUS] Senior consumers and new economic trends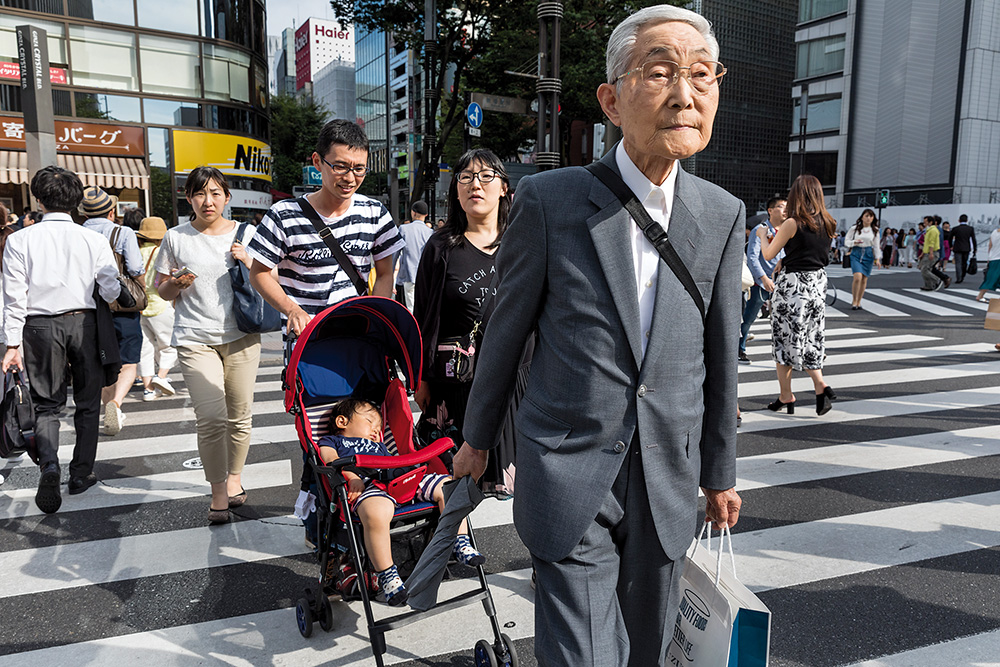 Ginza district, Tokyo.
The ageing of the Japanese population affects the way it behaves.
japan's rapidly changing demographic structure presents a few interesting challenges that have to be faced as soon as possible. Even from the perspective of consumer behaviour, the current and, in the future, even larger size of the so-called Silver Economy means that no private or public organisation in Japan can afford to ignore it.
In this issue, we have mainly considered the recent success of manga featuring elderly characters. This is partly due to the over-60 generation's interest in the medium. On the one hand, there are people who grew up reading manga. Over the years, their favourite genres may have changed, but their love for comics has never faltered. On the other hand, there are people who are not big manga fans, but are attracted to this particular genre because, with the rise in new age-related social problems, they want to read about characters who share their concerns. Manga, however, are only one of many economic sectors affected by the ageing of Japanese society. According to a recent report by Senior Communications Co., Ltd., the Japanese senior market is characterised by the following key concerns and interests:
1. Efficient use of time and money: Seniors want to enjoy their time without spending too much, and they try not to waste time on routine housework.
2. Recycling life: Changing status from "parents" to "husband/wife", they are ready to start something new such as studies and cultural activities.
3. Reality: Elderly people are not attracted to superficial appearances and prefer what is genuine and real.
4. Human bonds and community: Older Japanese people want to connect with others and are interested in attending social events to form friendships. They also want to join groups to share their hobbies and dislike meetings organised for specifically for elderly people. They tend to be interested in politics, the economy and social activities.
5. Peace of mind: They want to enjoy life, but are concerned about their state of health in the future.
6. Age reversal: They wish they could look 10 – 20% younger. They feel offended when categorised as "silver" or "old" people. Though the problem of elderly people (rojin mondai) has been a much-discussed topic since the 1980s, and experts have warned about the social and economic impact on Japanese society, private and public organisations have also noticed that economic forecasts don't have to be necessarily all gloomy as long as they are approached in the right way. Indeed, many companies look on the burgeoning senior market as a unique business opportunity.
Japan might be increasingly ageing, but its population has one of the highest average life expectancy rates in the world. It reached 83.7 years in 2015. The healthy life expectancy for men is 71.1 years and 75.6 years for women. Even when they get old, the Japanese show a strong desire to continue working, and their rate of social participation is high as well. Most importantly, people aged 60 and older account for roughly half of Japan's personal consumer market. In other words, Japan can serve as a good model for other countries experiencing the same demographic changes.
The toy industry, by definition, should be one of the economic sectors with the bleakest future in a country where fewer and fewer people are having children. But what about toys for adults (no, not THAT kind of toy…)? An increasingly high number of elderly people live alone. In order to meet their need for companionship, toy manufacturers have developed talking dolls, which are able to respond to voices and can reply with a vocabulary of more than 1,000 words. According to retailers, most buyers are in their 50s and 60s. As the Senior Communications report points out, after having worked hard all their life, the elderly Japanese want to have fun. Women, in particular, after finishing child rearing find they have the time and money to pursue their own interests once again. At Tokyo Disney Resort, for instance, the number of older visitors is on the increase. More specifically, women who used to visit Disneyland with their children now enjoy themselves with groups of friends.
According to a survey conducted by the Cabinet Office, while 44% of people in their 20s are interested in material wealth, senior citizens are looking for something with deeper meaning: 66% of those in their 60s are searching for mental well-being. As a result they tend to spend a great deal on education. Recognising this as an opportunity, karaoke chains and cultural centres have started to offer a wide range of courses on music, dance, language, and flower arranging. Most of these classes are held in the afternoon during the week.
The top three courses preferred by men are cooking (19.9%), languages and gardening (both 19.5%). Women, on the other hand, prefer computers (22.5%), sports (21.4%) and languages (20.9%).
Speaking of computers, the PC market for senior citizens is now full of special discount services and computer courses. Companies such as PC Depot Corporation and discount retailer Bic Camera Inc. and its subsidiary Sofmap are offering service packages to consumers over the age of 60. The discount service, offered at less than half price, is called the Raku Raku Anshin Pakku (Peace of Mind Pack) and includes delivering, setting up and connecting a personal computer to the internet with unlimited help and support by telephone.
In addition, manufacturers such as Fujitsu have designed keyboards with different colours for vowels and consonants to help elderly users.
Travel is something that both Japanese elderly men and women have embraced wholeheartedly. After all, they have been freed from child-rearing costs and home loans and have a lot of free time on their hands. Besides, they are generally in pretty good health and have at least some experience of travelling. In fact, it's predicted they will eventually overtake Japanese in their 20s- 40s to become the largest group in the overseas travel market by 2025.
According to psychologists, this period in people's lives is called the "liberation phase". This is a time when people frequently feel the urge to do something they have never done before. This could be the reason behind the incredible success of deluxe rail tours for the elderly. The famous Seven Stars cruise train (equipped with luxury dining and sleeper cars) for instance, has attracted clients from around the world. Yet most of the travellers for this expensive four-day/three-night trip are Japanese people in their 60s. Even people of moderate means are willing to indulge in such a trip as they realise they may never have the opportunity again.
Luxury trains aside, Japan Travel Bureau (JTB), the country's largest travel agency, has recently come up with a series of package tours with senior travellers in mind as 50.3% of men and 57.7% of women over 60 years old prefer this mode of travel. Women, in particular, like Special Interest Tours, including non all-inclusive package tours (air tickets and accommodation only). For overseas travel, JTB has gone as far as opening a subsidiary specialising in senior travel.
Elderly women are not only healthy and live longer, they want to look young or at least keep their good looks for as long as possible. Taking this into account, the cosmetics industry has come up with all sorts of new products. Shiseido, for instance, discovered that the main reason for faces sagging and looking old was blood circulation. That prompted the company to develop a new product line containing emollients to improve blood circulation and restore firmness. The new product line, called Elixir Prior, was made expressly for women over the age of 60.
The product line is sold in pink packaging, a popular colour among older women.
The Japanese love food, and when it comes to eating and cooking, old age presents a few new challenges and opportunities. For example, though we have pointed out that many retired men take cookery classes, it's also true that most men in their 60s and 70s are still fairly hopeless in the kitchen. At the same time, one of the things that elderly women hate the most is having to cook three meals a day for their retired husbands. The problem is compounded by the fact that many of their husbands spend a lot of time at home. According to a survey by the Living Kurashi How Institute, 38% of retired husbands stay at home "seven days a week", while 25% are at home "as often as possible". In order to minimize the added burden of food preparation and to enjoy this time after years of hard work, a lot of women are now buying ready-made meals. This, however, doesn't mean that people are sacrificing their health for the sake of convenience. They still want healthy food. In response to this kind of demand, and after two years of research on nutrition and ageing, in 2009, Nichirei Foods introduced the Happy Ageing line of balanced low-calorie, lowsalt frozen meals for older people. The target market is over 65 singles and couples, and meals can be heated easily in a microwave oven. Another example is Oisix Inc., a Tokyo-based company, which offers organic vegetables and its own brand of natural regional mineral water.
According to those involved in direct marketing, once older Japanese consumers are satisfied with their products and services they tend to be more loyal and less likely to switch to other online shopping services than younger customers. However, food is only a small part of the senior shopping revolution. Even more than what they buy, it's important how they buy it. More and more older Japanese are learning to navigate the internet and do their shopping online. According to the government's Communications Usage Trend Survey, between 2001 and 2012, the percentage of internet users rose from 19.2% to 71.8% among people aged 60 – 64, from 12.3% to 62.7% in the 65 – 69 bracket, and from 5.8% to 48.7% among those aged 70 – 79.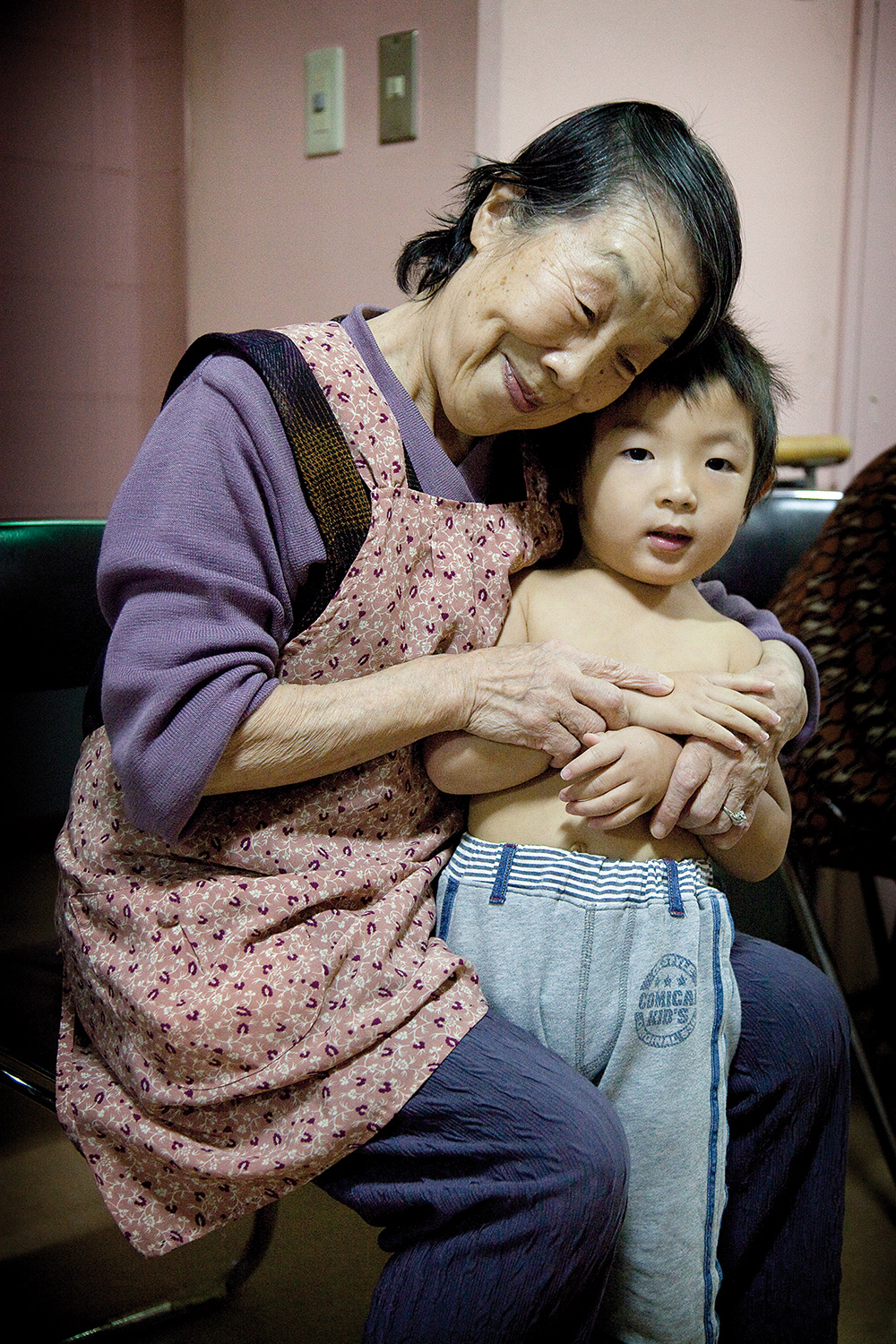 Elderly people want to make the most of their lives.
Traditional Japanese grocery shopping is done almost every day on foot or by bicycle and can be difficult for elderly people when carrying home heavy items such as bags of rice and beverages. The physical strain of shopping is often cited as an obstacle for elderly consumers, and the increase in online shopping with home delivery offers a convenient solution to this problem.
In order to meet the challenge posed by e-commerce, even the ubiquitous convenience stores are bringing their services to the front doors of the so-called kaimono nanmin(shopping refugees). This includes incorporating the goyokiki service – once commonly used by general stores – which consists of asking customers at the time of delivery what products they want brought next time.
Takuhai Cook 123 is one such service. Run through a FamilyMart subsidiary that delivers box meals to elderly customers, the service, which operates all year round except for three days over the New Year period, offers free delivery, and it's possible for customers to order just one item. As well as the usual rice and side dishes, there are various special menus, such as low-salt, low-protein, or easy-to-chew soft meals, all ranging from around 600 yen to 800 yen (around £5). Lawson is working with Sagawa Express to deliver the meals, and Seven-Eleven with Yamato Transport.
And for people who still prefer to go to their local convenience store price labels have been made larger, shopping baskets lighter, aisles wider, and shelves lower. Convenience stores have also developed special bento lunch boxes for seniors and increased the shelf space of wagashi (traditional Japanese sweets).
Convenience stores have also begun to collaborate with local government by instructing their staff to check on the well-being of elderly customers living alone when making deliveries. In November 2013, Seven-Eleven entered into partnership with the Fukuoka prefectural government and an organisation that checks on senior citizens in the area. It has since been contacted by other local authorities and has come to hundreds of similar agreements.
Department stores are another important part of the retail business sector that has recently faced strong competition and declining sales, and has had to adapt to a changing clientele.
In order to hold on to older consumers, many stores have been redesigned so that now they have more seating areas and trained staff to help elderly people do their shopping. At Keio, for instance, the women's clothes department is arranged so that customers can choose items according to price, size and colour instead of by brand. Also, a special shoe section was opened to suit older Japanese customers whose priorities are leisure, health, relaxation and safety.
Finally, we would like to end this article with a funny but thought-provoking case: a snack bar for elderly patrons. In Japan, snack bars have long been fixtures of nightlife. These cosy pubs are typically run by a mama-san (or a master, if the owner is a man) and offer all kinds of alcohol to their small circle of customers. Since the early 60s, they have been an oasis for tired people at the end of a long working day.
Recently, though, a growing number of establishments have started to cater to elderly customers with such services as sessions of alcohol- free afternoon karaoke. Then there's Ryugujo, a pub in Yokosuka, Kanagawa Prefecture, that caters exclusively to older customers. The owner, who runs several businesses in the nursing care industry, wanted to give elderly people, including those needing nursing care, a way to socialise outside their home or care facilities, and hit upon the idea of a new kind of drinking establishment that he christened kaigo sunakku – a "nursing care snack bar".
The place only serves patrons aged 65 or older, and even provides transport to and from the establishment. It's fully accessible and includes a folding bed in the restroom for changing adult nappies. It also has a front door with a pass-code to prevent customers with dementia from accidentally wandering outside.
The shop is staffed by specialists including nurses, licensed caregivers, and physiotherapists from the owner's other nursing care businesses. Ryugujo welcomes customers in varying degrees of health including people who are bedridden or are in the late stages of illnesses like cancer. For many patrons, a visit to the bar represents a chance to step out of their regular nursingcare routine and enjoy socialising with friends and loved ones as they did when they were younger and healthier.
So let's toast this growing army of energetic senior citizens. At the end of Pietro Germi's Divorce Italian Style, Marcello Mastroianni states that life begins at 40, but the Japanese seem to start having fun at 60.
JEAN DEROME