No.77 [TASTE] Toshimaya for fancy bread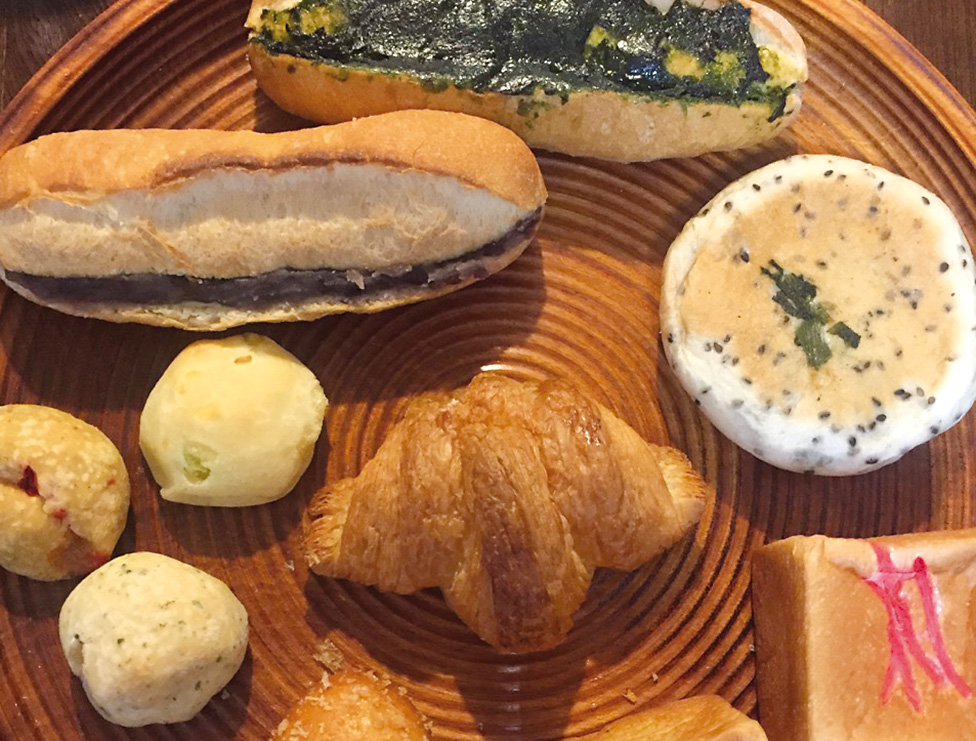 A sample of the products that Toshimaya offers its customers.
This bakery in Kamakura, south of Tokyo, offers many speciality items including a range of distinctive-tasting bread products.
The Japanese have always had a some- what unusual talent for finding differ- ent ways of serving bread, which first officially made an appearance in the country dur- ing the 19th century. Some classic recipes include bread-noodles with Worcestershire sauce, fried bread with curry, potato croquette sandwiches, buns with sweet red-bean filling…
In Kamakura, less than an hour's journey from Tokyo, a medieval city well-known for its temples and giant statue of Buddha, there's a bakery renowned for its local speciality, hato-sabure (dove- shaped butter biscuits). Toshimaya was founded in 1894. When its founder started to produce the biscuits, people were unused to the taste of butter, and on offering some to his neighbour he saw him feed them to his dog… Though their biscuits may recall the nostalgic taste of yesteryear, even for Westerners, their bread and buns are a joyous mix of East and West: cheese with edamame (soybean), pickled ginger, umeboshi (salt-pickled ume plums), spicy cod roe, nori (seaweed), even miso (fermented soybean paste) soup flavour (!)… You're not really sure whether you're eating just bread, a meal or soup, but the confusion makes for quite an enjoy- able experience. Sometimes the bread is filled with okazu (side dishes served with rice) such as nikujaga (meat and potatoes cooked with soy sauce and sugar), or kinpira (thinly sliced carrots and salsify fried and seasoned with chilli pepper). This original approach is also applied to their sweet goods. Of course, you can buy classic items like bread with red-bean paste, but also flavoured with matcha (powdered green tea), hojicha (roasted green tea), mixed with butter, apricot or gyuhi (sweet sticky rice paste)…
They were initially created for pupils visiting the city on school trips, whom Toshimaya's owner was sad to see eating in fast-food outlets while in the heart of the historic city… where all these pop- ular flavours of Japanese cuisine from a different era came from. These fancy breads don't cost much, the price of a small bun is around 70 to 80 yen (50 pence). Perhaps Japanese children can remember their grand mother lovingly laying the table when they eat them? And perhaps even foreign tourists can enjoy eating the okazu-filled buns.
The Toshimaya bakery had to stop making its famous biscuits during and just after the Second World War as the ingredients were unavailable. Instead, they had to produce supplies for the bread rationing, which didn't taste so good. Much later, this experience encouraged the bakery to start making and selling bread that delighted palates worldwide. The venture has been very successful.
There are numerous Toshimaya outlets, but only one sells bread, right by the exit to Kamakura Station. It's called Toshimaya Tobira-ten: 1-6- 20 Komachi, Kamakura-shi, Kanagawa-ken (07:00-19:00, closed on Tuesdays).
SEKIGUCHI RYOKO