N0.104 [BOOK] "Made in Japan" vegan cuisine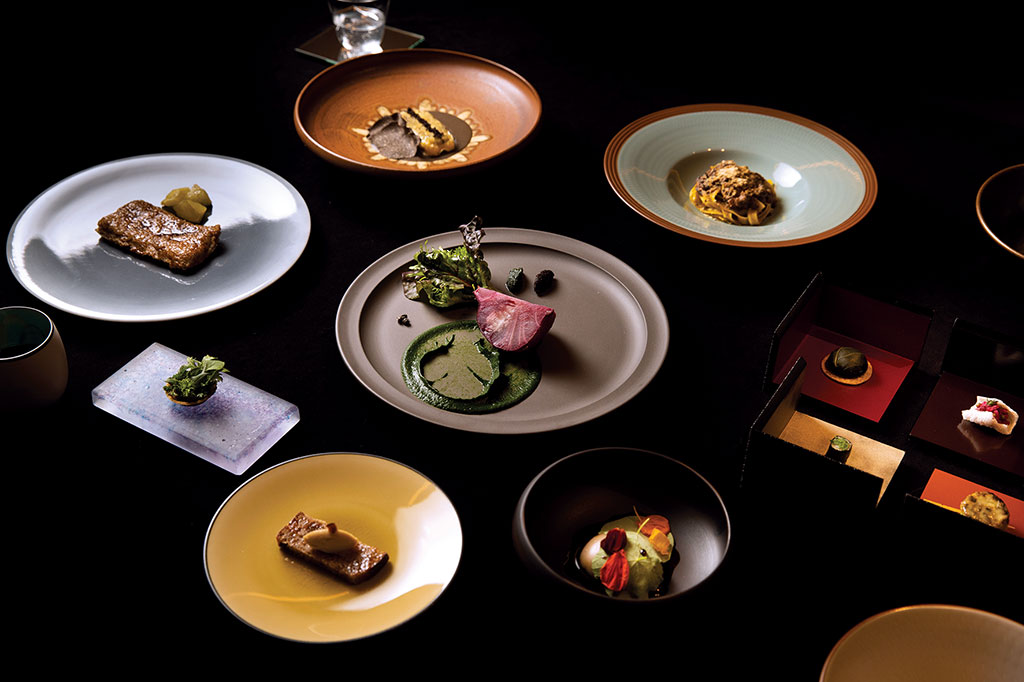 Famous chef has set himself the challenge to boost veganism with his new and interesting approach.
Three years ago we described the new trend for vegan food in Japan, but this trend has undergone some new developments of a very, dare we say, Japanese nature: more refined, sensitive to the seasons and the local environment, similar to the traditional cuisine of monks. This recently published cookery book on contemporary vegan recipes is proof of this. Vegan Gastronomy, by Noda Kotaro, chef at Faro in the Ginza district of Tokyo, offers refined and carefully conceived cuisine, worthy of being called haute cuisine.
The book is both educational and aesthetically pleasing, and completely changes our conventional ideas about vegan food. In 11 chapters, he describes the use of flavoured oils, explains the amino-carbonic reaction, presents a recipe for vegan butter as well as how to prepare asparagus with soy sauce, tomatoes with soy sauce and how to bake bread with soy sauce, adapting methods using traditional Japanese fermented condiments.
The chef himself is not vegan. The interesting fact is that he took on the challenge to widen his knowledge of Western cookery. How can Western cuisine, Western gastronomy remain possible after removing what many consider to be the cornerstones on which it is founded: diary products and animal protein? It is like asking an architect to design a building without using stone or wood. His research enabled him to develop extremely well-crafted alternative products such as vegan cheese and egg-free pasta, and led to research on the potential of plant fragrances and flavours.
This also led to a transformation in the world of vegan cooking and how it is perceived. Everything others might experience as a problem becomes a challenge for Noda, a way to discover unknown qualities of a cuisine and ingredients.
The highpoint of the book, it seems to me, is the chapter where he recounts his collaboration with the cooks of Mount Koya who, of course, practise shojin ryori (the cuisine of Buddhist monks). For this chef, vegan cookery is a language that is not confined to expressing itself narrowly, but opens new doors to other culinary cultures. "I had believed that shojin ryori was a strict, austere cuisine, which excluded the pleasurable elements of a meal. However, while training at Mount Koya, I had the impression that I was knocking on a new and liberating door, and I realised the world of this cuisine was vast," he says. The dishes presented before us come with a sophisticated, decidedly contemporary and gourmet image.
Veganism has been imported into Japan devoid of its original ideology, and is seen as a path to culinary inclusion. Chef Noda opens up yet another avenue for vegan gastronomy, which makes everyone want to try it, and his contribution is invaluable.
Sekiguchi Ryoko
References Vegan Gastronomy, by Noda Kotaro Ed. Shibata Shoten, 2023 (English-Japanese bilingual book), 5,500 yen.