No8 [Travel] Amakusa, welcome to paradise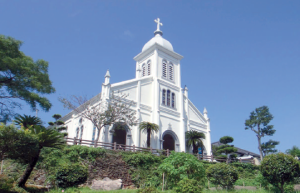 A few kilometres southwest of Kumamoto, the Amakusa archipelago is an astonishing place full of charm.
Majestic but not overpowering, Matsushima Bridge is a work of art that you cross before getting to the heavenly Amakusa islands, the two main ones being Amakusa Kamishima and Amakusa Shimoshima. The first stop on this trip is the bridge itself and its observatory that will allow you to get an idea of the beauty of this region, largely unknown to most Western tourists, who often prefer traditional destinations such as Kyoto or Tokyo. At a time when one may hesitate to visit Japan, with the continued fear of earthquakes and radiation leaks, Amakusa is a place that will make you forget such worries. When travelling from the Sankaku peninsula, you can visit Amakusa by car, bus, or for the bravest, even by bike.
From Misumi station there are buses (a 4 day pass costs 4,000 yen) that connect to the main sites of interest on the two islands. It is a pleasant way of getting to see the landscape and taking advantage of the special atmosphere of this part of Japan that even the Japanese do not often visit. Since March, when the Shinkansen in Kyushu came back into service, interest in this area full of traditions and history has seen a resurgence among Japanese tourists. Before taking the route of the Five Bridges, connecting the peninsula to the islands of Amakusa, you must stop at Misumi Nishiko, a harbour built at the end of the 19th century and the only one in the whole of the archipelago dating back to that period that remains in such a good state. Several buildings decorated with typical shimmering colours are open to the public and many have been turned into cafés. After having a snack with a view over Misumi bay, you will be ready to hit the road again, on the way to other surprising discoveries.
On getting closer to Matsushima Bridge, you might spot a building that looks like a cross between a cake and a church. This is the Amakusa Shiro Memorial, situated in Kami-Amakusa. Apart from its original architecture, this place is also interesting because it reminds visitors that the region has long been a bastion of Christianity and it still is today. Introduced by Portuguese missionaries who reached Japan in the middle of the 16th century, Christianity became well established in this particularly poor region. In 1589, there were 30 churches in Amakusa and over two thirds of the population had been converted. The Tokugawa's ban on the Christian religion just a few years later and the closing down of the country to foreign influences led Amakusa's residents to renounce their religion and round up those who refused to do so. However, many continued to pray secretly in front of little statues of the Virgin Mary. The Amakusa Shiro Memorial museum retraces this History as well as the story of Amakusa Shiro, a 16 year-old teenager who lead the Shimbara rebellion in 1637 against the Tokugawa's anti-Christian policies. Christianity has greatly influenced the region, which still has more Christians among the population than the national average. The fervour of the "hidden Christians'" (kakure kirishitan) contributed to the religion becoming deeply rooted. When Japan adopted a constitution re-establishing religious freedom, new missionaries travelled to Japan to help the local population rebuild churches. There are many church bell towers on the horizon, a surprise to travellers who expect to see temples and sanctuaries. This is particularly true in Sakitsu on Amakusa Shimoshima. Built in a fjord reminiscent of Norway, Sakitsu church and its grey tiled bell tower dominate the other buildings.
Built in 1934 in a neo-gothic style, its floor is covered in tatami, which means you need to remove your shoes to venture inside. A few kilometres north of Sakitsu, Oe's white church is also worth a visit, with its ceiling covered in coloured flowers like a Mexican church, a stark contrast to the austerity of the church at Sakitsu. It was built in 1933, on a little hill in a region where the "hidden Christians" had been particularly numerous, by a Frenchman, Father Garnier. When the sky is blue and the sun lights up the building (which is often the case), it gives an astonishing impression of serenity. Not far from there, Amakusa Rosario Kan has many objects of worship that were used by the "hidden Christians" when praying. A short visit will allow you to find out more about this period of Japanese history.
After the surprise of this strong Christian presence, the visitor will be struck once again by the beauty of the natural landscape. As well as the observation point situated at Matsushima Bridge, where you can take in the riches of the surrounding views, a short stop at Myoken-ura is recommended. Follow route 389 North of Oe church and you will reach a beautiful site created by waves and wind, a picture for your souvenir album that will never fade. Amakusa is full of these kinds of natural assets, perfectly crea- ted by nature and to which man has added his own touch, such as Tsurubayama Park at the southern tip of Amakusa Shimoshima. In 1978 over a thousand cherry trees were planted here and it is wonderful to see them bloom in March-April. At that time of the year the weather is mild and it is always one of the best to visit the region. During the third weekend of April you can even take part in the Ushibuka Haiya celebration during which thousands of people dance through the streets of Amakusa. In summer it gets hot, very hot, despite a little sea breeze. That is a good time to be on one of the many beaches to choose from, especially those at Satuski, not far from Tsurubayama and Ariake, on the west coast of Amakusa Kamishima. There are many beaches and it is difficult to resist the inviting white sand next to the turquoise blue sea.
As with many other heavenly places about which Japan can boast, Amakusa knows how to seduce its visitors with the quality of its food. In Ariake, a giant sculpture is a reminder of just one of Amakusa's many specialities: octopus. After having spent some time at the beach, take a walk around the local market where many restaurants serve delicious octopus based dishes, such as octopus steak, tako tendon (calamari fritters served with rice) and tako meshi which is simply served with white rice. There are also takoyaki, grilled octopus meatballs, which are much loved by the Japanese. One of the best places to try out this cuisine is Asahiso. For 5,000 yen [£37] you are served a menu in which octopus is prepared in eight different ways, a moment to savour. But not everybody likes tako and it would be unfair to say that is all Amakusa can offer. As in other regions of Japan, the archipelago has many hot water springs around which hotels have been built. On the island of Amakusa Shomoshima we recommend the Shimoda Okuzashiki hot spring, the oldest in the region with over 800 years of history. It is situated north of Myoken-ura. Amongst the many accommodation options at the springs complex, you can enjoy the period atmosphere of the Gunpokaku Garasha (starting at 10,500 yen per night at half-board) and its twenties style, or Ishiyama Rikyu Gosoku no Kutsu, which is more luxurious (from 26,400 yen per night at half-board). Its balconies and private hot spring baths with views over the sea and its irreproachable food justify the cost. But who would not be prepared to pay for a little corner of paradise?
Gabriel Bernard
Photo: Gabriel Bernard