No17 [Experience] Ramen forever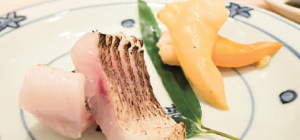 Noodle soups are a synonym for success. Here are two examples in Singapore and New York.
Even purists do not consider ramen (noodles in broth) a proper part of washoku, but its growing influence as an ambassador for Japanese cuisine across the world cannot be denied. This is particularly true in Asia where specialist ramen restaurants are very successful. Takashi Kenichi, CEO of Japan Food Holdings, confirms this. He has set up his company in Singapore and developed the Ajisen Ramen franchise that has its main restaurant in Kumamoto, on Kyushu Island. He opened his first business in Singapore in 1997 but the first three years were hard. At that time, local customers were used to traditionally Chinese influenced noodle soups that were cheaper than those served by Ajisen Ramen and patience was required for the customers' curiosity to be aroused. Mr. Takashi also struggled to develop his menu. At first he saw himself as a defender of Japanese cuisine and only offered the exact same kinds of ramen that were prepared in Kumamoto. However, he soon came to understand that he wouldn't be able to attract many regulars without making a few compromises and the result of embracing local tastes is that today he now owns 21 restaurants in Singapore, 3 in Malaysia, 4 in Indonesia and 2 in Vietnam. His company is even listed on the stock exchange in Singapore. However, success in winning over the palates of Southeast Asia was not enough for him, so he recently launched another Japanese restaurant chain called Menya Musashi, whose principal outlet is in Shinjuku, Tokyo. This time he is aiming at a Chinese clientele. He has opened 6 restaurants in Hong Kong, 6 more in Singapore and has just recently opened one in Shanghai, China. As with Ajisen Ramen, he will take local tastes into account while ensuring a Japanese quality service and atmosphere. This is a good example of how Japanese cuisine in its broadest sense can enjoy a wide distribution if it is open to innovations in taste and presentation. Although it is important to preserve the culture of traditional cuisine, it is a shame to use tradition as an excuse to reject new ideas. In that sense, Keizo Shimamoto's innovations are particularly interesting. This 35- year-old Japanese-American made his fortune in finance before travelling to Japan to learn how to make ramen properly. He became the "ambassador of Japanese noodles" thanks to his Go Ramen! blog, returned the United States, landed in New York and launched the Ramen Burger. This curious invention is a burger placed between two little bundles of ramen that have been cooked and then lightly grilled. It may seem strange but has turned out to be a phenomenon that has taken New Yorkers by storm. Shimamoto's recipe and the enthusiasm it has provoked have inspired several articles and TV shows. He is currently trying to increase its distribution and, one day he might succeed in meeting Takahashi Kenichi at the summit of international Japanese cuisine success.
O. N.
Photo: Shinji by Kanesaka