No19 [Idea] A bold initiative by Nakajima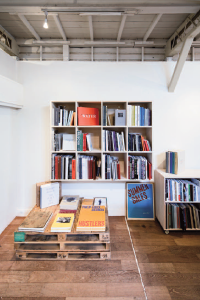 The manager of Post has chosen to promote one publisher at a time to enable their work to become better known.
If you are tired of the usual bookstores and want to try something different, we suggest you explore the residential backstreets south of Ebisu Station. Here you will find Post, a shop specializing in art, design, photography and architecture publications, which showcases only one publisher at a time, highlighting their uniqueness and providing an exclusive opportunity to get to know the kind of international companies that local customers usually don't find in conventional bookshops. In 2003, Post's manager Nakajima Yusuke opened an antiquarian bookshop called limArt. While travelling to Europe to buy books for the shop, he realized that only a tiny number of foreign books, particularly beautiful editions by artists who were unknown in Japan, were available in Tokyo. As Nakajima says, "book publishing and distribution in Japan is very different from other countries. Here wholesale booksellers control the market to such an extent that small publishers have a hard time distributing their books. Abroad, on the other hand, there is a more liberal approach to bookselling. I hope our shop can open up the possibility for change in Japan too".
Opened in 2011, Post aims to encourage the customer into an intimate relationship with books in a way that few other stores can achieve. "We carry about 50 to 70 titles from each publisher, displaying both new and old releases," Nakajima says, "and provide a free brochure compiling all book information. Our staff know each publisher very well and can advise customers on each title". The front of this small shop is devoted to the publisher of the month and every four to six weeks they replace their entire stock, so if you find something you like, be warned that next time you go in it may have gone. However, In the back of the shop you will find a variety of books that cover the whole range of contemporary art. "Most foreign publishers are very individual," he says, "and our philosophy is to offer the customer a chance to understand the publisher's vision and attract the customer's interest". For Nakajima, even the space where the books are displayed is very important. "As a book lover, I find that many shops are not very welcoming places, so I wanted to create an environment where people would feel at ease while reading a book". Indeed, the white walls, wooden bookshelves and flooring as well as the high ceiling all contribute to provide an uncluttered, warm and inviting space resembling a living room. So far Post has showcased a number of European publishers such as Verlag der Buchhandlung Walter Koenig from Germany, Uitgeverij 010 Publishers from the Netherlands and Lars Müller Publishers from Switzerland. In order to expand their reach they sometimes invite the publishers to Japan to meet the public and also to have a display in other stores including Dover Street Market (at Comme des Garçons in Ginza), B&B in Shimokitazawa and Yaeka Apartment in Meguro. "We want to create more opportunities to introduce people to good books from foreign publishers," Nakajima says. In the back of the bookstore you will also find RECTOHALL, a small gallery where they host art exhibitions.
J. D.
Photo: Jérémie Souteyrat