No19 [Discovery] Treasures galore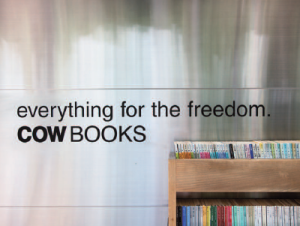 To give one the time to stop and think; this is the aim of the founders of Cow Books.  
Naka-Meguro is considered a hip destination for the local gourmets and fashion-conscious youth, but if you are more interested in food for thought then take a walk along the Meguro River. Just a few minutes from the station you will find Cow Books, one of the more original bookstores in the city. The first thing we notice when we step inside is the LED display along the top of the bookshelves – the "voice of the store" if you like – which spells out uplifting messages in English on the joy of reading. A long table takes centre stage, inviting us to sit down with a book. If it wern't for the classical piano music coming from speakers one could almost mistake the place for a cosy library full of amazing books. Cow Books specializes in out-of-print works, both in English and Japanese, with a bias towards social movements, progressive politics and avantgarde literature from the 1960s and '70s. Some of these books are very difficult to find but manager Yoshida Shigeru insists that, "a happy book is always better than a precious one".
Surprisingly enough, text-heavy works far outnumber those with illustrations and photos. Among the treasures that are waiting to be discovered there are many back issues of vintage magazines – but be warned, they don't come cheap. We found a copy of Portfolio magazine that sold for 73,500 yen, but even without going to such extremes, many books and magazines go for 20-30,000 yen and almost nothing costs less than 10,000. Cow Books is the product of the meeting of two creative minds; former secondhand bookseller Matsuura Yataro and fashion designer Kobayashi Setsumasa, who wanted to reproduce To give one the time to stop and think; this is the aim of the founders of Cow Books. the kind of cosy reading spaces that they personally enjoy. Matsuura famously dropped out of high school in order to travel alone to the US where, unable to speak the language, he spent most of the time in bookstores. Indeed, this place is a paradise for book lovers. "We may be using cell phones and computers on a daily basis but I still believe that books are the best way to learn things," Yoshida says. "They are very functional and efficient objects, and they are beautiful. Books for me are message-carrying vehicles. That's why our motto is "Sell the message". We want to convey our message through the books we sell, and we hope to turn Cow Books into a place where people and books meet, and from that meeting a new culture is born. That's why we only select books that we personally like. We think they are special and want to share our discoveries with other people". Even the store's name was chosen to convey Matsuura and Kobayashi's philosophy: like a cow, do your thing at your own pace; look around you and slowly but steadily keep moving ahead towards your goal. Apart from books, you will also find other stuff on sale, like the wooden bookends specially made for the store by Landscape Products and the same jackets that the staff wear, but of course what makes people return again and again is the fantastic selection of over 2000 lovingly selected titles.
Jean Derome
Photo: Jérémie Souteyrat