No24 [Tips] The Best of Tokyo's Depachika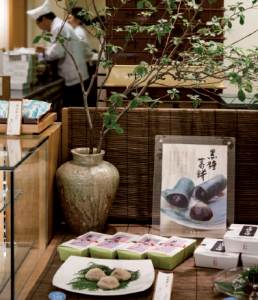 When you next travel to the Japanese capital, don't forget to visit these magical places. here are some we recommend.
Tokyo is the depachika capital of the world. There are so many scattered around the city's sub-centres (Shibuya, Shinjuku, Ikebukuro, Ginza, Nihonbashi, Tokyo Station) that if you wanted to check them all you would have to devote your entire trip to this formidable task. Just one visit to the huge Tobu depachika would require eight hours – that is if one spent two minutes at each of the different shop counters. Here are food expert and sommelier Sakamoto Yukari's favourite spots. As they are all located near some of Tokyo's main stations, you can just add a visit to one of them to your to-do list.
Takashimaya
(Nihonbashi store) 2-4-1 Nihonbashi, Chuo-ku
Tel. 03-3211-4111
Open daily: 10am – 8pm
Nearest station: JR Tokyo Station (Yaesu North exit), Tokyo Metro Nihonbashi (Ginza and Tozai Lines, B2 exit)
www.takashimaya.co.jp/tokyo (Japanese)
Takashimaya's main store is housed in one of the classiest department store buildings in Tokyo. Recommended shops for people who like the eatin experience are Shunpanro (puffer fish) and Imahan (sukiyaki). Kano Shojuan has a small café where one can taste traditional and modern Japanese sweets. Speaking of traditional tastes, the 300 year old Minokichi bento shop from Kyoto has an outlet here where you can get hold of one of their famous bento boxes and eat it in the small garden on the roof of the building. A visit to Fruits Parlor Lemon will convince you that, yes, some Japanese shops manage to sell fruit at ridiculously high prices. Hidden on the third floor you will find Pascal Caffet's chocolate shop, where you can enjoy some truffles and a glass of champagne? Ah yes, the booze! Unlike other depachika, the sake department at Takashimaya periodically holds tastings.
Mitsukoshi
(Nihonbashi store) 1-4-1 Nihonbashi Muromachi, Chuo-ku
Tel: 03-3241-3311
Open daily: 10am – 7pm
Nearest station: Tokyo Metro Mitsukoshi-mae (Ginza Line)
www.mitsukoshi.co.jp (Japanese)
Opened in 1904, this is the oldest department store in Japan. The Japanese like to admire the baumkuchen (layered cake) being made behind a glass window at Club Harie. If you prefer the local variety, try Kayuan and Wabisa. Yoshikawa Suisan is famous for its beautiful displays of fresh fish, but if you'd rather eat it on the spot, both Tenpura Yamanoue and Izumoya (grilled eel) have eat-in counters.
Daimaru
1-9-1 Marunouchi, Chiyoda-ku
Tel. 03-3212-8011
Open daily: 10am – 8pm
Nearest station: JR Tokyo Station (Yaesu North exit)
www.daimaru.co.jp (Japanese)
Daimaru is located just next to Tokyo Station and they have an amazing choice of bento boxes. So if you are about to board a long-distance train we recommend you pay a visit to this depachika and shop for travel food and beverages. Baumkuchen is again king of the European cake world, and Nenrinya, which specializes in this fluffy delight, is a popular shop with the locals. If you are a pickle addict then go straight to the 12th floor and find your paradise on earth at Kintame.
Isetan
3-14-1 Shinjuku, Shinjuku-ku
Tel. 03-3352-1111
Open daily: 10am – 8pm
Nearest station: Tokyo Metro Shinjuku-sanchome (Marunouchi Line)
http://isetan.mistore.jp/store/shinjuku/translation/english.html (the best English website)
If you can only visit one depachika in Tokyo, this is it.The stellar line-up includes master chocolatier Jean Paul Hevin. Still in the confectionary department, Ameya Eitaro sells trendy sweets that make great souvenir gifts, while Suzukake packages its Japanese sweets in bamboo boxes. You want more? Why don't you try Pierre Herme's macaroons or some Henry LeRoux caramels? One of the eat-in counters, the Kitchen Stage, features a rotating cast of chefs from popular Tokyo restaurants. The sake department features a rare collection of aged koshu, and last but not least, the rooftop garden is one of the best in Tokyo.
Takashimaya
(Shinjuku store) 5-24-2 Sendagaya, Shibuya-ku
Tel. 03-5361-1111
Open daily: 10am – 8pm
Nearest station: JR Shinjuku (Yamanote Line, South exit)
www.takashimaya.co.jp/shinjuku (Japanese)
If you find Japanese bread too soft and miss the French/Italian kind, here you'll find Peck. For those looking for something more traditionally Japanese, you can buy kaiseki dishes from wellknown Kyoto restaurant Kikunoi close by. And if you are looking for a restaurant then the top three floors have plenty of them, including tonkatsu at Katsukura, and Chinese soup dumplings at Din Tai Fung.
Tobu
1-1-25 Nishi-Ikebukuro, Toshima-ku
Tel. 03-5981-2211
Open daily: 10am – 8pm
Nearest station: JR Ikebukuro (Yamanote Line)
www.tobu-dept.jp/ikebukuro (Japanese)
This is the biggest depachika in Japan: 250 shops (!) divided between two buildings. The variety is mind-boggling, but we'll dare to pick out a couple of names: Tsukugon for oden, and Pao Pao for gyoza (both fried and steamed). Ah, and the beer selection is among the best in the city. Do you remember the Iron Chefs? Would you like to taste Chin Ken'ichi's Szechwan cuisine? One branch of his restaurant Shisen Hanten is here, somewhere on one of the top floors.
Tokyu Toyoko-ten Food Show
2-24-1 Shibuya
Tel. 03-3477-3111
Open daily: 10am – 9pm
Nearest station: JR Shibuya (Yamanote Line), Tokyo Metro Shibuya (Hanzomon Line)
www.tokyu-dept.co.jp (Japanese)
The eat-in at En Dashi Chazuke has a selection of hot rice in savoury broth served with a variety of toppings, while Uoriki serves good sushi at reasonable prices. One side of this depachika offers more shops selling sweet bread, pudding, cake and tarts than you can shake a stick at. The sake department usually does weekly promotions, so don't miss a chance to try their local booze.
Mitsukoshi
(Ginza store) 4-6-16 Ginza, Chuo-ku
Tel. 03-3562-1111
Open daily: 10am – 8pm
Nearest station: Tokyo Metro Ginza (Ginza, Marunouchi, and Hibiya Lines)
www.mitsukoshi.co.jp (Japanese)
More of the same, PLUS it's located at one of the most glamorous spots in the whole of Tokyo: Ginza crossing. Enough said. You can find more depachika-related information, and a lot more in Sakamoto's wonderful book "Food Sake Tokyo". Visit her website at http://foodsaketokyo. com/
J. D.
Photo: Jérémie Souteyrat