No38 [Discovery] A divine encounter at jab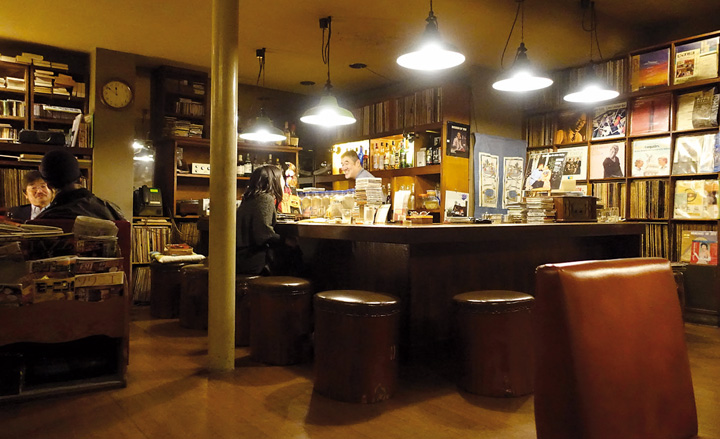 The owner of a certain Jazz bar in Fukuoka entices his customers in with a selection of the best black American jazz artists.
In the Tenjin district, across from Nakasu Island where the Fukuoka Jazz festival takes place every year, a branch of the river leads you to a red shopfront where the letters JAB, Jazz and Coffee hang over the door. Only one other sign is displayed: a telephone with a red line through it. This is a rare place, which remains completely true to itself and is dedicated to presenting a selection of music chosen by the owner and his clientele. We go in. Amplified music is streaming out from the 40 year old speakers and the atmosphere is cosy. You can even smoke a cigarette at the counter. The barman turns around and chooses a record from one of the shelves that cover the walls. There are a few tables, a dozen stools at the counter, and behind it stands Akiba Masaru. He pours out the coffee, shochu (distilled alcohol from sweet potato), whisky or beer, but you don't come here for what the menu has to offer, it is very much about the music. This is how Akiba found the venue when he first came in, back when he was a student studying heritage conservation. He would happily just sit drinking coffee and listen along. The "boss", Hanyu Yunoshin, opened the bar in 1971. This fervent music lover and defender of black American jazz gathered a collection of more than two thousand records, some of them true gems. For example he had a record by Duke Ellington and Ella Fitzgerald with both their signatures. The bar could have disappeared when its owner died in 2000, but Mr. Akiba decided to get behind the counter and now takes care of it every day of the week from midday to midnight, except on Sundays. He gave up the idea of finding work in the field he trained for and dedicates his life to JAB, promising to "preserve the style and spirit of this place until the end". Jazz and the city of Fukuoka first came together when the American army was stationed here. "We were listening to it even before the Americans arrived," he assures us, but the arrival of the GIs meant more venues dedicated to this kind of music opened. Back then there was no other kind of entertainment. It was either the cinema or a jazz bar. The impact is still felt today.
Nowadays, with thirty odd seats, he continues to play the black jazz classics, following the example of the former owner. "You won't hear Keith Jarret here," Akiba says ironically. He keeps an eye on the customers from behind the counter, slowly looking through the vinyl records in his library covering the walls to select the record that fits the moment or the "client's style". As a soon as we stepped inside he put on "Under Paris Skies" by the Freddie Reb trio, a recording that dates back to 1971, which he chose for us when he heard our French accents. It gives him great pleasure, as he modestly admits, to watch his patrons' reaction. He sets the album jacket on an easel standing at the end of the counter and, satisfied with our response, he returns to his wall of vinyl; only he understands the order in which they are arranged. There's a corner of a shelf dedicated to the French people who visit his bar. A man of few words, we encourage Akiba to talk and he ends up telling us about how jazz has changed in Fukuoka over the last forty years. He saw his fellow jazz bar competitor and friend close his restaurant, the New Combo, a dozen or so years ago. Apart from Riverside, JAB is one of the last bars in the capital of Kyushu to operate in this way, where a client can choose a record to be played. He's not a big fan of the usual classic records people ask to hear, but he respects their choice. While telling us this, he lifts the needle and places it on the grooves of a Michel Sardaby Trio recording. A rare gem: Night Cap's first album from Martinique with Percy Heath on bass and Connie Kay on drums. It's clearly one of his favourites. He plays two numbers from the album at a moderate volume through the well over meter high JBL speakers. "We changed the tweeters twenty years ago. The sound was too high and hurt one's head," he tells us. It is soon almost midnight and we discover his incredible collection from the catalogue of producer Henri Debs, who popularized zouk (Creole music) and whose jazz artists travelled to Japan. "There are a dozen jazz bars in Fukuoka, but they change hands too often," he says regretfully. As far as the musicians are concerned, he thinks they are "too much about technique, greed and business". It's been ten years since he's organized a gig in his fifty square metre bar. "Records are made to be listened to," he says. So he bends over backwards to please his music loving patrons; that's why JAB is still here today. We ask about the last record he bought. He hesitates, then goes to fetch Miyoshi Umeki's album of American songs sung in Japanese. "She died at 90 years of age in a retirement home for artists in the United States. She was one of Japan's most beautiful voices," he insists. It's closing time soon, and as the suave and soulful voice of the Japanese singer fills the bar, we ask him if he has a website. He laughs and tells us you can't find him on the Internet.
Dominique Leray & Ritsuko Koga
Photo by Dominique Leray
Getting there
Location
150 metres from Tenjin-minami railway station, jab will welcome you to the beat of the best black american jazz artists.
5-2-13 watanabedori, Chuo-ku, Fukuoka
Tel. 092-712-7413
The Nakasu jazz FestivaL has taken place every September since 2009. A dozen musicians, for the most part japanese, perform on stage from 5pm to 11pm over two days. To get there, you just need to take the Kuko subway to Nakasu Kawabata station. Performances are free and open to the public.