No1 [Challenge] Reinventing "made in japan"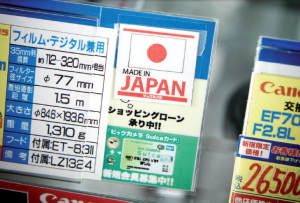 After a challenging year on all sides, the Japanese population is set to slowly regain trust in it's own products.  
According to its end of year habit, Nikkei Business, a magazine specialised in economy, published the list of the most popular products in Japan. And it was a surprise to the journalists when they found out that the Japanese products had gone completely missing from the list. For the first time in the history of this annual classification, not one Made in Japan product figures in it, as if a tsunami had blown everything away. The storm didn't come from the Pacific, but from the West, from Korea to be more precise. After having first been seduced by Korean TV shows and pop music, lately the Japanese have fallen for Made in Korea products. Mobile phones, drinks, cookies, ramen even: South Korean companies have left nothing out, and it looks like they have succeeded in seducing Japanese consumers with the originality, quality and prices of their products. Various factors explain why Made in Japan has disappeared from the Nikkei Business list. The 11th of March events are of course not to be neglected. Electronic ware makers focused on less energy consuming products rather than on originality as they did before. This change in the state of mind didn't help. Many new products presented in advertisements were promoted for their energy saving and their resistance, and that contributed to blurring the message sent out to the consumers. Many companies also decided to push back the launching date of new products because they considered the moment wasn't right for imposing new tastes and innovations that are only little adapted to the situation in the archipelago. Other than Mother Nature's deadly storms, yet a worse problem is weighing on Japanese made products.
Over the past forty years, Japanese products have acquired a solid reputation for quality and resistance at home and abroad. The following slogans are good reminders of the trust in those brands: "My Toyota is fantastic", and "I dreamt it, Sony did it".Quality controls and the zero default guarantee were characteristic of the Japanese production system and they insured all customers' satisfaction. Fukushima's nuclear power plant accident ruined the myth of security, and underlined weaknesses that may have a long-term impact on all of Japanese products. The consequences are hard to evaluate, but there is no doubt that everything Made in Japan is going to pay the price. The number of Japanese food products that have raised consumers' suspicion speaks for itself. Insidiously, alike invisible radioactivity, doubt has spread to other categories of products. Loss of confidence is an illness that needs to be rapidly healed before it gets worse. The challenge is even greater for Japan because its industry was already hurt with Thailand's disastrous floods. According to official statistics, more Japanese than Thai companies were hurt in the floods, thus paralyzing part of their contribution. Needless to say that the Japanese Industrials can't be directly blamed for these situations, but they need to react quickly in order to regain the consumers hearts, and recover serenity. 2012 will be crucial for everything "Made in Japan". Companies and their employees will need to show that they can meet quality, innovation and security, further more, that if there were to be a major catastrophe, most Japanese products would resist. Fukushima's power plant events have darkened certain realities. Very few people raised the fact that none of the regular fast trains between Tokyo and the Northeast of the Archipelago derailed despite the strength of the tremor, yet approximately twelve of them were running on the 11th of March at 2:46 pm. And only few underlined that most buildings, such as Sendai's beautiful multimedia library, resisted the earthquake, thus boasting Japanese know-how. Other examples can be listed, but it seems like anything even relatively close to the industrial sector is stricken my Fukushima's curse.
The Made in Japan notion needs to be reinvented and extended to other sectors such as services and the craft industry, two strong areas that conserve a good image whether inside or outside the country. Tourism is also an obvious area, which is still largely unexploited in the archipelago. Over the past few years, efforts have been made in attracting foreign tourists, mainly Asian, but yet a lot can be done. Japanese craftsmen's skills needn't be proven, and their products are still very popular. Those are just a few fundamental areas that can help Made in Japan products retrieve prestige while trust is regained in other fields. Japanese should remember that less than a century ago, their products were considered down-market. Decades were needed to demonstrate the opposite. Today, if they make use of their past experience and dare explore new horizons, they could go further still with Japanese quality. Since March 2011, awareness is felt. There is just one step left, and by Nikkei Business' next charts, Made in Japan products may just have regained the top of the list.
Odaira Namihei
Photo: Jérémie Souteyrat