No42 [Adventure] Three men on a bike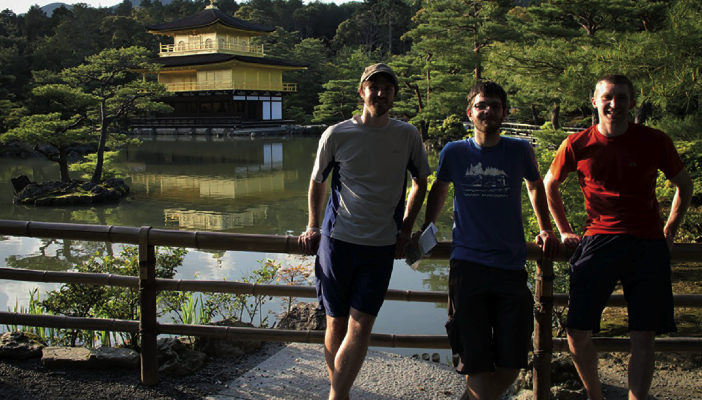 43 days travelling from the north to the south of Japan. An amazing journey undertaken by a group of friends.
over the years accounts of travelling across Japan on foot have become a sort of subgenre in travel literature. Beginning with Alan Booth's The Road to Sata (1985), a few daring (some would say foolish) people have walked the distance separating Cape Soya (the northernmost point in Japan) to Cape Sata (its southernmost point) – or vice versa. In 2011 American Andrew Marston decided to do the same but, too impatient to walk, he opted for riding a bicycle and took his two friends, Dylan Gunning and Scott Keenan, along for the journey. The result was Japan by Bicycle, an e-book chronicling their 3,500-mile adventure that took 43 days.
Why did you decide to tackle such a big trip?
Andrew Marston : It all started back in the US when I was in college. At that time I wanted to move to Japan and I heard about Tyler MacNiven and Craig Stanton who had crossed the country on foot on different occasions. Five days after graduating in 2009 I finally flew to Japan, found a job as an English teacher and moved south to Fukuoka Prefecture. After two years I decided to return to America. It was at that point that I remembered Tyler's and Craig's journeys and I thought, if they could do it, why not me? It was important for me to prove to myself what I was capable of accomplishing and what my limits were. Then, one month before the start of the trip, an earthquake and tsunami devastated the Tohoku region. So we turned our ride into a fund-raiser by means of which we were able to donate over $13,500 to the victims of the disaster.
How did you prepare for this long ride?
A. M. : Pulling off this trip off was actually much easier than I thought it would be. I bought all the equipment back in America when I was home in 2010. In hindsight the only things I should have bought in Japan were my inner tubes, since the valves of the ones I had are uncommon in Japan. Also, I wish I'd bought a front rack with panniers to better distribute the weight over my bike. As for planning I think Scott and Dylan had to do much more than me since the trip required them to interrupt their lives for two months. We didn't map out our route before setting out but opted to plan as we went, using my iPhone and a small netbook we bought for the trip.
Only one month before the start of your trip 3.11 happened. How did the disaster affect your plans?
A. M. : Obviously we put health and safety first, so we considered revising our route. The back-up plans we came up with included avoiding Tohoku by taking a ferry up to Hokkaido; cycling a loop covering only southern Japan; and even skipping Japan altogether and riding the length of South Korea. Luckily, in the end, we were able to follow our original route.
What was the worst moment during your crosscountry ride?
A. M. : I guess that would be the last 20km to Fuji riding through the torrential rain of a typhoon after midnight on Day 27. We were trying to make it to our host's house ahead of an approaching typhoon. Then we realized our host lived about 30km further on than we had predicted, and we were caught pedalling through torrential rains around midnight. To make matters worse we accidentally got onto the motorway.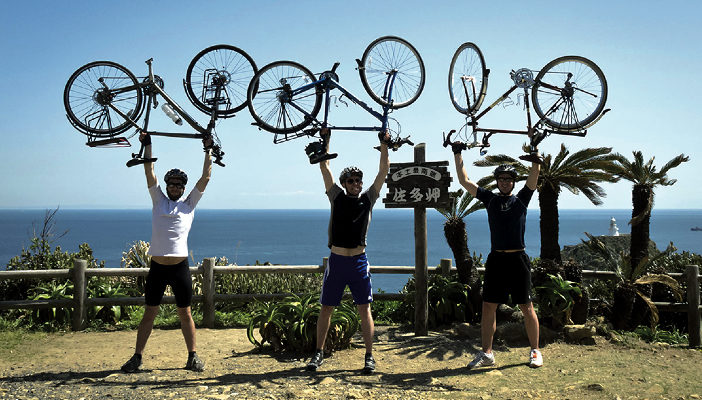 Do you have any advice to people who'd like to follow in your steps?
A. M. : Before you start you should learn as much as possible about your bike and practise taking off both wheels, replacing spokes, patching tyres, etc. Also, train properly and get fit. I don't think I logged more than 30km before the trip, and I paid dearly in the first two weeks. If I were to do something similar in the future I'd plan to start two months beforehand doing cardio four days a week, building up leg strength, and also stretching twice a day to prevent pulling muscles. Last but not least, if you're travelling from abroad, check your airline's policy on taking bicycles on the plane. Many airlines have specific rules regarding bikes, even if they're dismantled into several pieces.
How about route planning?
A. M. : Unless you are on a tight schedule I suggest you rest one day a week and have a few days extra on top of that so you have time to explore, lounge around, and hang out with people you meet along the way. We took 43 days, but if we had made it 50 or even 55, I think those extra days would have been worth the time and expense.
How did you manage with food?
A. M. : We brought camp cooking gear – such as a stove, and pots and pans – and bought most of our food at grocery stores since the cost of eating out adds up quickly. Every grocery store has a readymade food section with reasonably priced meals. If you arrive just after lunch or dinner they've often been discounted. My advice is to eat every time you have the chance. We had a hard time keeping up our energy levels sometimes as we were burning calories non-stop.
Was it difficult to find camping sites?
A. M. : Not really. We camped in local parks, on beaches, playing fields, and other public places without any problems. Even small local shrines in rural towns almost always have some nice places to pitch a tent. The key to camping is to be polite and make sure you are not in anyone's way, clear up completely before you leave, and be gone early in the morning. We never had any problems with the police either.
Besides camping you stayed in several houses along the way. Were they all people you already knew?
A. M. : Most of our lodging was found on couchsurfing. com. Two to four days before we thought we'd be arriving in an area we sent requests to everyone listing a couch in the district. We were very lucky in this respect. One day, for example, we arrived at the apartment of an artist. He laid out this huge spread of delicious Japanese delicacies for us. He just went all-out to make us feel at home. Another option for bikers on a budget is capsule hotels and Internet cafes. If your Japanese is good enough and you pick your target well you're quite likely to be invited to stay with a local. Don't bank on it, but this did happen to us several times.
Anything you want to add?
A. M. : I couldn't recommend this more. Travelling by bike gives you the freedom to explore the backstreets and experience the countryside first hand, rather than through a train window. For me the challenge of the journey was not the overall length of the trip but the day-to-day exertion of cycling so many miles. It didn't hit us all at once, but every day we became a little bit more weary, both physically and mentally. But if you are really motivated you can easily overcome these problems. Our ride is proof that you don't have to be Superman to achieve big things.
Practical Information
For a detailed list of useful gear check out pp.16-19 of the japan by Bicycle e-book available for free at
www.unframedworld.com/japan-by-bicycle
GIANNI SIMONE