No35 [Portrait] The incredible Sugiura Hinako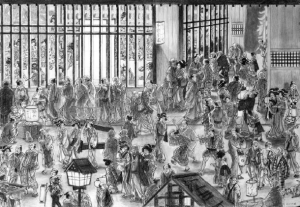 ©Hinako Sugiura・mS.hS ©Masaya Suzuki
Thanks to her talent and her wide knowledge of Edo culture, this mangaka's work has become a point of reference.
Born in Tokyo to a traditional family of kimono makers, Sugiura Hinako became quite passionate about drawing, design and Edo era Japan. As a famous mangaka she received several awards during her career, but it was as a specialist in history and the Japanese society of the Edo era that she became known to the public at large, after appearing on TV programmes on the subject. Today her brother Suzuki Masaya and his wife Hiroko devotedly uphold her memory. They speak about her with great warmth, emotion and pride, and even showed me her original drawings from the large library she left behind. Her manga Sarusuberi first appeared as a series in the weekly magazine Manga Sunday, between 1983 and 1988. It is made up of 30 chapters describing life in the Edo era. Before her time, most manga were aimed primarily at a male audience audience but Sugiura Hinako chose to illustrate a manga of a distinctively new kind, aimed at both men and women. Her main character was Katsushika O-Ei, a woman of exceptional qualities and the daughter of famous print artist Katsushika Hokusai. It can be a burden to be the daughter of such a talented and famous father, but Sugiura Hinako knew how to make the audience appreciate her and all her imperfections. Far from being the traditional female role model – getting married and producing an heir – O-Ei decides to live like her father, for her art. Forget housekeeping, she isn't interested. She is her own person and doesn't attempt to please others. She talks like a man and is not scared of teasing her father's apprentices or the other painters. She is also a woman full of life who, like any young girl, seeks to understand what love is. Though the real O-Ei married and divorced soon after, both the manga and film end before this chapter in her life. Sugiura Hinako borrows the title Sarusuberi from a haiku by the female poet Kaga no Chiyojo (1703-1775), in which she praises the beauty of the Indian lilac flower, called sarusuberi in Japanese. The original haiku goes: "Chireba saki, chireba saki, sarusuberi", translating as "They fall then bloom again, they fall then bloom again, lilacs from India". Suzuki Masaya recounts that her sister loved those bushes and the carpet of flowers made by their fallen petals.
In Japanese, the three kanji characters that make up the name of the sarusuberi (Indian lilac) flower have the literal meaning of "100 days in flower". Sugiura Hinako's manga reflects this, as she portrays a hundred days in the life of Edo; the hustle and bustle of the various districts, the human relationships, etc. The supernatural is also very much present with wraiths, yokai and other entities. O-Ei lives with her father in the epicentre of the world of painting and Japanese prints. All the great names of the time, such as Kitagawa Utamaro, Keisai Eisen, Katsukawa Shunsho and Utagawa Kuninao are there. The smallest details of people's daily lives from this period are illustrated naturalistically and take us back in time to rediscover the atmosphere that the painters of ukiyo-e, and especially Hokusai himself, portrayed so well in their work. Sugiura Hinako's brother Suzuki Masaya and his wife Hiroko were very close to her and were very touched when they received a letter from Hara Keiichi, himself an admirer of Sugiura, expressing his wish to adapt Sarusuberri as an animated movie. "The animated film that he produced is beautiful, and I am certain that my sister, wherever she might be, would be very happy," he says. It is rare for a manga to still have such a public following three decades after being published, which proves the the quality and originality of Sugiura Hinako's work. Sarusuberi takes on a new lease of life with this masterpiece produced by Hara Keiichi. Thanks to the manga and this animated movie, those who are passionate about traditional and contemporary Japan will be able to immerse themselves in the delights of a bygone era.
B. K-R.