No47 [Event] Sushi and smalltalk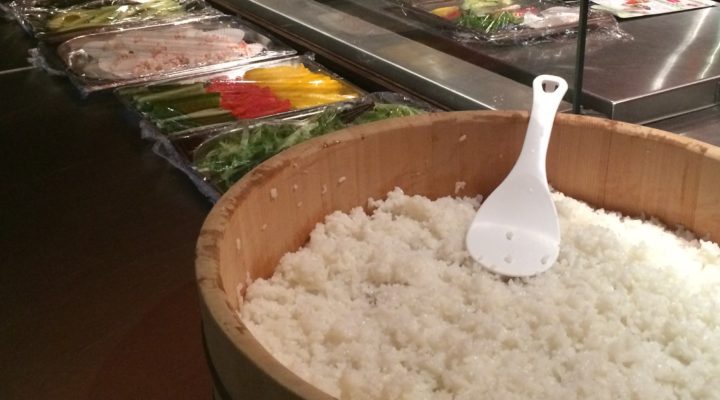 This unique event held on Friday the 11th of November brought together 30 English and Japanese speakers.
The most important thing about learning a language is using it to connect with people, but it can often be tricky to simply go ahead and speak to strangers. That's why Zoom Japan, JapaneseLondon.com and Sozai Cooking School put together a special evening featuring a structured English and Japanese language exchange along with a hands-on makisushi tutorial. The first part of the evening focused on language exchange, where English and Japanese speakers were paired together to chat, changing languages halfway through before then moving along to swap conversation partners. It is a brilliant way to make sure that people actually practice their communication skills, whether beginner, advanced or anywhere in between. The ice was thoroughly broken by the second part of the evening when everyone wanted to continue getting to know each other and sample the delicious ume-shu (plum wine), sake and beers available at the bar. Soon everyone moved to the back of the room to gather around for the maki-sushi cooking lesson.
Sozai Cooking School instructor Izzy's enthusiastic style of presenting showed that 'temaki' (hand-roll) sushi is an easy and fun idea for a party. Selecting your choice of tasty morsels and rolling them up without the need for a mat or other equipment is so casual and appealing. Stomachs were rumbling when presented with the array of fresh, colourful ingredients that the would-be sushi chefs would use. All the participants prepared a temaki roll and placed it in a bowl which was numbered on the bottom. These numbers corresponded to the seating numbers assigned to everyone, so it was very amusing to see who had prepared the sushi that you chose!
The feedback from the participants was glowing, with comments such as; "6 minutes sessions were too short! But everything else was sensational!", "It was great to talk to so many people and making sushi was fun.", "I would like you to hold this event regularly.", "It would be great to have this event once again with another recipe!".
If you'd like to be notified of similar events in the future, please be sure to subscribe to Zoom Japan's free newsletter from their website.
VANESSA VILLALOBOS
BIO
Vanessa Villalobos, Creator / Head Teacher.
Runs the
JapaneseLondon.com
website which offers reviews, an events calendar, a free mailing list and private Japanese tutors, as well as
IsshoniLondon.co.uk
offering private English tutors.