Final Result At Last! Mushroom vs Bamboo Shoot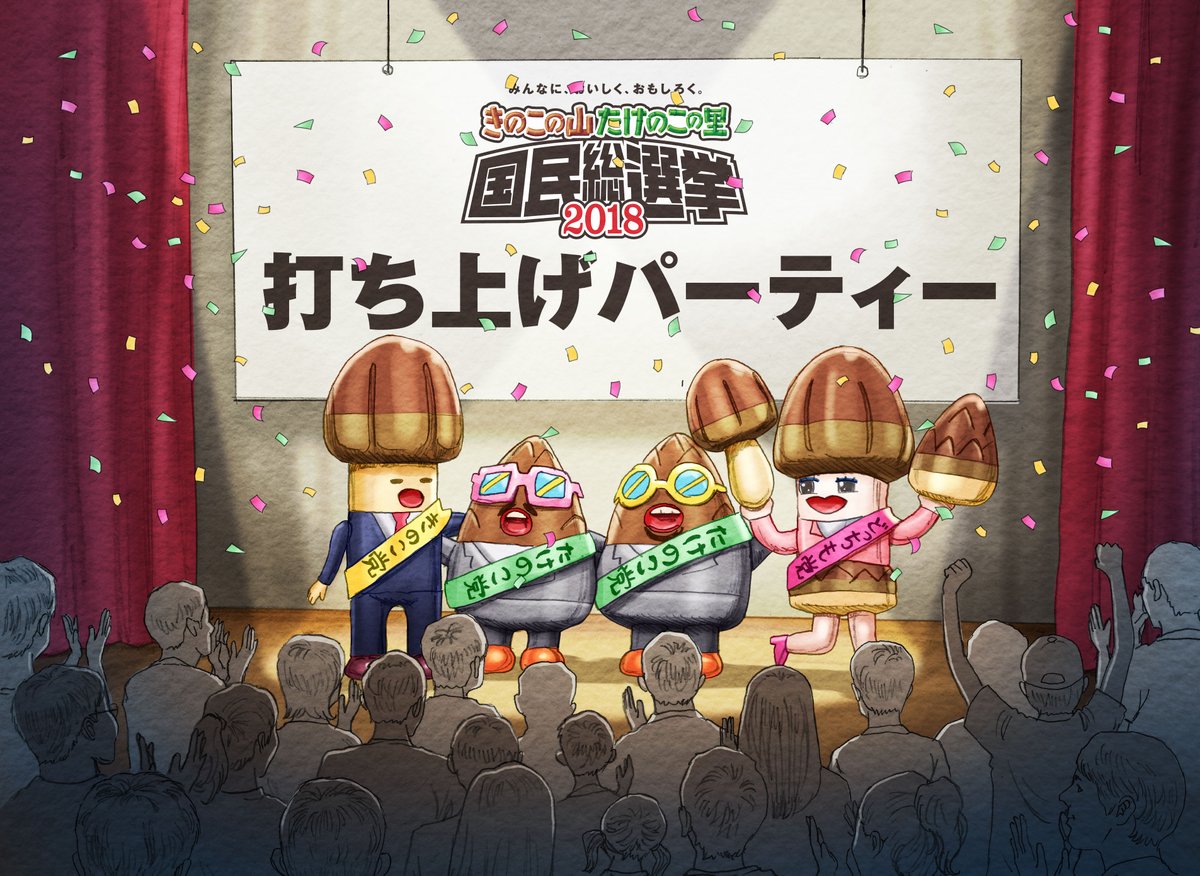 "Kino-Take Battle" – a long battle between 'Kinoko no Yama' devotees and 'Takenoko no Sato' fanatics – has finally come to an end. For those who have no idea what it is all about, visit: www.zoomjapan.info/2018/03/29/ mushroom-or-bamboo-shoot-that-is-the-question12
The interim report back in May showed that 'Takenoko no Sato' had a clear lead, however, pushed by the strong supports from several celebrities and updated manifesto, there was a big surge in the votes for 'Kinoko no Yama'.
The battle is over. I can now reveal the final result:
6,931,220 votes for 'Takenoko no Sato' and 6,761,773 votes for 'Kinoko no Yama'
Yes, very close…, but there has to be only one winner. Sadly, the celebrities' support for 'Kinoko no Yama' came too little too late. A 38-year long battle between them ended in 'Takenoko no Sato' victory.
The referendum chairman, Mr. Jun Matsumoto, praised the rivals who had endured firece competition and thanked all the supporters on both sides who fought hard throughout the 5-month long campaigns.
Mr. Matsumoto also reminded us that a winner should not be proud, a loser should not be ashamed. Oh, how wise and helpful…
Now. Here are the winner's tasks in their manifesto which they are obliged to honour with immediate effect:
1. To create a new version of 'Takenoko no Sato', supervised by Olympic Judo gold medalist, Ms. Saori Yoshida 2. To publish a life-style magazine 'SATO'
3. To organise a one-night-only gig from the trio band 'Takenoko in Love'
4. To launch 'Dig Dig Takenoko' chocolate confectionery
5. To launch AI speaker 'TAKE'
6. To release J-pop song 'TAKENOKO.tokyo'
7. To launch a special version of 'Takenoko no Sato' breakfast cereal
8. To launch a courier service, specialised in emergency 'Takenoko no Sato' delivery
OMG. How exhausting… I bet the 'Kinoko no Yama' campaign team is secretly thanking God for making them lose.
Hey!ニュースだYo★#きのこたけのこ国民総選挙 の結果発表日が9月11日に決定だYo‼️

ブラザー達にはマジ感謝してるから、打ち上げパーティーを開催するZe✨
たけのこの里食べ放題だYo❗️先着100名までのブラザーが参加出来るから是非来てくれYo❗️
詳しくはコチラ⇒https://t.co/vudWfNuRsX pic.twitter.com/M49fNTwdkm

— たけのこ党 (@takenoko_meiji) 2018年9月3日