Mushroom or Bamboo Shoot? Now, the national referendum is on!…(2/2)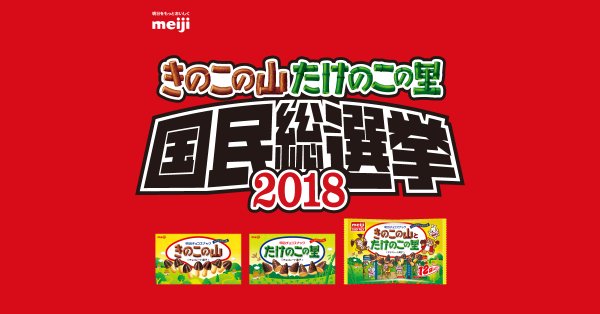 Now, the national referendum is on!
アジアンスーパーで見て衝撃。このスーパー… きのこ派..か? @kinoko_meiji#30セントの高級感#きのこ党#きのこたけのこ国民総選挙 pic.twitter.com/flkAMctK14

— Mimistylee (@Mimistylee) 2018年3月18日
To put an end to the 38-year long battle between 'Kinoko no Yama' devotees and 'Takenoko no Sato' fanatics, their manufacturer Meiji Seika announced the national referendum. Yes, you heard it right. REFERENDUM! Your last referendum was on BREXIT. You know now how important it is for us.
To hold referendum, you need parties to represent your opinions. The parties need manifesto to appeal to you. Don't you worry, they are all covered. Meiji Seika even appointed Japanese heart-throb singer/actor, Jun Matsumoto, as an election chairman.
The website has been set up where you can vote on the party you support and/or on their individual manifesto. Alternatively, you buy one of 'Kinoko no Yama', 'Takenoko no Sato' or their sister snacks, cut out the barcode of the box, then send it together with the name of your favourite. By doing so, some of the lucky ones may even win the special partymember card! (I wonder how many of them will end up on eBay…)
The final result will be announced on 31st July 2018. Until then, the fierce battle will continue.
Sorry to be a cynical bore, but I can tell you that the only winner here is none other than Meiji Seika. I have no doubt this referendum business will boost their sales. Very clever marketing tactics. I just want to believe that Japanese people are playing along with it, knowingly…
How to VOTE?