No73 [TESTIMONY] New towns and old people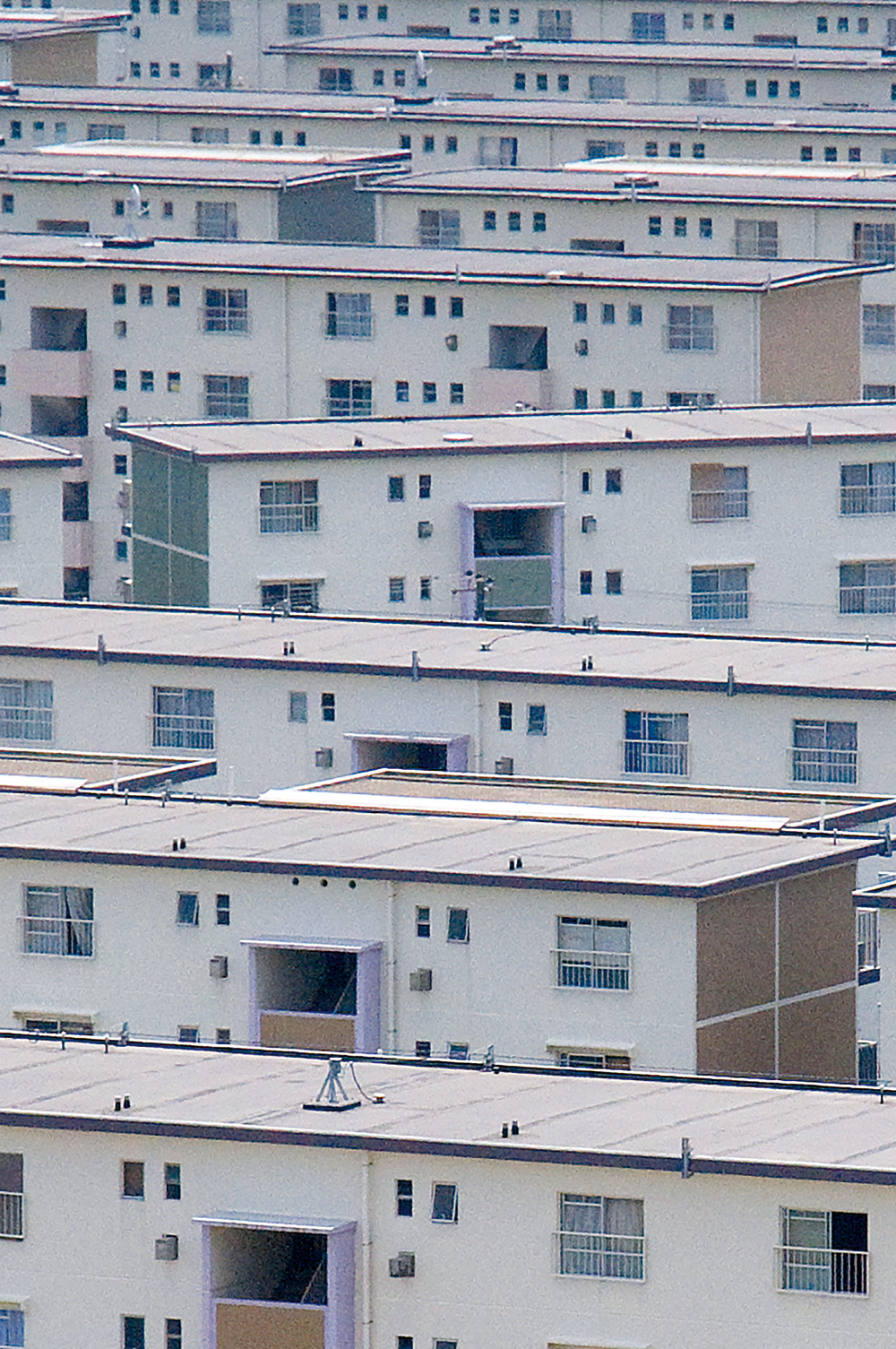 Symbols of Japan's huge growth during the 1960s and '70s, danchi are occupied nowadays by elderly people who inspire Saito Nazuna's work.
72-year-old mangaka Saito Nazuna has chosen to depict the bleak daily life of elderly people in her neighbourhood.
on a sunny Friday afternoon, the district south of Tama-Center Station is full of couples and families having a good time. Many are headed to Sanrio Puroland, the indoor amusement park devoted to Hello Kitty and friends, just ten-minutes' walk away. But if you go past Kitty-chan's pastel-coloured castle and keep walking eastward, you reach a forest of danchi (blocks of council flats) now mainly inhabited by senior citizens. I'm here to meet one of them, 72-year-old manga artist Saito Nazuna. She lives alone, like many of the local elderly, sharing her small apartment with her five cats.
Born near Mount Fuji in 1946, SAITO moved with her family to Tokyo where she attended junior college. "I specialised in Home Economics," SAITO says. "At the time it was nicknamed hanayome gakko (bride school) because it trained single girls in the art of homemaking and prepared them for married life. I didn't get married that soon, though (laughs). So after graduating, in order to improve my chances of employment and be economically independent I enrolled in an English conversation school while doing different jobs like waiting tables in a café. I never mastered the English language, I'm sad to say, but eventually was hired at the language school as a staff member."
While doing clerical work at the English school, SAITO began to help another employee who was in charge of drawing illustrations for the school's textbooks. "When my colleague left I was handed her job," SAITO says. "After that I was asked to draw illustrations for a book publisher. Eventually, I left the English school and became a full-time freelance illustrator. I did all kinds of projects, from book covers to posters. I even did a once-a-week gig for Sankei Sports, a daily sports newspaper."
For many years the publisher supplied SAITO with an endless stream of work, but when she turned 40 her source of income began to dry up. "Looking for new job opportunities, I submitted a manga story to Shogakukan [a major Japanese publisher] and won the Big Comic Award for new artists," SAITO says. "So you could say I became a comic artist almost by chance."
SAITO kept busy creating critically acclaimed manga all through the 1990s, but towards the end of the decade she dropped out and didn't create anything new until recently.
When SAITO was 60, she was offered a teaching job at Kyoto Seika University's Faculty of Manga. This is the institute that, in 2006, established the Kyoto International Manga Museum. "I teach drawing technique on Mondays and Tuesdays," she says. "I leave home very early on Monday morning, take the Shinkansen to Kyoto and spend a night there. But recently, at my age, it has become harder and harder to commute every week. Well, anyway, this will be my last year at Seika."
Though her university job may be coming to an end, SAITO keeps teaching at home where she has started the Tama Manga School. "I don't have much space to teach, but I like to encourage people, both kids and adults, to pursue their passion," she says. "Manga is a powerful tool to express your ideas and feelings." Though the weekly commute to Kyoto is hard, it was thanks to SAITO's students that she began to draw manga again. "When I started, I was so busy with teaching and looking after my sick parents and husband that I didn't even have the time to think about comics," SAITO says. "At the same time, though, I found myself in a stimulating environment, surrounded by youngsters for the first time after many years. They have talent and are so enthusiastic about comic art that their passion rubbed off on me. They have been a constant source of inspiration. The result of this synergy was Toraware no hito (The prisoner), the story – inspired by her own personal experiences – of the last moments in the life of an embittered elderly woman told through her children's memories and her hallucinations. "This story came out in 2012," SAITO says. "A manga critic saw it and put me in touch with Ax magazine. They said old age was an interesting subject and encouraged me to write more. So in 2015, I finally made Bocchi shi no yakata (Solitary Death Building), a comic born from my observations of the old people who live in my neighbourhood."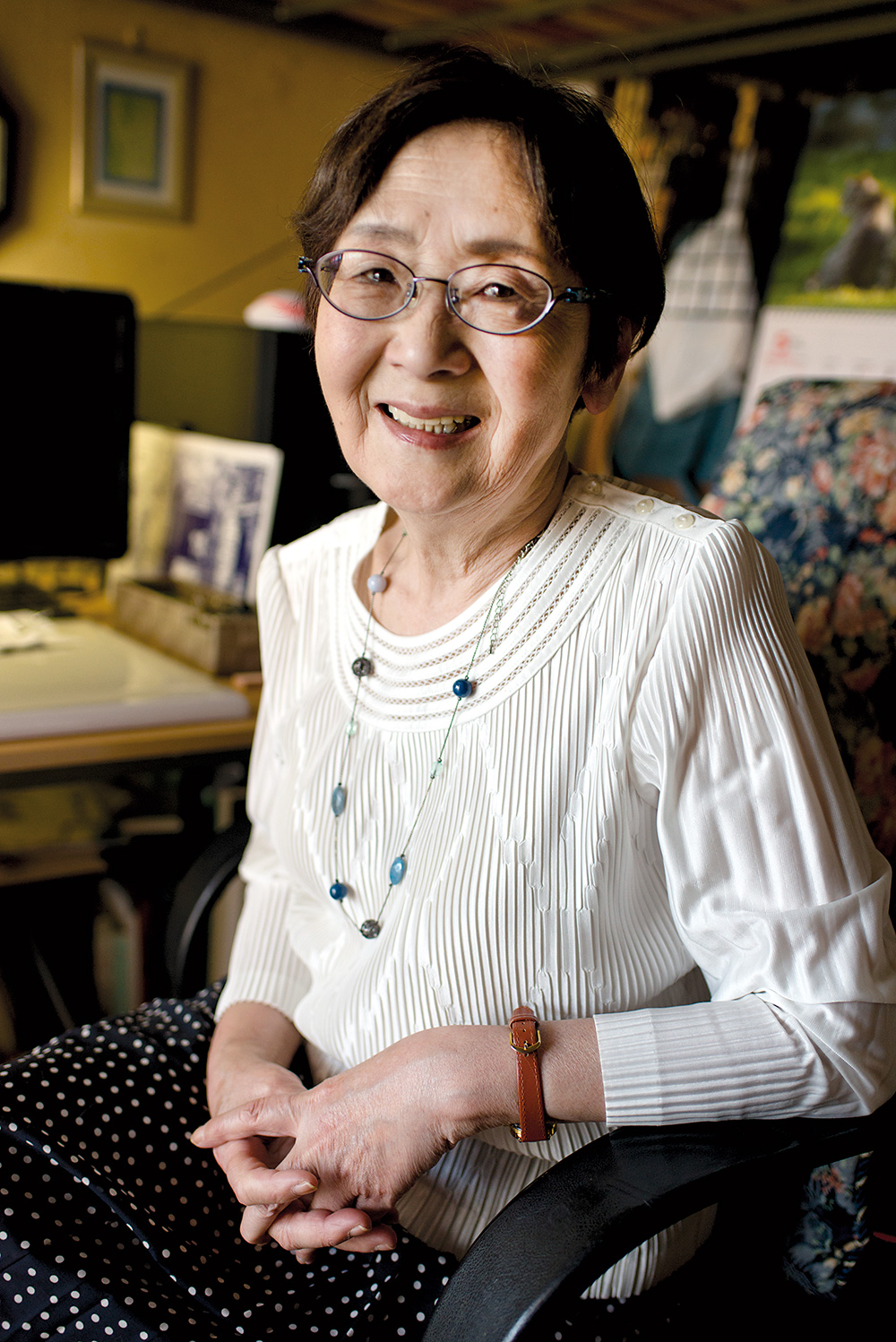 at the age of 72, the mangaka has just won two prizes for her work, which largely focuses on the lives of elderly people living in Tokyo's suburbs.
These two comics were eventually compiled into a book (together with eight old short stories from the early 1990s), which this year was awarded two prizes including one at the Japan Media Arts Festival.
SAITO was later asked by Shogakukan to turn Bocchi shi no yakata into a series. "I wrote two more stories, but then I had a stroke and had to stop," she says. "Luckily it was just a mild stroke, and recently I've resumed drawing again… alas, very slowly. My hand is not as steady as before." Even now, SAITO does all her drawing by hand. "Because screentone paper is expensive, I tried to apply it by using PC software, but I'm hopeless with computers. Instead of a small-dot background I ended up with huge polka dots! So I gave up (laughs). I should learn from scratch, but I'm lazy by nature, and at my age, anyway, I don't think it's worth the effort."
Tama-Center Station is the designated centre of Tama New Town, one of the oldest and biggest "new towns" in Japan with a population of 200,000. New towns are planned communities that were built around big cities during the economic boom of the 1960s in order to accommodate the rapid influx of workers from rural areas. Each of the 46 communities built following the 1963 New Housing and Urban Development Act was a self-contained commuter town with its own roads, parks, schools, hospitals and shops.
SAITO has lived in Tama New Town for the last 40 years, and the world of danchi was the main subject of her 1994 collection, Meiro no nai machi (The town without mazes). "These building complexes are artificially planned and designed towns, so they only have straight streets, it's impossible to get lost," she says. "However, the people who inhabit these places often get emotionally lost. They have their own troubles and worries, their psychological wounds. Everybody is searching for a little bit of happiness. Every day passes unremarkably until a problem suddenly arises and they don't know what to do."
The hilly terrain of many new towns, once considered an ideal environment, has turned into a problem for many elderly residents who have difficulty climbing stairs and walking up and down the slopes. "On the other hand, it's good for your legs," SAITO says. "It keeps them strong, or so they say (laughs)."
The danchi where SAITO lived at the time was comprised of five-storey buildings of flats. The buildings had no lifts, so when her husband became ill they moved to a nearby danchi, a taller building with a lift. SAITO has lived there for the past ten years.
The New Town portrayed in Meiro no nai machi is the place SAITO used to live in. "Both the place and I were much younger then," she says. "I wrote about the couples who lived in that danchi, even a few love stories. But now I can only write about old people waiting to die." The area looks attractive and is full of trees and flowerbeds. It's very quiet. Too quiet, actually. The whole time I'm there, I don't see a single person. The overall effect is of a well-maintained but abandoned place.
"Don't worry, people still live here," SAITO chuckles. "This place and these people have become my favourite subjects: gossip between neighbours, health problems, taking care of the local stray cats, solitude, and the occasional case of kodokushi (someone who lives alone and dies of natural causes at home without anyone knowing). Old people may look boring, but once you get to know them, they're fascinating and full of interesting stories."
SAITO's small flat is on the seventh floor and from her balcony we can see both forests: one of trees and the other of numbered blocks of flats. She shows me her work corner where she creates her manga. "Before, I could draw all the time," she says, "but after a while I ran out of interesting ideas and had to slow down. Now, I've got my inspiration back, but keeping to a regular schedule has become very hard, so I only draw when I have the time or feel like it. I can't stay up all night to beat a deadline like I used to."
We talk about the two forthcoming award ceremonies that SAITOwill attend, and she confesses she is completely out of the manga world now. "When I was younger, I used to read Garo and COMmagazines, but now I seldom read manga," she says. "At university, my colleagues are always talking about new artist and titles, but it all goes over my head.
"Even now, after all these years, it feels strange to call myself a mangaka. But I'm happy I can make a living out of drawing comics… considering how badly I failed at learning English (laughs)."
G. S.