No.74 [POP CULTURE] Ryo-san, olive and all the rest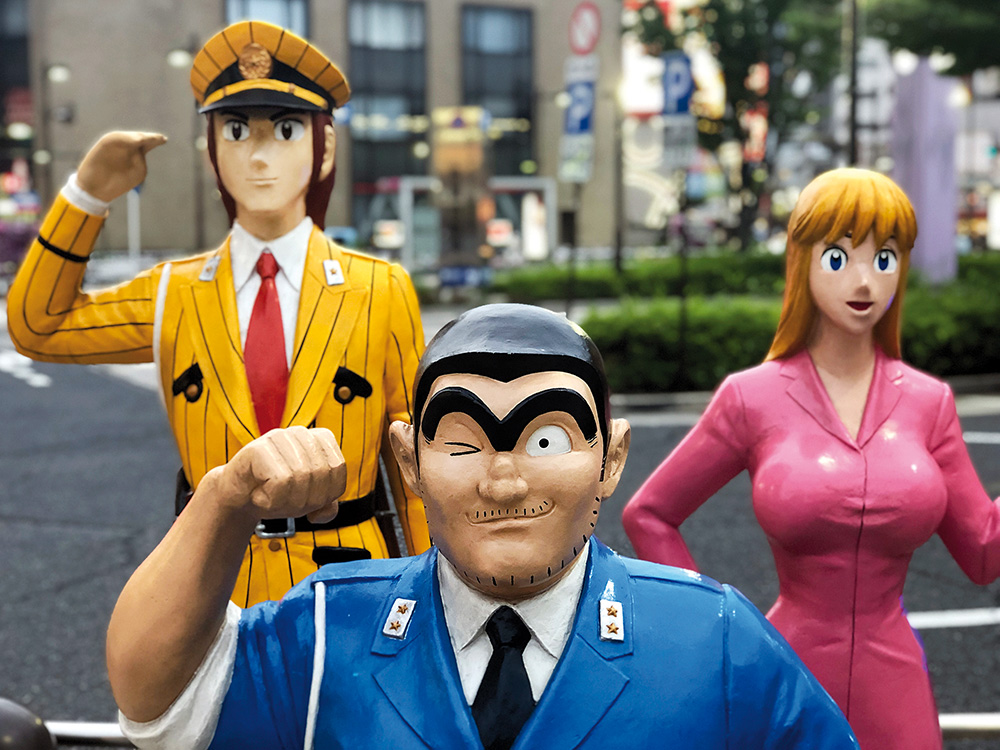 Ryo-san in the foreground with his two sidekicks, heroes of the series Kochira Katsushika-ku Kameari Koen Mae Hashutsujo (KochiKame).
Katsushika has inspired numerous manga authors, including the celebrated AKIMOTO Osamu and TAKAHASHI Yoichi.
In many ways, Katsushika has a strong connection with pop culture. Manga and anime's influence over the local population is so powerful that many boys who grew up in the 60s admired a boiler-shaped chimney that looked like Tetsujin 20-go, the giant robot created by comic artist YOKOYAMA Mitsuteru. When the chimney was recently torn down, the news shocked and saddened those residents, now in their 60s.
Of course, Katsushika's best known pop-culture icon is Tora-san (see article pp.6-7) and many fans from all over Japan still trek all the way to shibamata to pay homage to the film series. However, apart from Tora-san, Katsushika is not exactly considered a cool place and, apart from certain periods of the year (e.g. iris-viewing season) or neighbourhoods with a special appeal (the bar district in Tateishi), most of the people you encounter in such areas as Koiwa, Kanamachi or Horikiri are residents.
Once in a while, though, a new cultural icon or event appears out of the blue and shines a new light on an otherwise unremarkable place. That's exactly what happened when comic artist AKIMOTO Osamu created a new gag manga called Kochira Katsushika-ku Kameari Koen Mae Hashutsujo (This is the Police station in front of Kameari Park in Katsushika Ward), better known as KochiKame.
First published in Shonen Jump magazine in 1976, this story has turned the Kameari district into a seichi junrei (pilgrimage site) for many comic and anime fans. The manga itself was a series continuously for 40 years, from September 1976 to September 2016. Its 1,960 chapters were collected into 200 volumes, making it the manga series with the highest number of volumes.
As of 2014, its book version had sold over 157 million copies, making KochiKame one of the best-selling manga series in history.
Kochikame's main character, RYOTSU Kankichi (Ryo-san for short), is a hopelessly lazy policeman with superhuman power and stamina, a lust for money, and an otaku passion for video games and building plastic models. The story features a host of other quirky characters, including a handsome policeman and a beautiful young policewoman who come from rich families and, oddly enough, wear brand-name suits as their uniform.
Author AKIMOTO created KochiKame as a homage to the working-class people and districts of old Tokyo, and most episodes open with an elaborate full-page illustration of a shitamachi street scene. The story's original setting is Katsushika Ward (particularly Kameari where AKIMOTO was born) as it looked 30 or 40 years ago, complete with the typical atmosphere, human kindness, and community feeling of the area during that time. On the other hand, since Ryo-san loves gadgetry, the series has gradually incorporated into the story such technologies and trends as video games, computers, and mobile phones.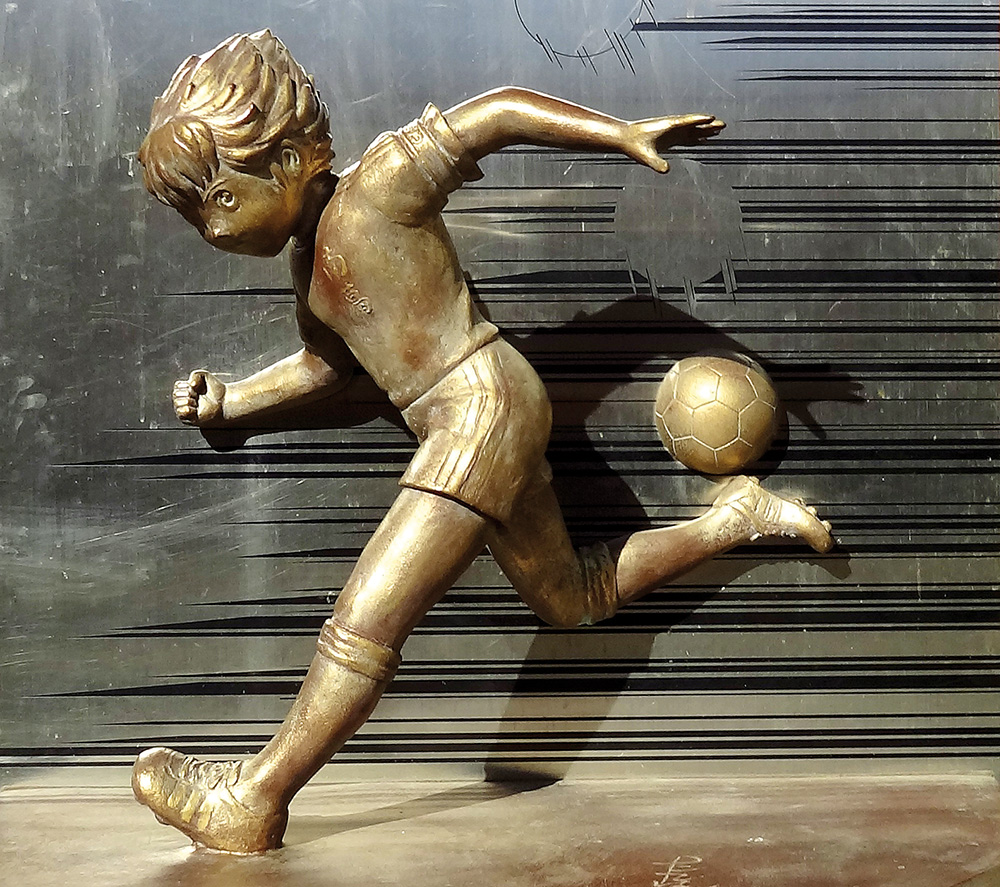 Characters from the highschool name Minami Katsushika make up Nankatsu and can be seen on Olive's jersey.
KochiKame fans mainly visit Kameari to hunt for the 14 manga-related bronze statues scattered around the station. The first one was placed on the north side in 2006 to celebrate the manga's 30th anniversary. Not far from it stands the police box on which AKIMOTO modelled Ryosan's police station. It's quite old and rundown, but the fans have repeatedly opposed plans to build a new one. Beautiful old buildings are torn down all the time in Japan, but the convincing power of manga and anime fans seems to be stronger than architectural conservationists. Most of the statues can be found on the south side of the station, together with a KochiKame game Park housed inside the Ario shopping mall. Also, if you stray far enough from the station, you will eventually find another piece of pop culture history: a monument devoted to Mito Komon. His real name is actually TOKUGAWA Mitsukuni, a real-life feudal lord of the Mito domain who lived during the seventeenth century. However, he is best known in Japan for the period drama that fictionalised his journeys around Japan in search of wrongs to right. The drama ran on prime-time television from 1969 to 2011 (making it the longest-running period drama in Japanese TV history) and reruns are still very popular.
Back to AKIMOTO: though the artist was born in Kameari, he considers Kanamachi, located immediately to the east of his hometown, one of his favourite stomping grounds. He learned to love this neighbourhood when he was a child and used to play in Mizumoto Park, and even now he frequents its local library and hunts for plastic models at suehiro, a shop that for the last 40 years has been a treasure trove of car, train, tank and aircraft model kits.
A number of Kanamachi landmarks often appear in AKIMOTO's comics, including the area's two most important architectural features: Komon Bridge and the Kanamachi Water Purification Plant's two intake towers.
Komon Bridge is located at the western end of Mizumoto Park where the Nakagawa and Obagawa meet. Their once turbulent waters often created problems for the region, causing innumerable disasters. The bridge, together with a lock gate, was built in 1910 to control the water flow and limit the flooding to a minimum. When, in 1980, a new gate was built upstream, Komon-bashi's gate became obsolete, and today the beautiful bridge – the lone surviving brickmade bridge inside Tokyo's 23 wards – is closed to traffic and can only be used by pedestrians and bicycles.
As for the two intake towers, they rise from the edo River and pump enough water to feed all Tokyo's eastern wards and part of three central districts. The original tower is gone now, but the two remaining (one with a coneshaped roof, from 1941, the other with a round roof, from 1964) are fine examples of brick architecture.
Another famous Katsushika-born manga artist is TAKAHASHI Yoichi whose main work, Captain Tsubasa, has not only been a huge influence in Japan but abroad as well. First launched in 1981, Captain Tsubasa is the story of OOZORA Tsubasa, an 11-year-old elementary school pupil who is deeply in love with football. While still very young, Tsubasa already has amazing speed, stamina, dribbling skills and shooting power.
At the beginning of the story, Tsubasa and his mother move to the city of Nankatsu, a fictional town in shizuoka Prefecture, well known for its talented elementary school football team. The name Nankatsu (南葛) is actually made up of two Chinese characters that can also be found in Minami Katsushika (南葛飾), the name of the school that TAKAHAsHI attended as a child.
TAKAHASHI was born in Yotsugi and currently lives in nearby Tateishi, the same district where the school is located. TAKAHAsHI later modelled Tsubasa's school after the one he had attended.
According to TAKAHASHI, even the football grounds featured in the story can be found in the same area.
His stories are characterised by dynamic and exciting drawings of football moves, often stylish and implausible. Though in 1981, when Captain Tsubasa was born, football was still a minor amateur sport in Japan, its incredible success helped popularise the sport throughout the country. The manga itself and its sequels have sold over 80 million copies worldwide, making it one of the best-selling manga series.
Tsubasa and his friends and teammates made kids all over Japan fall in love with football. some of them took up the sport and eventually became professionals when Japan's first professional league, the J-League, kicked off in 1992. Ten years later Japan co-hosted its first World Cup.
Even such globally famous players as Lionel Messi, Fernando Torres, Andrés Iniesta and Alessandro del Piero have declared their love for Captain Tsubasa and acknowledged the manga's influence on their decision to play football.
Today, even Tsubasa and friends, like the KochiKame characters, have their own set of statues. They can be found around Tateishi, Yotsugi, and one stands in front of Minami Katsushika High school.
J. D.