No.77 [HARUYO'S RECIPE] SOZAI PAN (Japanese bread with savoury filling)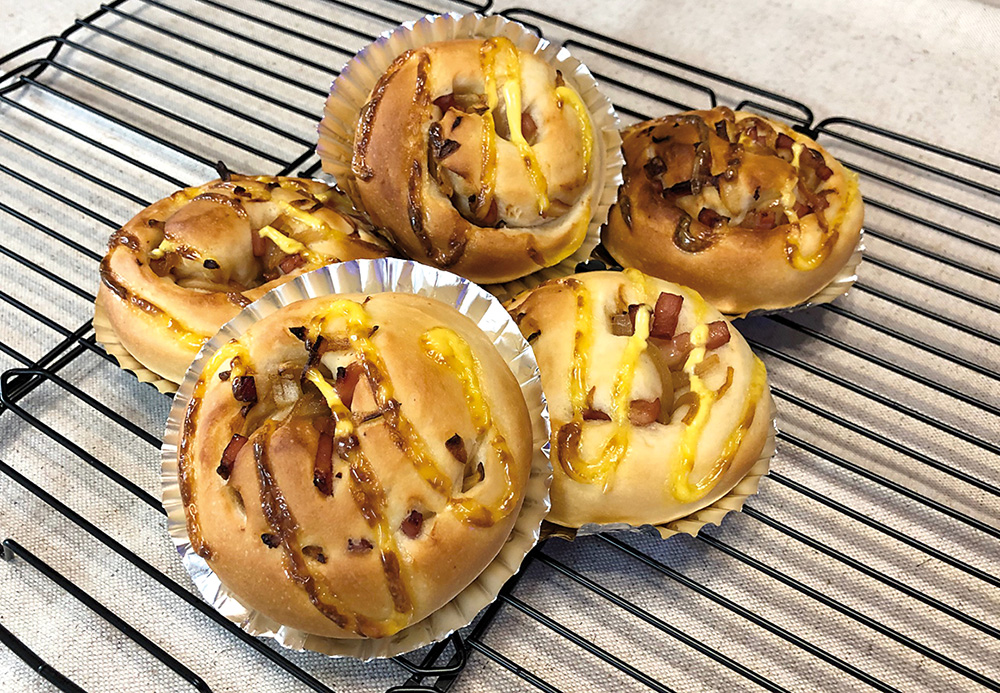 SOZAI PAN
(Japanese bread with savoury filling)
RECIPE
1 – Put the flour, yeast, salt, sugar and softened butter in a bowl.
2 – Add the warm water.
3 – Mix together with your fingers.
4 – Place dough on a flat surface and knead thoroughly.
5 -Place in an greased bowl and set aside to rise for 40 minutes at 40°C.
6 – While dough is rising, prepare the filling. Chop the onion finely and cut the bacon into
thin slices.
7 – Heat a little oil in a frying pan then fry the onion and the bacon. Season then add some
soy sauce (about a teaspoon).
8 – Place mixture on kitchen roll on a plate and allow to cool.
9 – When the dough has risen, place it on a flat, lightly-floured surface and form into a rectangle
about 20 x 25 cm.
10- Spread the filling on top and then roll up the dough.
11- Cut into 6 slices then place on some aluminium foil.
12- Allow to rise for 20 minutes at 40°C.
13- Spread with the mayonnaise then heat in the oven for 20 minutes at 190°C. Allow to cool then serve.
Tips : The filling can be changed to suit your taste — sweet corn, peppers, carrot, tuna, surimi (processed fish or meat), cheese, ham, etc. You can add flavour by using herbs like basil, thyme or rosemary.
INGREDIENTS(FOR 6 ROLLS)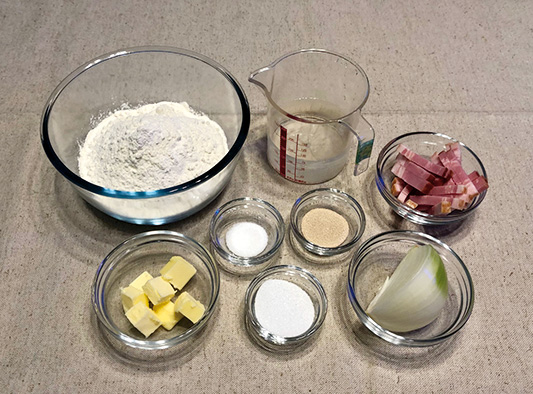 150g bread flour, 4g dried yeast,
3g salt, 15g sugar,
20g butter 105g warm water 50g smoked streaky bacon,
75g onion Salt and pepper, Soy sauce
Oil, Mayonnaise