No.87 [YURI'S RECIPE] Simple but deep "OHAGI"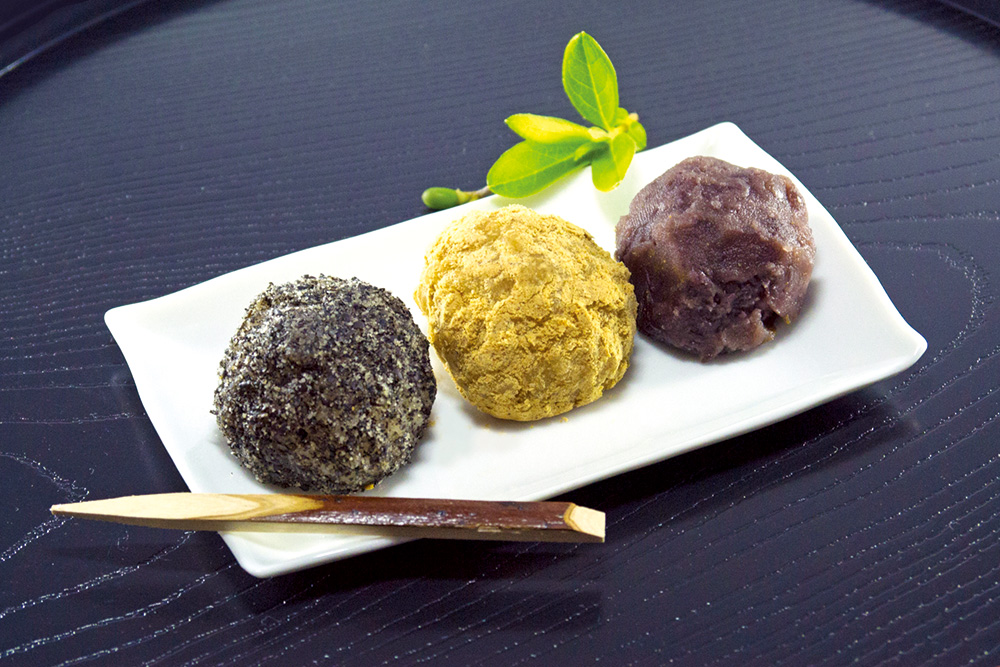 Re-imagining sweet "Flower ohagi"
When I came to live in the UK, I came across the well known desert, rice pudding, and was shocked to see rice cooked in sweetened milk. However, I have come to realise that Japan also has a tradition of eating rice as a sweet. In this case I'd like to introduce ohagi. For Japanese people, rice is normally a savoury staple food eaten with side dishes.
Ohagi is created with glutinous rice steamed, sweetened and then pounded to make mochi. There are various versions of ohagi, often rolled up and wrapped in red bean paste or soybean flour which is called kinako. Ohagi is a seasonal Japanese sweet, very popular during the Obon holiday and equinoxes signifying the changing seasons. Obon is in mid-August and a time when your ancestors are said to return. Japanese people also feel close to their ancestors during the equinox so these are both times when it is common to visit family graves. It is common to leave favourite foods for your ancestors on these visits so there are many types of ohagi available in supermarkets at these times.
Origin of the name of ohagi
During the spring equinox we often serve something known as "botamochi" and associate it with blooming peonies. Ohagi is traditionally served during the autumn equinox and the azuki beans are associated with blooming hagi. However botamochi and ohagi are in fact the same thing with their names linked to different seasons. That said, supermarkets now sell ohagi all year round.
Why were botamochi and ohagi offered during equinox seasons?
Going back to its origin, it seems that the custom of eating during the equinox and again after 49 days has taken root in the Edo period. Japan has long had a belief that some foods repel evil spirits, but it seems that the red color of azuki beans was thought to have the effect of protecting oneself from disasters. However, it is said that it was originally an offering for worshiping ancestors, rather than eating. There are also some regional variations on what would be offered during the spring and autumn equinoxes.
The history of ohagi
It is believed that during the Edo period ohagi was first sweetened with sugar. By that time, sugar had become widespread in ordinary households, and the current style of ohagi became popular. Even so, sugar was still a luxury item, meaning ohagi was a luxury item, and thankfully now everyone can enjoy ohagi at affordable prices.
The new world of ohagi
Ohagi is very delicious, but it looks a little plain so recently it has been decorated with flowers piped with bean paste. This new version is both delicious and beautiful and unsurprisingly, it is popular too. Just being delicious is no longer enough and the new culinary fashions combine art with food wherever we look. In the world of Japanese sweets, re-imagining well known favourites as an art form has begun. By creating nerikiri and flower decorated ohagi, I am very much looking forward to the day when these Japanese sweets will be loved by people all over the world. It's a very simple and modest sweet, but it has a deep meaning and history. Once people know the story behind ohagi, I am sure there are many more who want to eat it. I would like to introduce how to make it easily at home.
Recipe
INGREDIENTS
(Azuki x5, Kinako x5, Black sesame x5)
• Glutenous rice flour 2 cups
• Water 360ml Azuki flavour
• Azuki bean paste 450g Kinako flavour
• Kinako (roasted soybeans flour) 3 tablespoons
• Sugar 3 tablespoons
• Pinch of salt Black sesame flavour
• Grinded black sesame 3 tablespoons
• Sugar 3 tablespoons
• Pinch of salt
PREPARATION
01 – Wash a glutenous rice with plenty of water.
02 – Soak the washed rice in a water for about 1 hour.
03 – Drain the rice.
04 – Put the rice and 360ml of water together and cook them in a rice cooker.
05 – After the rice is cooked, pound it lightly to create a sticky mochi texture.
06 – Make the rice into small ball shape. (15 balls)
07 – Wrap 5 of the rice balls with azuki bean paste. (bean paste outside)
08 – Coating 5 of the balls with kinako flour mixture. (You could put some azuki bean paste inside as shown in the picture)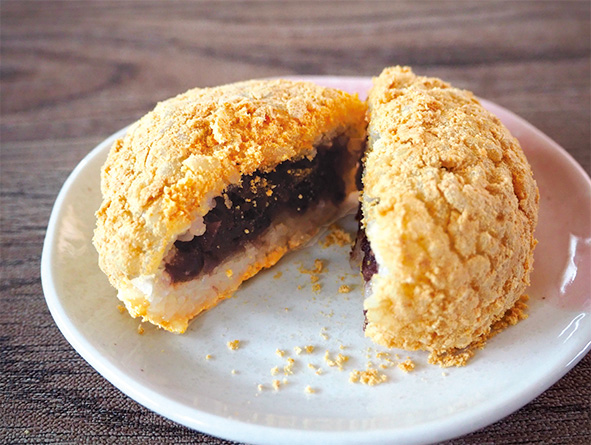 09 – Coating 5 of the rice balls with black sesame mixture.
10 – Enjoy it with a nice hot green tea!
YURI LEE
www.instagram.com/wagashi_art_uk/
www.instagram.com/wagashiinbloom/
www.wagashiart.com/