No.134 [FOCUS] Sport is a serious business!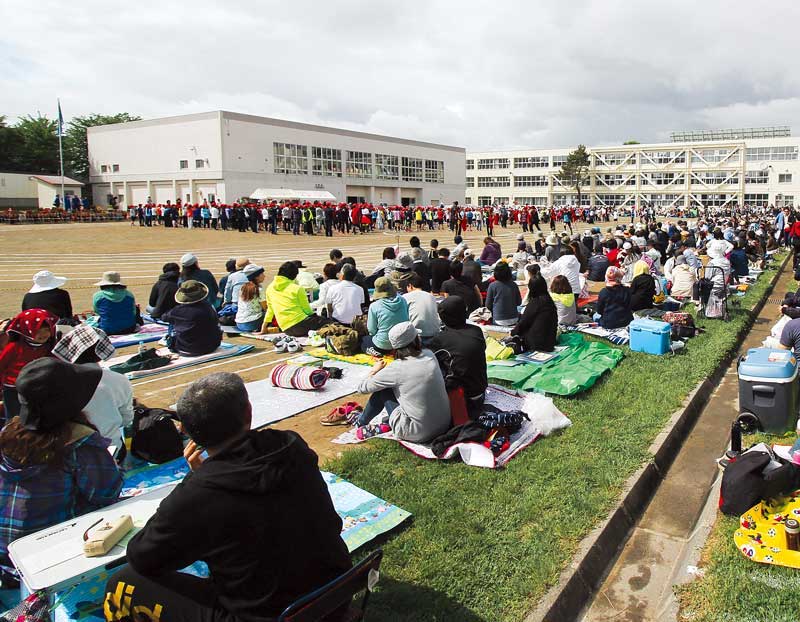 In Japan, Sport Day is an institution no Japanese person can avoid.
An elementary school stood above the dunes. I went around to the back of the school and was stunned. I felt like I was dreaming. (…) Around the perimeter of the athletic field, almost one hundred temporary huts were erected close together. (…) Families spread out their picnic boxes. While the men drank sake, the women and children ate and talked and laughed under the clear sky. I couldn't stop thinking that Japan was a blessed country. It was surely the Land of the Rising Sun.
Even with the fate of the nation at stake in a major war, a lonely village on the northern edge of Honshu mysteriously held this huge, merry banquet.
This scene unfolds before the narrator's eyes in Dazai Osamu's Return to Tsugaru. In the late spring of 1944, the author travelled to Aomori Prefecture to write a sort of guidebook about his native Tsugaru region. The resulting work is a charmingly strange, hard-to-define mix of fiction, cultural history and autobiography. Towards the end of his sentimental journey, the narrator looks for the servant who raised him when he was a little child and finds her celebrating the local sports day.
For more than a century, undokai (as sports day is called in Japan) has been one of the biggest events in the school calendar – so important, as Dazai testifies in his book, that people continued to celebrate it even in the middle of the Pacific War.
In 1966, this event was formalized into Supotsu no Hi (Sports Day), one of Japan's 16 national holidays, which is celebrated on the second Monday of October (so that students and workers can enjoy a three-day weekend) to commemorate the opening of the 1964 Tokyo Olympics.
According to the National Holiday Law, the purpose of Sports Day is to "enjoy sports, cultivate a spirit of respect for others, and realize a healthy and active society". Indeed, such events are not only organized by schools but by companies and local organizations as well. When I moved to Japan, for instance, I first shared an apartment with a Japanese friend who worked at a public library in the Tokyo suburbs. Come October, all the libraries in the area organized a softball tournament and I was invited to take part – the so-called honourable guest. Little did they know that being from Italy, I had never thrown a ball or swung a bat in my life.
Though Sports Day (the national holiday) is less than 60 years old, undokai has a much longer history than the Olympic Games: the first sports day was organized by the Naval Academy in 1874, following the example of British festivals of sport, under the guidance of English teacher Frederick William Strange who later, after being transferred, held an athletics meeting at the University of Tokyo Preparatory School. The event saw the participation of 230 students and rapidly became popular around the country. According to Dai Nihon Kyoikukai Zasshi, the journal of the Japan Sports Association, 32 such events were held between 1884 and 1892, mainly at elementary schools. Eventually, sports day became a compulsory extracurricular activity throughout Japan.
While Western countries tend to separate purely athletic events and community-based gatherings featuring music and dancing, undokai are somewhat unique in that they combine these two aspects. Indeed, Japanese sports days are said to derive, at least partly, from traditional festivals that long predate the introduction of modern sports in Japan.
In the past, Japan-style undokai flourished and continued to exist in Taiwan, the Korean Peninsula and other Asian countries that had experienced Japanese colonial rule. In recent years, however, there has been a move in South Korea to abolish sports days as a so-called "remnant of Japanese imperialism".
As Allen Guttmann and Lee Austin Thompson write in Japanese Sports: A History: "Mori Arinori, who became Minister of Education in 1885, was among the enthusiastic promoters of undokai, which he saw as an ideal means of improving health and simultaneously intensifying the patriotism of the nation's schoolchildren."
Nowadays, enhancing patriotism does not figure among educators' objectives, but the Japanese still take undokai very seriously, and for many families and every school around the country it is still a huge undertaking. Indeed, if you have children, sports day Saturday is something you cannot escape. Every student is going to attend undokai for about 12 years: three years of kindergarten, six years of elementary school, and three more of junior high school. Thankfully, a lot of parents – and especially all dads – are not really required to do the last three years because in many cases the event takes place during a working day.
By now you have probably figured out that I'm not a big undokai fan. To be frank, it's not a particularly fun event, and the only reason for attending is to take hundreds of pictures and a few videos of your kids while they run, jump around the sportsfield and perform other dance and athletic routines. That's mostly the fathers' job, though in the past few years, some schools have restricted and even banned taking photos and videos both for privacy reasons and to protect children from paedophiles (on the other hand, some schools hire professional companies to create visual mementos of the day).
For the mothers, it's much harder because they have to get up early, get their kids to school and, most importantly, they are in charge of preparing the o-bento that the whole family is going to eat during lunch break.
But I'm getting ahead of myself. The core of your typical undokai is a series of athletic competitions ranging from track-and-field events (100-metre sprints, relay races, etc.) and less orthodox sports (e.g. tug of war) to some uniquely Japanese games. In tama-ire (ball toss), for instance, each team has to throw as many small beanbags as possible into a basket within a given time. O-tama korogashi (ball rolling), on the other hand, is a relay race where contestants have to roll a huge ball the size of a person. Finally, the day usually reaches its climax with the kiba-sen (cavalry battle) where one player stands on the arms of two teammates and has to pull the hat off the enemy "knight". Apparently, the very first sports day that took place in 1874 even featured a pig chase…
These competitions alternate with dance routines (either original choreographies or traditional dances from around Japan), while at elementary school the undokai typically ends with kumi-taiso (group gymnastics) where sixth graders perform strength and balance exercises in pairs and small groups, which culminate in a tall human pyramid. However, in the past few years, the media have reported several injuries and many schools have done away with the pyramid both for safety reasons and to avoid the risk of being sued by the parents of the injured students. In fact, in Japan, based on the National Compensation Law, if a teacher – i.e. a public employee – illegally injures a child or student either intentionally or negligently in the performance of their duties, their school is liable for the injury and responsible for any compensation.
Kumi-taiso is based on trust and collaboration, and the value of teamwork is central to what is taught and emphasized at these events. Undoubtedly, undokai is about competing against other kids. The students are divided into two or three teams (red, white and blue), points are awarded for each event and a trophy is handed out at the end. This is sports day after all. However, most students don't really care about the outcome. They may shed some tears if they don't perform well (their parents and relatives are watching after all) but they're not much bothered if their team loses.
But as I said, this doesn't mean that people don't take undokai seriously. The students start preparing at least one month in advance, and even their parents have many things to do. Nowadays, everybody owns a smartphone, but in days past many families bought the latest video cameras in order to immortalize their kids' exploits. Then there's the problem of grabbing a good spot around the playing field. This task is of vital importance because the whole affair last until 2.00 or 3.00 p.m. Apart from celebrating the 1964 Olympics, October was chosen because the weather is usually good (recently, many schools are opting to hold the event in May or early June), but it can still get quite hot. So, Dad is usually sent in advance to place plastic sheets and folding chairs in strategic places, possibly under a parasol, while Mom makes sure to bring hats and sunscreen.
One of the reasons I don't like undokai is that parents are often subjected to the indignity of running tragicomic relay races and doing other humiliating things. I still remember with horror one year when a team of dads was pitted against a team of mums in a huge tug-of-war. 50 men were easily trashed by an angry army of 100 or more women. Talk about the fair sex!
The school itself runs the undokai like a military exercise, and each family is sent a written programme stating all the dos and don'ts (e.g. no camera tripods allowed). One of the most characteristic – and for me scariest – aspects of sports day is cheerleading, which is especially important at the elementary school level. Instead of pom-poms, members of a Japanese oendan (cheerleading squad) wear headbands and gloves in their team colours, carry whistles and flags and perform routines that look and sound like a mix of religious ritual and shouted military commands, backed by thundering taiko drums. The top cheerleader screams "furee, furee!" at the top of his lungs. For years I scratched my head trying to understand what it was all about. Even the Japanese didn't know its meaning. Only recently I found out that "furee" is the Japanese rendition of the English "hooray".
At the end of the day, everybody is pretty exhausted and at last there's a moment of relief during the lunch break when all the o-bento are finally opened. Lunch ranges from traditional food (bamboo shoots, shiitake mushrooms, shrimps, etc.) to children's favourites such as deep-fried chicken and wiener sausages, plus, of course, lots of rice balls. The sports day o-bento used to be a chance for the ladies to display their cooking prowess, but more and more overworked mothers now have no qualms about buying them at the convenience store.
So if you get a chance to take part in an undokai, give it a try. You may even enjoy it.
This year's Sports Day will be celebrated on 9 October.
Jean Derome
---
To learn more on the subject, check out our other articles :
No.134 [TRAVEL] Tokyo, the cradle of modern sports in Japan
No.134 [ENCOUNTER] Promoting social cohesion
No.134 [TRADITION] Gymnastics for everyone