No9 [Cooking] Teriyaki chicken Burger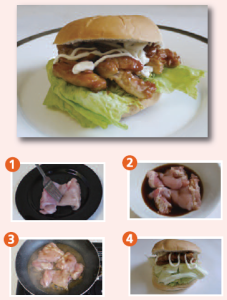 Teriyaki Chicken Burger
The teriyaki chikcen burger is a unique type of burger created in Japan that puts a delicious teriyaki style chicken steak in a bun with lettuce and other toppings. It is a standard item on fast food menus across Japan but is also sold outside of the country under various names such as the "samurai burger"!
This month's recipe will show you how to make a quick and easy teriyaki chicken burger at home in England, so you do not have to go all the way to Japan to try one!
What is teriyaki chicken?
The secret of teriyaki style chicken is the special teriyaki sauce, which is made from mixing equal parts soy sauce, sake and sugar and then added to the chicken before it is simmered in a frying pan, producing a distinctive salty-sweet flavor.
Ingredients:
Teriyaki sauce (One of the photos on the right)
Chicken tigh meat
Lettuce
Burger bun
Mayonnaise
How to prepare:
1. Pierce the chicken in several places using a fork, making it easier to draw in the teriyaki sauce.
2. Marinade the chicken in teriyaki sauce and leave for around 10 minutes.
3. Pour one tablespoon of oil into frying pan and fry the chicken on a low heat until it has warmed through (To avoid burning, be careful to use a low heat and turn the chicken over constantly).
4. Once the chicken is cooked, spread lettuce on the bun, place the chicken over it and complete the burger by adding mayonnaise to taste.
Japan Centre and Yuko Fujiwara