No40 [Series] Ishinomaki's recipe for success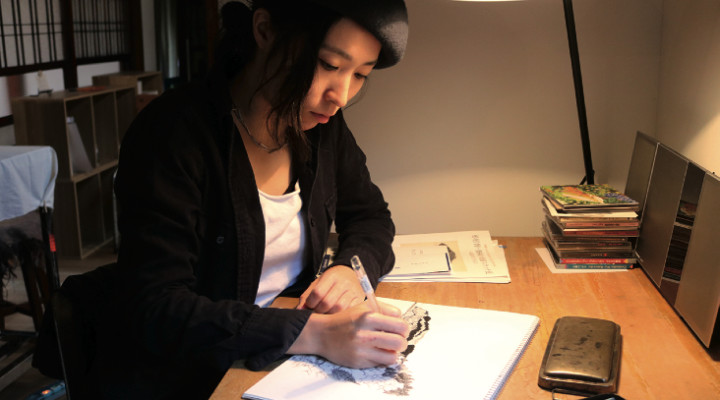 After attempting to start a new life elsewhere, many are returning to their hometowns to take part in their renewal.
In the region around Ishinomaki, laid waste by the earthquake of 2011, there were those who left after losing everything. However, there are also those who have been coming back to help revive and re-develop their devastated region. This phenomenon, marked by people going back to their hometowns to work, has been called "U-Turn".Having acquired expertise elsewhere, these individuals are returning to build their dreams by developing new professional projects and creating new links between people. Zoom Japan met with some of these young people, whose attachment to their home towns is a vital source of energy for the whole region.
This is certainly the case for Suzuki Kimiko, a young woman aged 31 who returned to the Inai district of Ishinomaki in the spring of 2015 after spending several years in Tokyo. She currently works for the Hamanone Association in the Momonoura district, whose aim is the reconstruction of Ojika Peninsula. With a background in art, she is now in charge of a gallery run by the organization, and also continues her drawing. After graduating from Ishinomaki's high school for girls (now Sakurazaka High School), Kimiko studied drawing at a private art school in Sendai, where she was able to make use of her talent and undertake various small projects. When she turned 24, something clicked and her parents encouraged her to move to the capital to develop her skills. So she left her home region.When the earthquake struck on the 11th of March 2011, half of Kimiko's parents' house was destroyed. She immediately decided to go home, but her parents warned her against it. "Some people have died to make their dreams come true. If you still have a dream, you need to persevere," they told her. These words encouraged her to organize her first solo exhibition. Other opportunities for her to show her work soon followed.
By the end of 2014, Hamanone had made her an offer to work on a project connected to the deer on Ojika Peninsula (Ojika means deer in Japanese). Kimiko loved the sound of the project and decided to return home. "Not only am I here for the region, I can also continue to draw," she says happily. She was hesitant about returning immediately after the earthquake, but now she's relieved to be back. Part of her work involves art. "I found that there was a lack of cultural events in Ishinomaki. My dream is that people should become familiar with drawing and painting through the environment," she explains. Until recently, Kimiko had never really thought about her attachment to the region, but it has become crystal clear to her now. "We eat well. We're all making progress together, and we meet lots of interesting people. It's a pleasure to be able to draw in Ishinomaki whilst living with my family," she says with a smile.
Another returnee, Suzuki Takaya, learned numerous recipes while working in Tokyo in various bistros and other establishments, including Japanese and Italian restaurants. This thirty year old, who was brought up in the Aobahigashi district, returned to Ishinomaki in the autumn of 2014, and opened his own restaurant called Ishinomaki Bar-Datcha a few months later, located down a little street in the Tatemachi district. Its unique atmosphere attracts a new clientele of young people on a quest for novelty. When he graduated from high school, Takaya spent most of his time playing music. He earned a living by working in a Chinese restaurant, but moved to Tokyo to achieve his dream of becoming a professional musician and started his own band. In order to provide for his needs, he had to continue working in various restaurants. Because he refused to slave away for the large restaurant chains, he chose restaurants that offered their own original menus, and as the months went by, he was able to develop his palette and increase his culinary know-how. Despite playing many concerts, the band never really managed to make it. Their albums weren't very successful in spite of wide distribution across Japan, so the four band members separated to follow their own paths. That was when Takaya decided to open his own restaurant in Tokyo. "But buying a place was going to cost me millions of yen. Ishinomaki was in the process of being rebuilt, and I thought that I could find a place there easier," he says, explaining the reason why he decided to return to his hometown.
On the lookout for somewhere situated on a popular little street, Takaya found a location in Tatemachi with the ambiance he wanted."If passers-by like the location, that's good news. Then it's up to me to demonstrate my talent in the kitchen," he says with confidence. He doesn't intend to limit his horizons to Ishinomaki though, and has ambitions to open a dozen establishments in Onagawa, Kesennuma, and even Tokyo!
Takaya is slowly developing his strategy as he strengthens his financial base. "Wherever you are, what is important is to know what you want. In Tokyo you can be thousands of times more successful than in Ishinomaki, but the competition is very tough. There is more chance of being successful in Ishinomaki than in Tokyo," he admits. In this city that he knows well, the young man can organize himself and prepare for the future. It's just the beginning of a huge challenge.
Ishinomaki 2.0, the organization that is rebuilding the city, has planned to help with the refurbishment of empty houses. Its director, Matsumura Gota, highlights the need for the inhabitants to be openminded enough to welcome not just "U-turns", but genuine newcomers as well. "After the earthquake, many organizations moved to Ishinomaki with their know-how, their experience and their human resources. They accepted others with open arms. Their work has encouraged people to return to the city that needs them," he insists. With this desire to welcome those who are returning, as well as those newcomers who just want to try their luck, our city will continue to thrive. Ishonomaki is full of people with dreams and hope.
Ishimori Hiroshi