No70 [HARUYO'S RECIPE] TAKENOKO GOHAN and NANOHANA NO GOMA AE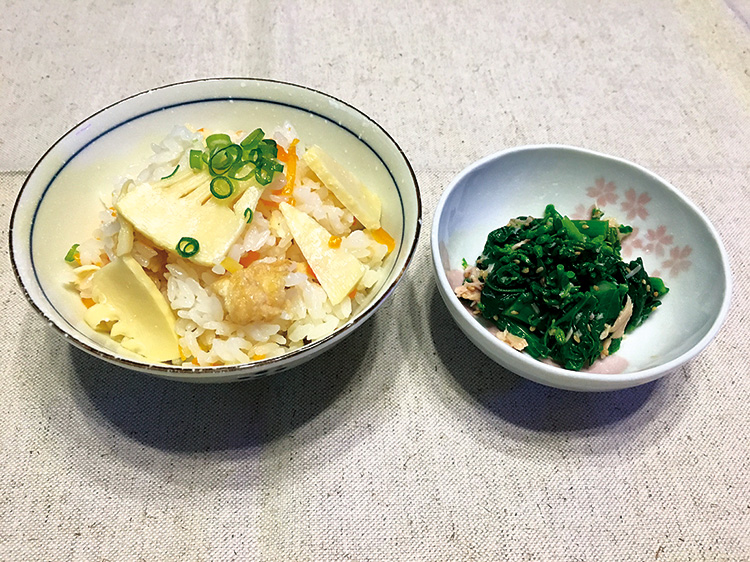 RECIPE
For the rice with bamboo shoots:
1 – Rinse the rice three times. Drain then set aside to swell for 30 minutes.
2 – Chop the carrot and the fried tofu into 2 cm long lengths. Finely chop the bamboo shoots.
3 – Place the rice, dashi, water and other ingredients in the bowl of the rice cooker, and cook.
4 – Once cooking is complete, allow to rest for 10 to 15 minutes then stir.
Tips: In Japan, bamboo and rape announce the arrival of spring. Tinned bamboo shoots are available in the UK. If you have difficulty finding rape florets, you can use sprouting-broccoli, which has a similar taste, or spinach.
For the rape with sesame seeds:
1 – Rinse the rape florets then blanch in boiling water for 5 to 7 minutes.
2 – Drain.
3 – Cut the florets into 2 cm lengths.
4 – Put the rape, tuna, oil, salt and sesame seeds in a bowl.
5 – Mix together well and serve.
INGREDIENTS (FOR 4)
For the rice with bamboo shoots:
450g short grain rice
200g bamboo shoots
1/2 carrot
1 slice of fried tofu
5 tablespoons concentrated dashi
500 ml water
For the rape florets with sesame seeds:
150g rape florets
60g tinned tuna in oil
1 tablespoon sesame oil
1/4 teaspoon salt
2 tablespoons white toasted sesame seeds