No28 [Cooking] Spicy Yakiniku wrapped in lettuce with miso and chives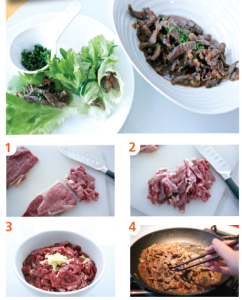 Spicy Yakiniku wrapped in lettuce with miso and chives
Japanese barbeque, known as 'yakiniku', goes far beyond hamburgers and sausages, featuring paper-thin strips of beef are lightly grilled over charcoal, dipped in an umami rich yakiniku sauce. Having too many pre-made sauces in the larder is against my 'cook-yourown' philosophy, but 'yakiniku sauce' has slipped under the radar and joined oyster sauce in my permanent collection of condiments. Lighter and more complex than normal BBQ sauce, this soy based sauce blend has a hint of garlic and sesame. In this recipe, the beef is marinated for a short while in yakiniku sauce, ginger and chili before cooking. This dish is delicious when served wrapped in fresh lettuce with miso paste and chives.
Ingredients:
Serves 2
270g Ramp Steak
● 3 tsp Yutaka Yakiniku Sauce
● 1 tsp Finely Chopped Chilli
● 1 tsp Finely Chopped Ginger
● 1 tsp Vegetabel Oil
● 1 tsp Finely Chopped Chives
● 30g Yutaka Organic Miso Paste
● 20 Lettuce Leaves
How to prepare
1. & 2. (With the beef on a chopping board)
Finely chop the chilli and ginger and put to one side, then chop the chives and put them aside on a separate plate.
Next, place the steak on a chopping board and slice into thin strips, cutting against the grain for a more tender texture.
3. (sliced beef in a bowl)
Place the beef strips, yakiniku sauce, chilli and ginger into a bowl and mix well, then leave to marinade for 15 minutes.
4. (beef in frying pan)
Add vegetable oil to a frying pan, put in the meat and seasoning mix from step 3 and then stir fry over medium heat for 2-3 minutes, or up to 5 minutes if you prefer your meat well done. Once cooked, serve with a bowl of lettuce, miso paste and chives on the side.
To eat, take a lettuce leaf and place a few strips of beef, a little miso and some chives in the centre,
then wrap the leaf into a tight parcel and enjoy!