No39 [Hiroshima] Onomichi revisits its past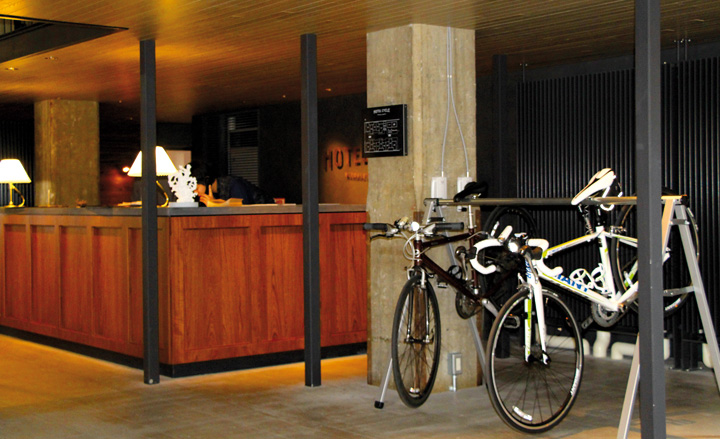 A victim of population decline, this port city has been rejuvenated through innovative ideas to present its heritage.
Last September the town of Onomichi, in Hiroshima Prefecture, grabbed headlines around the world with its Cat-Street-View project (see ZOOM 54, October 2015). However, this Google-style video map of the town, filmed from a cat's perspective, is only one element in the resurgence of this once declining port on the shores of the Seto Inland Sea. The cat map is certainly a fun way to get a feel for the town, but for a first-hand taste of the tranquil backstreet charm Onomichi is famous for, nothing beats a stay at Minato-no-yado. That's the collective name for two historical houses situated on Mt. Senkoji, Onomichi's spiritual heart, found by wandering up one of the secluded pathways so beloved by the local cats. After standing empty for several years, these two properties have now been renovated and converted into self-catering rental accommodation.
One of the houses, Shimazui Manor, was built in 1931 for a wealthy local businessman and ex- Diet member. The other, Izumo House, dates back 200 years to the Edo period (1603-1868). Notable features include a tiny three-tatami mat tea-ceremony room and a moon-viewing porch. These houses offer guests the chance of an authentic Onomichi experience, right down to the 104 stone steps you need to climb to reach them. "It's a little inconvenient, but it's typical Onomichi!" says Noriko Kobayashi of DiscoverLink Setouchi (DLS), the local consortium behind the renovation project, "About 10% of people cancel when they find that out!". Which is a shame, because it's well worth the small effort it takes to walk there. Shimazui Manor has obvious Western influences, like the Spanish- style roof tiles and arches on the veranda, but from the hi-tech Toto toilets to the two large tatami-mat rooms and the fragrant bare wood beams, it's thoroughly Japanese too. Splendid views of the Onomichi Channel await up on the broad second-floor veranda, while the Mt. Senkoji Ropeway – one of the town's main attractions – looks almost close enough to touch as it glides up and down the hillside, over a roofscape made up mostly of temples. Mt. Senkoji is considered sacred, so before the Second World War private houses were not allowed allowed to be built there, explaining the abundance of temples on Onomichi's Temple Trail. With so many temples for neighbours, a profound silence envelops the house at night, broken only by the singing of crickets. Unlike a ryokan, there are no staff on the premises, so it's like being in your own home, and just like Disneyland, there are no clocks. Minato-no-yado is emblematic of Onomichi's drive to use tourism both to reinvigorate the local economy and preserve its cultural identity. So who and what is DiscoverLink Setouchi? "It started with five ex-schoolmates," explains Kobayashi. "They all had jobs in traditional local industries like shipbuilding and textiles. They saw how the local economy was declining as these industries moved abroad. So they resolved to revitalize the town by using its cultural heritage to promote tourism". Development is usually synonymous with tearing down and starting again, so it's refreshing to see that progress can be consistent with conservation.
This conservationist spirit led DLS to their second project: converting a disused maritime warehouse into the U2 Hotel Cycle, Japan's first hotel designed especially for cyclists. The idea makes perfect sense, as Onomichi is the starting point for the Shimanami Kaido – the 60km road and bridge route joining the main islands of Honshu and Shikoku, spanning six smaller islands along the way. With cycle lanes along the whole route, it's one of the world's most stunning bike tours, yet the tourist boom that was expected to follow the route's completion in 1999 hasn't quite materialized. U2 hopes to draw more cyclists to the area by offering them a touch of comfort after their exertions. Of course, a hotel aimed solely at cyclists would have limited appeal, so the U2 (the 'U' stands for umaya, meaning stable or barn) aspires to attract cyclists and non-cyclists alike. Thus the building also houses a restaurant, bar, cafe, shop and bakery- delicatessen. Outside, only a wooden boardwalk separates the U2 from the Onomichi Channel, so you can sit and watch the boats go by. From the construction materials to the food in the restaurant, the emphasis is on local produce and traditional industries. U2's architects were two hip young locals: Hiroshima-born Makoto Tanijiri and Ai Yoshida from the Suppose Design Office. They've come up with a building that's post-industrially modern, while retaining its original industrial character – lots of steel girders, exposed concrete and bare wood – evoking Onomichi's shipbuilding past. As a nod to Onomichi's textile trade, U2 staff wear denim outfits, while the Shima Shop sells sail-cloth bags and typical hasuri (dyed fabric) accessories. "Our mission is not just to open a restaurant, but to continue Onomichi's historical legacy," says Kobayashi. "We like to renovate or re-use old things. That's why all U2's materials come from local industries, so the design resonates with local people. They feel at home here. Good things should be preserved". The entire complex is cycle-friendly, with ramps everywhere (coincidentally making it virtually barrier-free), and bike-racks in the reception area and in your room. There's also a giant cycle store for all your cycling needs. The Yard Cafe even has a cycle-through window, so you can grab a snack without dismounting. For the true cycle addict, one of the bar stools in the Kog Bar is made out of a saddle and pedals; pedalling will even light up a sign above the bar.
Back at the Shimazui Manor after a hard day's sightseeing, it's time to try the bath, a large box made of fragrant cypress wood. With a concealed control panel that resembles the flight deck of an Airbus, you set the temperature, press the start button and the bath fills itself to a preset level. Outside the window, shrubs bob in the evening breeze as the 43oC water soaks away your stress. You'll never want to have a bath in enamel (or plastic) again. Next morning, walking along Hondori, Onomichi's long covered shopping arcade, you can't help noticing that some stores only open at weekends, and a few seem shuttered up for good. The street still exudes a friendly charm though, with the elderly lady scaling fish on a kind of mobile fridge-cart; the old toy shop with a giant figure of 60's superhero Ultraman outside; the dried fish shops selling senbei rice crackers with whole fish inside. One place in particular that will catch your eye is a long narrow alley that looks centuries old. It turns out to be the entrance to yet another praiseworthy local initiative: the Anago no Nedoko (literally, Eel's Bed), a guesthouse and cafe housed in a former Meiji era (1867-1912) fabric store. This establishment is the property of Akiyasaisei, a non-profit organization dedicated to the renovation of vacant housing. The unusual, elongated building design was once common in Onomichi, but the Anago no Nedoko is one of the few that remains in its original state. It's "a new space with an old atmosphere," say the owners, who aim to provide affordable accommodation and a place where international backpackers, cyclists and locals can hang out and interact. There are signs that all these efforts are working. "This week the Hotel Cycle has had guests from South Africa, the UK, Australia, Hong Kong and Switzerland," says Kobayashi. Foreign tourists now make up 20% of the U2 Hotel's guests, and the number is likely to increase as word spreads about Onomichi's rebranding as Japan's cycling centre. Finally, Kobayashi notes that "More young people are beginning to stay in the town. And young people from outside Onomichi are becoming interested in the island lifestyle as a peaceful, lowstress way to live".
Steve John Powell & Angeles Marin Cabello
Photo by Angeles Marin Cabello