No.77 [DISCOVERY] At the heart of pop culture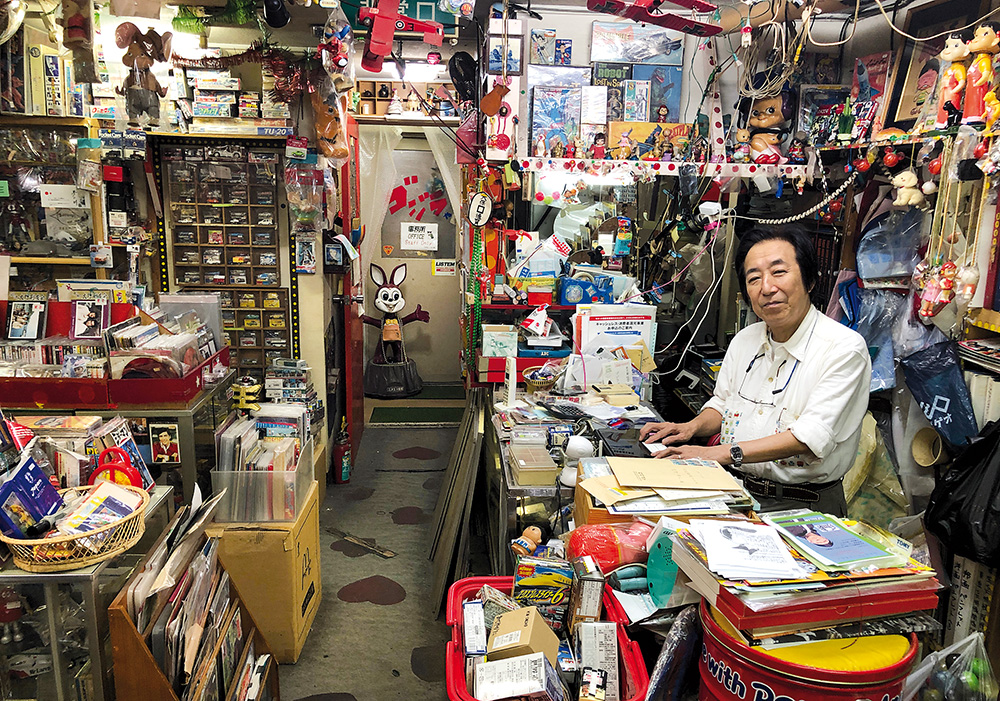 Mr KIZAWA runs Gojira-ya, a shop where fans of Godzilla and other mythical characters find what they are looking for.
Travelling westwards on the Chuo Line, you'll discover a very special and culturally rich place.
The vast suburban area which lies west of Shinjuku has traditionally been home to an eclectic group of creative people (writers, musicians, etc.) including many manga and anime artists who, in the past, used to live here because rents were cheaper. The westbound Chuo Line has a particularly important connection with the history of manga. A number of people who were involved in the seminal avant-garde comic magazine Garo, for instance, lived in Asagaya. As for animation, more than 100 of the 400 Japan-based production studios are located in Suginami ward, Musashino City and beyond, in the area roughly situated between Nakano and Tachikawa railway stations. In addition, over the last few years more and more otaku-oriented stores, bars and restaurants have opened, attracting an increasing number of fans away from the usual centres of anime and manga consumption.
Koenji
For people who only know Tokyo through the mainstream press and TV programmes, Koenji may be – together with Shimo-Kitazawa – one of the city's best-kept secrets. Like Shi- mo-Kita, Koenji has long nurtured a local community of artists and intellectuals who have given the district a particular vibe. The main difference between the two places could be that, arguably, Koenji features a wider palette of cultural and musical influences and a stronger tradition of anti-establishment political activism (e.g. it was where the anti- nuclear protests that followed the 3/11 disaster in Fukushima started). At the same time, this is still a typical Japanese neighbourhood, with plenty of temples and old-fashioned shopping streets, and every summer it hosts the Awa Odori Traditional Dance Festival (last weekend of August) which attracts about 10,000 per- formers and one million spectators.
Koenji is particularly famous for two things: second-hand clothes and music. If you take the JR station's South Exit and turn right, you will soon find the entrance to the PAL shopping arcade. Walk the whole length of the arcade and you will end up in Look Street (ルック商店街). Koenji is said to have about 100 second- hand-clothes shops, and a quarter of them are concentrated along this street, side-by-side with trendy coffee shops and a few pre-war buildings that were spared from uS aerial bombing.
As one of the main centres of alternative youth culture, Koenji is the go-to place to enjoy all kinds of indie music. Though it is particularly famous as the birthplace of the local punk rock scene, the many live venues and music bars cater for different genres, from folk to glam rock, jazz and experimental music.
It's no surprise, then, that Koenji abounds in retro and secondhand shops and other quirky outlets, including, of course, those of the otaku variety. North of the station, for instance, there's Ichibanboshi, which, among other things, is famous for its collaborations with indie sofubi toy-maker Real x Head. This vintage toy shop is mainly devoted to model figures (Godzilla, Astro Boy, ultraman, Kamen Rider, you name it). Inside, all the available space is taken up by glass cabinets full of soft vinyl toys, while others hang from the wall inside their plastic wrappers. If you are into Star Wars, don't forget to check out the shop next door, Star Case, otherwise, follow the rail track until you find Gojira-ya. The shop (one of Tokyo's oldest toy-collectors' stores) is on the second floor, and besides lots of Godzilla merchandise it stocks roughly the same assortment as Ichibanboshi (but the owner is less grumpy). There are glass cases chock full of rare vinyl figures and die-cast toys, as well as books, dolls, model kits, film posters, etc. Down- stairs, Bar Gojiraya is an ideal place to stop for a drink and immerse yourself in the retro at- mosphere of the 1970s.
On the way back, you may want to stop at another bar on the right of the narrow street, next to Bar Alba: MT Base (MT 基地). MT is for Moso (delusion) Tohi (escapism) or "escape into a fantasy" and this "cosplay and anime bar" claims to be the best place where otaku can "join forces and fight against reality". An army of military- clad girls (hostesses?) are here to chat with you and share their interest in manga, games, etc. There's a 3,000 yen (£21) all-you-can-drink 60- minute plan. For karaoke lovers, one song costs 200 yen (around £2). Shopping aside, Koenji is a genuinely interesting place to explore, and you'll have fun hunting for the locations featured in the Sunrise anime series Accel World or – if you are so inclined – getting lost in its backstreets while trying to recapture the atmosphere created by MuRAKAMI Haruki in his novel 1Q84.
Asagaya
Though only a two-minute train ride separates Koenji's subcultural melting-pot from Asagaya, this is a more sophisticated, more up-market residential area whose typical soundtrack is jazz rather than punk rock or noise music (the local Jazz Street festival livens up its small venues and backstreets every year on the last weekend of October). The district is also known for its literary connections as DAZAI Osamu, YOSANO Akiko, IBuSE Masuji and other famous writers called it home following the 1923 Great Kanto Earthquake. However, even a place with so many highbrow connections can hardly escape a pervasive otaku and pop culture presence. For instance, an increasing number of manga, anime, and manga-based live-action movies and TV dramas have been set in the district, including the two Ring J-Horror films, the hugely popular Death Note franchise and, more recently, the Aquarion Logos anime series. On the other hand, though for a long time Suginami ward has been a hot bed of anime creativity, in the last few years the area has lost part of its appeal as other prefectures have lured production companies away from Tokyo with tax cuts and other benefits. In order to reaffirm the district's connection with both otaku fans and creators, in 2014, a 120-metre-long stretch under the JR rail tracks was turned into Asagaya Anime Street (AAS). unfortunately, the government-funded shopping area closed this February when its five- year lease expired after failing to draw enough crowds. Besides the high rents, shop and café owners complained that JR, which sponsored the project, had imposed restrictions on the store designs, and had forbidden them from showing any erotic material, thus keeping away hardcore male fans.
AAS may be gone, but you can still visit the area and check out another famous shopping arcade located just in front of the South Exit, Pearl Center. This 650-metre-long arcade appears in Aquarion Logos but it's particularly famous because every August it becomes the crowded, messy, colourful centre of the Asagaya Tanabata Festival. First celebrated in 1954, this is just one of many Tanabata festivals that are held around Japan in the summer, but this particular location is worth checking out because, besides the usual streamers and lanterns, it features big papier-mâché anime and manga characters hanging from the roof of the arcade.
Ogikubo
The Suginami Animation Museum is without a doubt one of the best museums in Tokyo, and it's free. It presents anime's unique features from different angles (history, entertainment, theory and practice) and how they are created. The historical and artistic sides are explained in a section devoted to the development of Japanese animation and a temporary exhibition space celebrating important works, creators and characters. Additionally, the museum offers you the opportunity to experience anime production first-hand, for example, by making your own page-flipping kind of anime (that you can even save on a CD-R or uSB); using a PC to understand the process of digital animation; and trying your hand at voice recording and post-production dubbing. There is also a well-stocked library and, last but not least, you can even watch anime, either in the cinema or by requesting a DVD from the library and en- joying it in the privacy of a booth. Did I mention all this was free?
Kichijoji
Further down the Chuo Line, Kichijoji is comparatively livelier than Koenji and Asagaya, but offers the same blend of restaurants, cafés (the atmospheric Harmonica Yokocho cluster of alleys contains over 100 places to eat), shops as well as good vibes, and is so popular with the locals that it is consistently voted among the best of Tokyo neighbourhoods. Some of the area's must-see landmarks are south of the Chuo Line, starting with beautiful Inokashira Park – one of the best places to admire the cherry blossom in spring – which houses the world- famous Ghibli Museum.
Kichijoji attracts many fans who like to visit its anime locations (Shirobako and Great Teacher Onizuka, to name just a couple). As for otaku spots, Kichijoji used to have a lot more to offer in the past. unfortunately, in the last ten years a number of interesting toy stores have closed. Currently, one of the best shops, Toy Cats Showcase, is notable for specialising in little known Microman, Micronauts, and Henshin Cyborg collectibles. The Cyborgs, for instance, are 12-inch-high action figures made by Takara, which were only sold in Japan between 1972 and 1974, while the smaller Microman and Micronauts were among the most successful toys in Japan in the mid-70s.
If you find yourself in Tokyo in the first half of October, don't miss Kichijoji Anime Wonderland. Created in 1999 to celebrate the station's 100th anniversary, this festival features a juried competition whose main object is to showcase small projects by up-and-coming animators. Non-screen- ing time is then filled by stage events, workshops (e.g. plastic modelling classes) and toys and goods sales. A nice added touch is that some of the celebrations take place in Inokashira Park, where a number of companies set up their stalls. This is also a good opportunity to meet some animators, anime song singers and voice actors.
GIANNI SIMONE*
* Gianni Simone is the author of Tokyo Geek's Guide and the upcoming Otaku Japan Travel Guide.