No56 [HARUYO'S RECIPE] ABURA AGE NO NIKUMAKI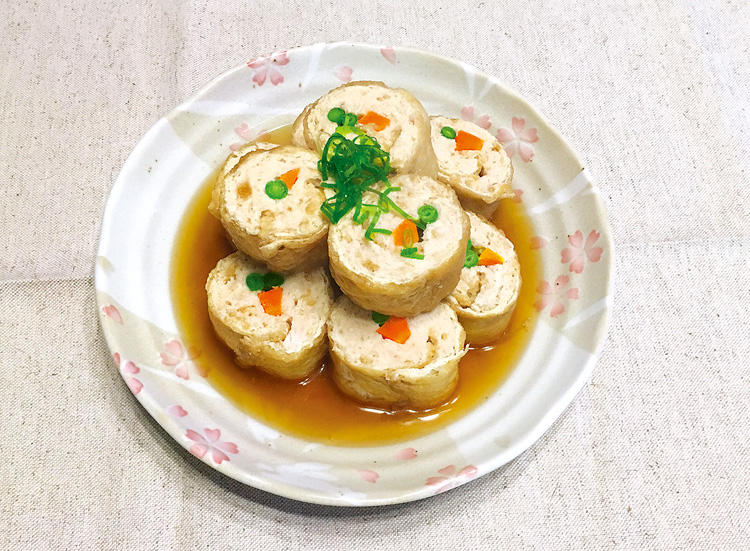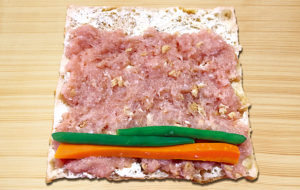 RECIPE
1 Slice the carrot into thin sticks, then blanch with the beans.
2 Flatten the fried bean curd with a rolling pin.
3 Cut off 3 sides of the fried bean curd.
4 Open out 5 slices without tearing.
5 Chop the remaining fried bean curd and mix together with the chicken and additional ingredients for filling.
6 Spread the mixture on the slices of fried bean curd then place some carrot sticks and 2 green beans on top of each.
7 Roll up and secure with tooth picks.
8 Prepare the stock and bring it to the boil.
9 Add the rolls to the stock.
10 Cover with an otoshi buta (a paper lid used for simmering) and cook for 5 minutes. Remove and cook for a further 5 minutes.
Tip : Abura age is available in Asian food shops
INGREDIENTS (for 5)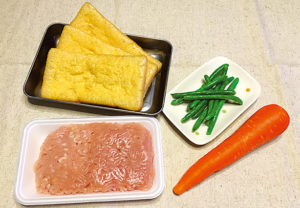 5 slices abura age (fried soybean curd)
300g finely chopped chicken
1/2 carrot
10 thin green beans
Additional ingredients for filling:
1 teaspoon grated ginger
1 tablespoon cornflour
1 tablespoon sake
1 tablespoon soy sauce
For the stock:
400ml dashi (traditional Japanese soup stock)
2 tablespoons sake
2 tablespoons soy sauce
2 tablespoons mirin (rice wine)
2 teaspoons sugar