No.75 [TRAVEL] Lake Inawashiro in autumn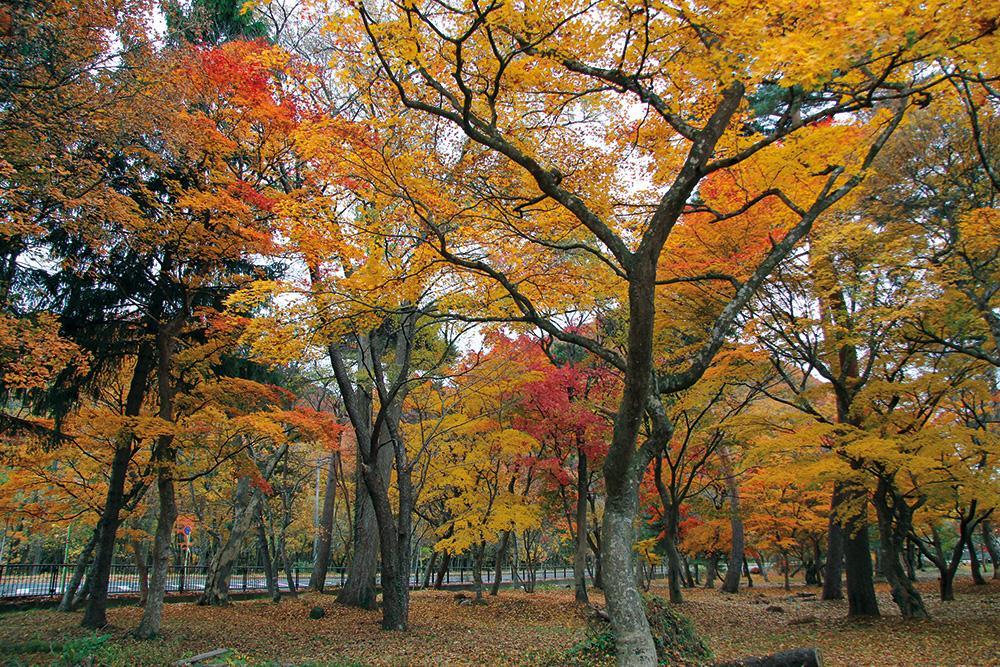 The autumn landscape all around Lake Inawashiro is a symphony of colours and full of delights for visitors in search of unique locations in this beautiful region./Johann Fleuri for Zoom Japan
Fukushima prefecture is the perfect place to observe the rich colours that autumn brings to the Tohoku region.
When autumn arrives, maple leaves colour Japan in hues of gold, ochre and scarlet, an enchanting seasonal sight unparalleled in the Archipelago. In the cities of Koriyama and Aizu-Wakamatsu in Fukushima Prefecture, it defines and captures the essence of this autumnal landscape. Mile upon mile of amazing colour transforms the mountains and gardens into vibrant paintings. At the heart of this unique panorama you'll find Inawashiro, the fourth largest lake in Japan, situated to the south of Mount Bandai.
The construction of the Asaka Canal, completed in the 1900s, meant the lake became an important source of water for irrigation. Nowadays, there are fish and numerous other creatures liv- ing in the lake "which had deserted these shores," explains IWANAMI Masato, a Koriyama city official. During the building work, which was a colossal undertaking at that period, 850,000 workers were employed to ensure the infrastructure was completed in just three years.
The hydraulic construction project benefitted from the expertise and support of a Dutch engineer, Cornelis Johannes van Doorn, foreign advisor during the Meiji era (1868-1912). He was also responsible for the construction of the first Western-style bridge in Japan, which spans the Asaka Canal.
Initially opposed to the project, the local inhabitants welcomed it once the work was completed. A few years after it had opened, the city of Koriyama's population sky-rocketed. In 1931, in recognition of van Doorn's achievement, a statue was erected in his honour by the sluice gate on the Tone River. But "during the Second World War, bronze artefacts were requisitioned in order to be made into arms and munitions," says IWANAMI. The residents were so attached to their statue of van Doorn that they took it into the mountains and buried it. At the end of the war, it was replaced, but evidence of this episode is still visible. "The statue's feet are a different colour," he smiles.
Its tree-lined shores and unspoilt wilderness are much appreciated by the swans that take up residence there until the arrival of spring. "The lake water is used by local inhabitants as well as farmers for cultivating rice," adds the municipal worker. It's also used for farming carp, a local speciality. Carp have been Koriyama's hallmark since the Meiji era. Far from being an oddity, this fish, a traditional symbol of good luck, has been eaten in both China and Taiwan since ancient times. "Unlike salmon or tuna, wild carp is not good to eat, only farmed carp is worth eating," clarifies KUMADA Sumiyuki, manager of a carp breeding company who owns fourteen fish farms. This morning, he's sitting in his camping chair looking out over the misty and ghostly panorama of Lake Inawashiro. It's feeding time for his carp, which swim rapidly towards him. "They're fed on a protein concentrate based on vegetables or fish. No antibiotics," he assures us.
The KUMADA family has been farming carp since the Meiji era. Sumiyuki took over the business at the age of 24, and expanded it by founding the Kumada Seafood Company, which sells an average of 700,000 fish yearly in the Fukushima region, but also in the Nagano, Akita, Gunma, Saitama and Yamagata regions. "Carp require special attention concerning what they need in terms of the amount of food, water temperature and oxygen levels. Lake Inawashiro is particularly rich in minerals, and an ideal natural environment for them. We farm them for two to three years until they weigh 1 or 2 kilos, then they are delivered live," he explains.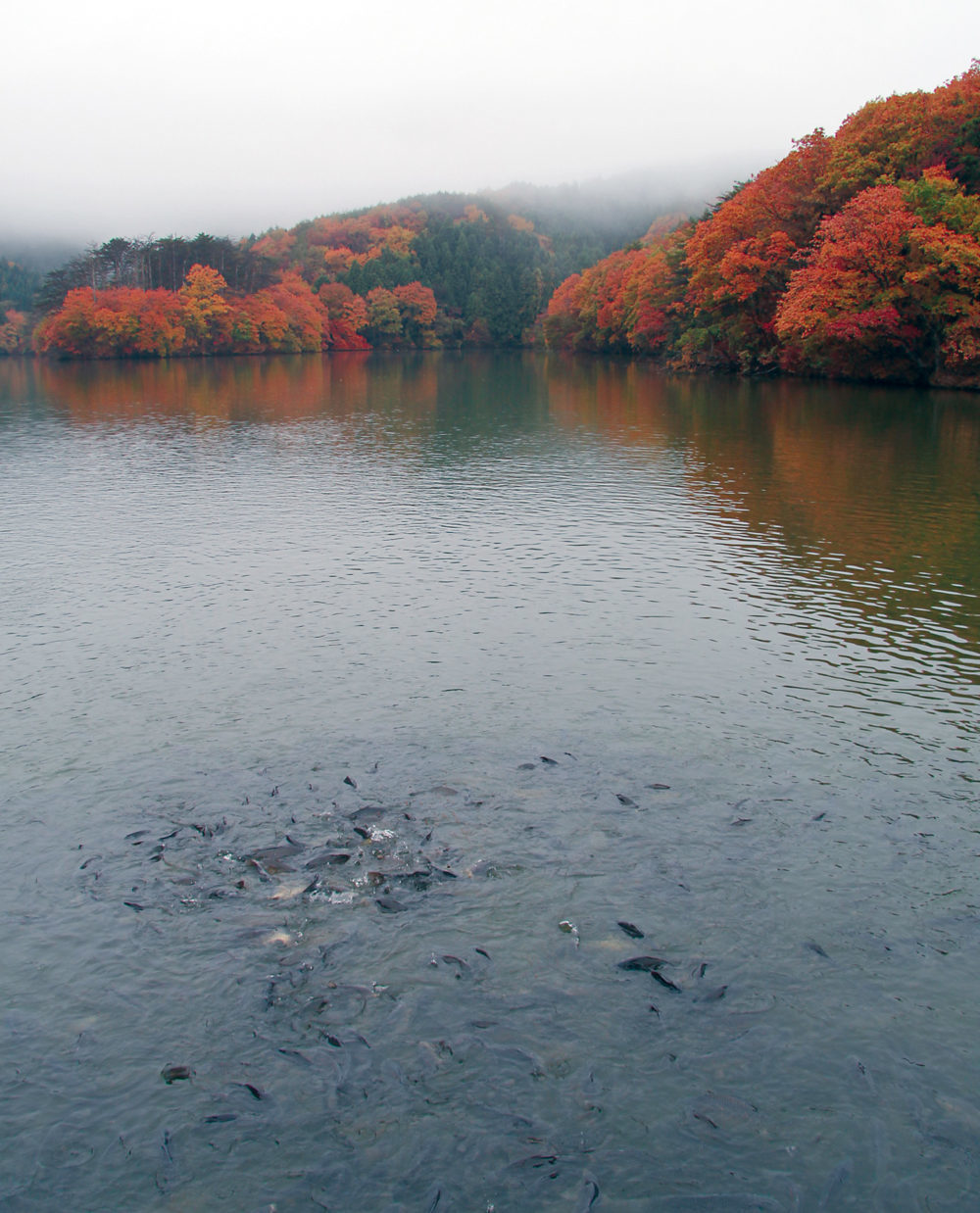 The KUMADA family have been farming carp since the Meiji era.
After the events of 11 March 2011, carp production dwindled. "The day after the catastrophe, we halted production completely then we started again two or three years later. Bit by bit, it improved. We still haven't reached pre-2011 levels, but we're fighting hard to get there. Though there are very strict measures in place, and the radioactive tests are negative, people remain very cautious, even in the local vicinity. And, in general, the Japanese are eating less fish than before, and they no longer cook at home. The children have difficulty coping with fish bones and no one can be bothered any more." Since 2017, the city of Koriyama has tried to improve the image of this neglected fish. Carp is "a fish that will increasingly be found on restaurant menus," says WAKAHOI Yutaka, in charge of the promotional campaign 'Koriyama Carp'. "In the area around Aizu-Wakamatsu, there are a large numbers of ryokan (traditional inns) and other establishments serving this dish."
At Shikisai Ichiriki, a ryokan situated close to Mount Bandai, the chef SAITO Seio cooks carp in a variety of ways: in sashimi with sesame sauce, simmered in soup, with rice, even marinated. The delicate tasting fish melts in your mouth. "Our menus are planned according to the season," adds the chef. "At the moment, as it's autumn, we include mushrooms, chestnuts, ginkgo nuts, persimmons. The region's cuisine is also well-known for the quality of its rice as well as its carrots, aubergines and sweet potatoes."
Meals are eaten looking out at a delightful garden built in 1918, which "has hardly changed in its hundred-year history," we are assured by OGUCHI Masako, the assistant manager of the ryokan where SAITO is head chef. This traditional family inn is a real institution, and one of the oldest and most prestigious in the region, whether you're talking about its food, its top- class hot spring or, in particular, the surrounding landscape. "Great care and consideration were taken when, over time, the ryokan's buildings were extended around the garden. You'll notice that there's no lake, but a river instead, so that the overall effect is very dynamic."
The history of Mount Bandai's onsen (hot springs), where the inn is situated, dates back more than 800 years: one legend maintains that a girl from the Kyoto Imperial court found the remedy for her incurable illness in the region's hot springs.
The region is famous for its onsen as well as its rice and sake, but it also produces whisky. The Sasanokawa Shuzo distillery has been brewing sake since 1765, but started producing a range of whisky in 1946. Today, its Yamazakura whisky brand, including Cherry Blended Whisky, are renowned on the spirits market. "It's a spirit that is becoming known more widely," says emphatically YAMAGUCHI Tochiko, the distillery's CEO. "It's not our largest income generator as we produce more sake and shochu (alcohol distilled mainly from rice, sweet potato or barley) than whisky, but its popularity has increased enormously since 2000. In Japan, a great many people drink high- balls, cocktails based on whisky, made popular by the giant beverage company Suntory. France is definitely the biggest of all our twenty-two foreign client countries."
The distillery exports more than 100,000 bottles of whisky each year. What's the secret of 'made in Japan'? "Using a single still for the distilling stage," specifies KUBOTA Shohei , a Sasanokawa Shuzo employee. "The spout is thinner, narrower: it makes a real difference to the taste." As does the use of barrels, the traditional way of maturing whisky over a period of at least three years. "We use bourbon barrels as well as rum, cognac, Armagnac and red wine casks. We also use Mizunara oak casks," he adds. This wood is specific to Japan, a rare species of indigenous oak used for casks maturing whisky and made trendy by Suntory some years ago. It was initially thought not advisable to use this wood due to its lack of malleability, and its porous nature, however, it gives the beverage a particular and distinctive flavour. After a period in a more usual type of wooden cask, the maturing process is rounded off in a Mizunara oak barrel to give the whisky its final distinctive flavour.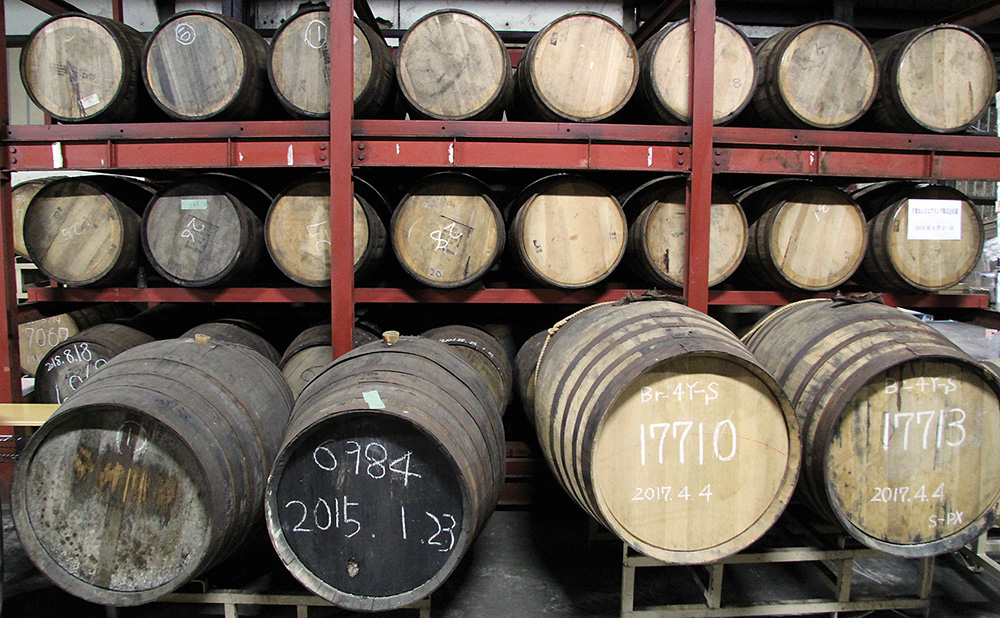 In addition to brewing sake and shochu, the Sasanokawa Shuzo distillery has embarked on whisky production.
Another of the region's important characteristics is its prolific and varied craft industry. In the vil- lage of Takashiba Deko-Yashiki, you'll find five people who are passionate about keeping traditional crafts alive by making a variety of objects by hand. It's said that artisans first settled in Miharu more than 300 years ago with the aim of maintaining and passing on their unique skills and knowledge, like the HASHIMOTO family who have been making hariko (papier-mache) dolls for eleven generations. The dolls represent characters from Kabuki theatre or traditional festivals. "In 2019, we entered the Year of the Pig (in the Chinese cal- endar), so we started to make hariko dolls depicting pigs as we knew they would be much in demand," says HASHIMOTO Daisuke, eleventh-generation craftsman in the Hiroji Mingei workshop. In the workshop you'll also find a miharugoma (painted wooden horse), a children's toy which was once used as a motif for the very first stamp to be printed for the greeting cards that are sent en masse to celebrate the New Year.
Next to the young man his beaming parents are watching, surrounded by dozens of washi paper (traditional Japanese patterned paper) pigs in every colour imaginable. The workshop, formerly an agricultural farm, is enormous and is built around an irori (traditional sunken hearth). The atmosphere is warm and relaxed. The father, Hiroji, likes to fool around and doesn't need any encouragement to perform a local dance on the spot. On a shelf, there's row of black daruma (traditional dolls). "They date back to the Edo period (1603-1868): when the irori was in daily use, smoke from the fire turned the daruma black. We left them like that. There are around a hundred lamps hanging from the ceiling. "My grandfather, who made the miharugoma, col- lected them. He had a vast number of lamps as well as watches and clocks. When he died, no one had the heart to get rid of them, so we hung them from the ceiling: our interior decoration is rather unusual," he says with a smile.
JOHANN FLEURI
How To Get There
FROM TOKYO, the train is the best way of travelling to Koriyama. Thanks to the shinkansen, it only takes around 80 minutes to get there. you can also catch a Tohoku Line train – it's slower, but costs less than the high- speed train. That way, you can fully appreciate all the colours of the autumn scenery while enjoying an ekiben (bento-box meal), sold in the station. at this time of year, they are particularly tasty.
Bandai-atami onsen: www.bandaiatami.or.jp
sasanokawa shuzo distillery: www.sasanokawa.co.jp