No.83 [STORY] STORYHASEGAWA Chisa, pink film princess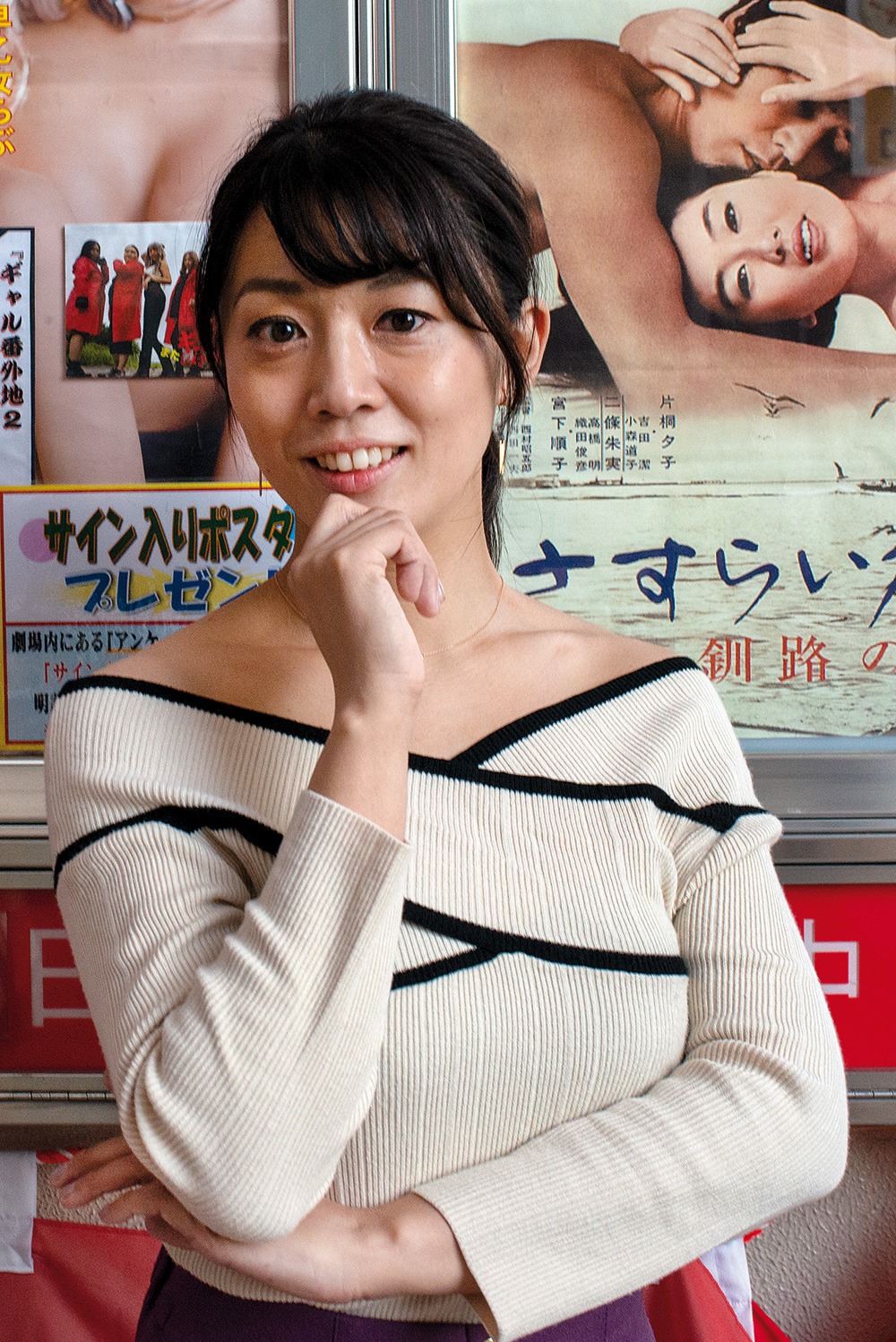 In 2019, HASEGAWA Chisa appeared in 6 pinku eiga.
"Pink films" are one of the pillars of Japanese film production. One of its actresses tells her story.
"Only in Japan" is a phrase that is often used to highlight Japan's supposed unique and somewhat weird culture. But when it comes to cinema, there is at least one thing that you will only find in this country: pinku eiga (pink films).
"Pink films" are a uniquely Japanese form of soft porn movies which, though containing several sex and nude scenes, never explicitly show genitalia, pubic hair or hardcore sexual intercourse. They are typically produced by small independent companies and are shown at special cinemas in triple-bills. Since KOBAYASHI Satoru directed Flesh Market in 1962, pink films have been a mainstay of Japanese cinema, and have even gathered their fair share of foreign fans.
In terms of production, pink films can hardly match Hollywood blockbusters let alone mainstream Japanese movies. What can be accomplished by a pink film is severely limited by its tiny budget: a measly three million yen. On the upside, directors enjoy a high degree of creative freedom. Indeed, pink films are a hotbed of new talent that, in many cases, is able to make the jump to mainstream films.
The list of former pink film directors is long and varied and includes TAKITA Yojiro who directed the long-running light comedy series Chikan densha (Molester's train) before going on to win the 2009 Academy Award for Best Foreign Language Film with Departures.
One of European film festivals' darlings is KUROSAWA Kiyoshi who has won two prizes at Cannes in the Un Certain Regard section and this year was awarded the Best Director prize at Venice. But his very first film, back in 1983, was a pink film: Kandagawa inran senso (Kandagawa pervert wars). In that film, one of KUROSAWA's assistants was SUOMasayuki. His directorial debut was Hentai kazoku: Aniki no yomesan (Abnormal Family: Older Brother's Wife, 1984), a witty erotic satire of OzU Yasujiro's family dramas in which he combined the plots of several of OzU's films. He also wrote scripts for other directors including Sukyanti doru: Nugitate no kaori (Scanty Panty Doll: Pungent Aroma, 1983). He later made mainstream films including Shall We Dance? (1996), a worldwide hit that earned nearly ten million dollars in America and was even remade into a 2004 film starring Richard Gere and Jennifer Lopez.
Pink film companies are always on the look out for new talent to keep their hardcore fans happy. A recent addition is actress HASEGAWA Chisa. Born in Kochi Prefecture, on the island of Shikoku, HASEGAWA moved to Tokyo at 18 when she entered college, and began to study acting while attending the prestigious Waseda University. After graduation, she appeared both in stage productions and indie films including Yuutsu na hana [Melancholy flower], a short film that was screened at the Shibuya Micro Film Festival in 2018, and for which HASEGAWA took the Best Actor Award. "This film contains a nude scene," HASEGAWA says. "At the preview, I was approached by veteran director IKEJIMA Yutaka who told me, 'If you have no problems being naked for an indie movie, why don't you try pink films instead?' (laughs). That's how I started."
HASEGAWA went on to make her first two pink films with IKEJIMA, whom she considers her mentor, and last year won the New Actress award at the annual Pink Grand Prix. IKEJIMA "Mr Pink" Yutaka is considered the most successful pink filmmaker. After joining TERAYAMA Shuji's theatrical group Tenjo Sajiki in the late 1970s, IKEJIMA debuted as a pink film actor in 1981. Now 72, he has appeared in more than 500 films and, since 1988, has directed about 140.
Comparing veteran directors such as IKEJIMA and the new wave of pink film creators, HASEGAWA says the two groups approach love scenes differently. "Older directors treat love scenes as a sort of fan pleaser," she says. "On the one hand, there's the story and then, every ten minutes, they drop in a sex scene to make the audience happy. Younger directors, on the other hand, tend to treat the love scenes as an integral part of the plot. There must be a reason to have sex at that particular moment." Though pink films are sexploitation movies, there is a difference between them and AV (adult video) films (the Japanese equivalent of porn flicks). While the latter genre is all about the "action", pink films are somewhat unique in that they combine soft-porn scenes with real plots encompassing any genre, from drama and action thrillers to horror and Sci-Fi. That's what first attracted HASEGAWA to the pink film world. On the other hand, HASEGAWA admits that her first experience with filming a pink film was rather traumatic. "Nude scenes in indie movies come quite naturally because they are part of the story development; they are there for a reason. But pink films are all about sex. They have plots, of course, but a lot of fans only care for the naughty scenes. So the camera often comes up close, under your skirt. It can be quite embarrassing."
HASEGAWA's intimate acquaintance with the camera also caused her a different kind of "technical problem". "During the many nude scenes, actresses have to wear a thong, which is something I never wear in daily life," she says. "But because in Japan showing pubic hair is forbidden, you must be very careful when you shoot a film. When I started appearing in pink films, I knew nothing about these things. One day, we were doing one of these scenes, and the director suddenly screamed 'cut!' He came to me and said, 'Why didn't you shave properly? Get rid of that hair, and be quick because everybody is waiting for you. We can't afford to waste precious time!' I was shocked. I remember thinking, what the hell am I doing here?! I spent years refining my acting… for this (laughs)?! Now I'm okay, but there was a time when I didn't really enjoy the love scenes."
As mentioned above, the sex scenes in pink films are simulated as there is no penetration. "When we shoot the sex scenes, we use maebari," HASEGAWA says. "Those are things that are attached to the crotch to cover the genitals. Great attention is paid to the camera angle when shooting so they don't show. Maebari include gauze, cloth and sanitary towels cut to an appropriate size and used in combination with adhesive tape. For male actors, in particular, things can become complicated because a sudden erection can cause the penis to peel off the maebari."
Pubic hair aside, during a pink film shooting every single minute matters as directors only have three days to complete a film, which makes for long working hours and a frantic shooting pace with practically no time for retakes. In fact, one of the things HASEGAWA does not like about pink films is that, because of time constraints, they are not able to rehearse.
"Another thing directors have to be careful about is how they spend their money," she says. "If they go over budget, they have to pay from their own pocket. However, there are directors who are backed by sponsors and have more financial clout."
Speaking of money, one thing that may surprise many people is how little most actors earn in this line of work. "On average, I get paid 50,000 yen per day," HASEGAWA says. "As a film is made in just three days, I only earn 150,000 yen. Last year, for example, I appeared in six films. You do the maths. That's why I have a part-time office job as well." HASEGAWA's six film credits were actually the most for any actress last year. "Some male leads work more than me, and, obviously, the top stars are paid better than me. On the other hand, though, top actresses are not allowed to work too much otherwise the fans get tired of always seeing the same face. For me, it's a little different because I usually play the number three female character in a film, so my screen time is comparatively shorter."
The presence of three female leads is one of pink films' "golden rules", the others being that each film is 71 minutes long and must feature a sex scene every ten minutes.
While sex is obviously what attracts many fans to the cinema, pink films are made in any kind of genre. "One of my most fun acting experiences was appearing last year in The Kindhearted Man," HASEGAWA says. "It's a horror story (pink kaidan or erotic ghost story, as they are called in Japan), and I play the ghost haunting the protagonist. I had to wear a mask the whole time, so you can never see my face. Also, there's a scene where they used real maggots. They were crawling all over my body during the shooting (laughs)! It was hard, but a lot of fun too." This film was screened at the Bucheon International Fantastic Film Festival, a rare case in which a pink film was invited to a mainstream film festival.
Last year, only 37 pink films were made in Japan – a far cry from the 230 titles that were produced during the genre's golden era in the first half of the 1980s. "It's hard to survive when there are so many free porn movies available on the internet," HASEGAWA says. "However, though pink films are on the wane in Japan, they have recently aroused the interest of movie fans abroad. The actresses are especially popular in Asia, while European fans seem to have a soft spot for the classic Roman Porno films of the 1960s and 1970s." In fact, pink films are sometimes screened at smaller European film festivals, "probably," HASEGAWA points out, "because there is less prejudice against the depiction of sex in films."
Out of the 37 titles that were made last year, 36 were produced by OP Eiga, said to be the largest and one of the oldest independent Japanese studios. OP Eiga also owns the Okura Theatre, the main venue to watch pink films in Tokyo.
According to HASEGAWA, there are two kinds of customers who frequent the Okura Theatre: those who go to watch the films and those who have other things in mind. "Many, if not most, of the fans belonging to the former group are old-timers," she says. "They are the hardcore fans who have been loyal to the genre for the last 30 years and like to see films on the big screen. One good thing about being small is that we have a tightly-knit community of followers, and we try to show our gratitude for their continued support. Before the pandemic, for example, we had monthly stage events at the Okura, and the theatre was always full.
"As for the latter group, many gays use the theatre for cruising. They don't care about what's being shown. They just buy a ticket and do their thing in the dark. And gays are not the only ones looking for sex. Let's say that an unaccompanied woman runs the risk of being molested."
HASEGAWA tries to keep a low profile about her work. "My family has never been interested in my acting, and I've never told them about the kind of films I appear in," she says. "If they knew the truth, I guess they wouldn't approve (laughs). My actor friends know what I do, of course, and they have no problem with it."
Now 38, HASEGAWA is aware that she only has a few years left to work in pink films, and she hopes to be able to keep acting in other productions. While she feels ambivalent about the amount of sex in pink films, she is grateful for the chance to work in them. "Since the beginning, I've always approached this job as an actress," she says. "To me, the fact that these are erotic movies doesn't really matter. I make films because I want to express myself; I want to tell a story and give life to a character. Having said that, if someone just likes to look at my body and finds pleasure in watching the sex scenes, I'm okay with that too."
G. S.