No.96 [HISTORY] Siu mai, an iconic morsel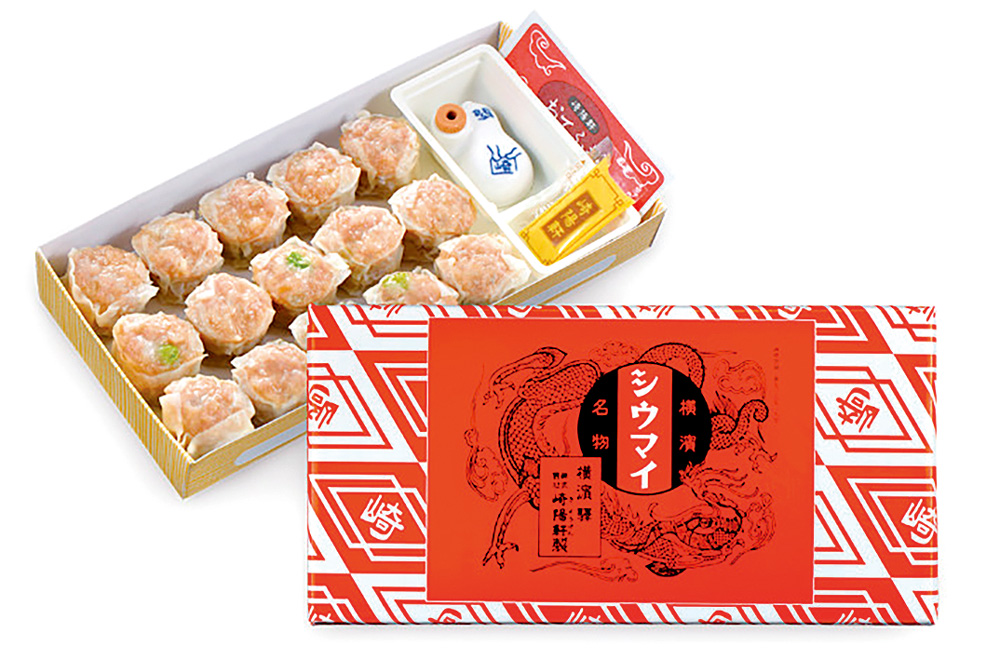 Kiyoken has been serving this dish for almost a century and has made it the city's culinary symbol.
Yokohama, with its port, has always welcomed foreign cuisines. It is where Japan's first ice cream factory was opened, and where other products such as sandwich bread, charcuterie, cocktails or Western- style cakes, including the famous strawberry sponge cake, were produced commercially for the first time.
But it was not just Western cuisine. The city of Yokohama is famous for its Chinatown, which developed from 1859 onwards, and for siu mai (shumai), traditional Chinese dumplings, which have become a local speciality thanks to Kiyoken, a restaurant founded in 1908.
Former Yokohama station-master Kubo Hisayuki and his wife came up with the idea of selling bento (lunch boxes) on the station platforms, and in 1923, Kiyoken began to produce a bento representing the city of Yokohama. To achieve this, they employed a Chinese chef to create small portions of siu mai, with a mixture of meat and scallops, which could be eaten easily on the train and would be delicious even when served cold.
During the war, and despite a fire due to an air raid wrecking their offices and the restaurant, they managed to reopen another restaurant in the centre of Yokohama Station the day after the calamity. Competition was fierce – passengers could buy their bento at any station – so to attract attention, the staff selling siu mai bento walked up and down the station platform wearing red Chinese outfits. They were called siu mai girls, and thanks to the ekiben (station bento) – the meal that travels with you – Kiyoken's siu mai became famous as Yokohama's flagship dish.
Siu mai has always been popular with the inhabitants of Yokohama. The company, which also sells bento at Yokohama Stadium, has collaborated with the municipal railway and the city council to promote ethical ways of managing food waste, and even sells a bento with plastic-free wrapping. In addition, in response to demands from travel agents, it has started to organise visits to its factory and has rapidly become a tourist destination welcoming around forty thousand visitors a year (booking necessary for your free visit).
The key to Kiyoken's success must lie in the fact that it has always kept close links with the city and its inhabitants. Rather than attempting to become a national brand, it has never ceased to claim that it is "from Yokohama", and, paradoxically, that is what has led to its gaining nationwide recognition. It no longer distributes its bento to all four corners of the country, and that is surely why visitors to the Kanto region, not to mention the inhabitants of Yokohama, are the largest consumers of siu mai in the Archipelago.
Incidentally, this revered siu mai has been given the Contribution to the City of Yokohama Award, making it the first non-living thing to receive this honour. Siu mai is well and truly the city's mascot.
Sekiguchi Ryoko