No62 [SERIES] A new lease of life for objects
Not wanting to be shut up in an office, this young entrepreneur chose a career in recycling.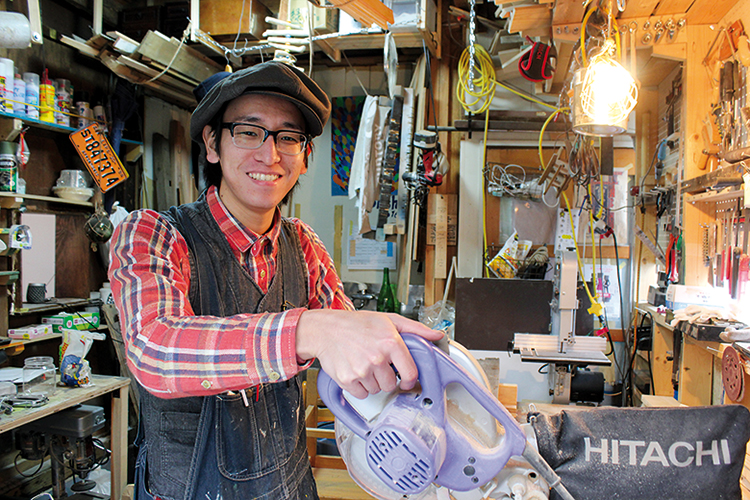 By creating Geppi Kosaku-sha, Yamauchi Takeshi has found a excellent way of establishing links with other people in the city.
Though the earthquake in 2011 brutally destroyed so much, it also highlighted the fact that people remain very attached to their everyday objects. In August 2015, Yamauchi Takeshi opened a shop selling secondhand household goods and furniture in the Tatemachi district of Ishinomaki. "It's the same for the city as a whole, we must make use of existing resources," he tells us as he busies himself in his city-centre workshop. Originally from the Izumi district, and having grown up in the district of Wakabayashi, this only child of two working parents spent time tinkering with everything he could lay his hands on. After studying architecture at Ishinomaki Vocational Secondary School, he was employed by a large residential construction company.
"At last, I can be creative," he said to himself when he began work. But his high hopes were dashed when he was sent to Sapporo for his first placement, where he was limited to working in an office. As a bachelor, his overwhelming passion for do-it-yourself had centred on making furniture. When he was transferred to Tokyo, he planned to change jobs and start a course in interior design. Rather than leave his job straight away, "as there was a national architecture competition, which could be beneficial in the future", he waited to get his diploma before resigning. "I wanted to be able to control the whole process from conception to realisation, which led me to making furniture," he explains. After the earthquake took place, he planned to take a course in making wooden furniture at a specialist college in Ishinomaki. After finding a flat, he handed in his resignation, but his line-manager said to him: "Don't you want to reconsider the matter?" Nor were his parents very encouraging."You're making a big mistake, you know," they told him. But he'd made up his mind. "Above all, I need to be creative". He was determined to do what he wanted.
However, his father, who owned a convenience store, was hospitalised just before the start of the course, so he had to give up the idea. After he'd worked three months in the convenience store, his father returned and resumed work. The lease on his flat in Ishinomaki hadn't come to an end, but his future remained uncertain. Thanks to one of his work colleagues who had a friend in Not wanting to be shut up in an office, this young entrepreneur chose a career in recycling. SERIES A new lease of life for objects Ishinomaki, he was able to make a new start. He joined a community association in the city and took part in various activities furnishing temporary accommodation for earthquake victims before finally creating, in August 2015, a workshop called Up Cycle Products (UCP). As the name indicates, UCP's aims were to give discarded objects a new lease of life. "I've nothing against new things, but it's also important to appreciate objects and use them to improve both our homes and inner sense of well-being in the long term," he confides. In January 2017, he renamed his workshop Geppi Kosaku-sha in the hope that "these objects can be part of people's lives for as long as possible."
Admittedly, he still hadn't made many connections in Ishinomaki, but he decided to start his activities here. "In Ishinomaki, once you've made a connection with someone, your circle of friends immediately grows larger. I'm delighted to have set up my business here," he says. His commitment is unwavering. "I'd like my creative work to bring me into closer contact with people, and I also intend to set up a community workshop where everyone can work together," he suggests as another step forward in the city's reconstruction.
OHMI SHUN, HIRAI MICHIKO