No.86 [TRAVEL] Tokyo, rollercoaster version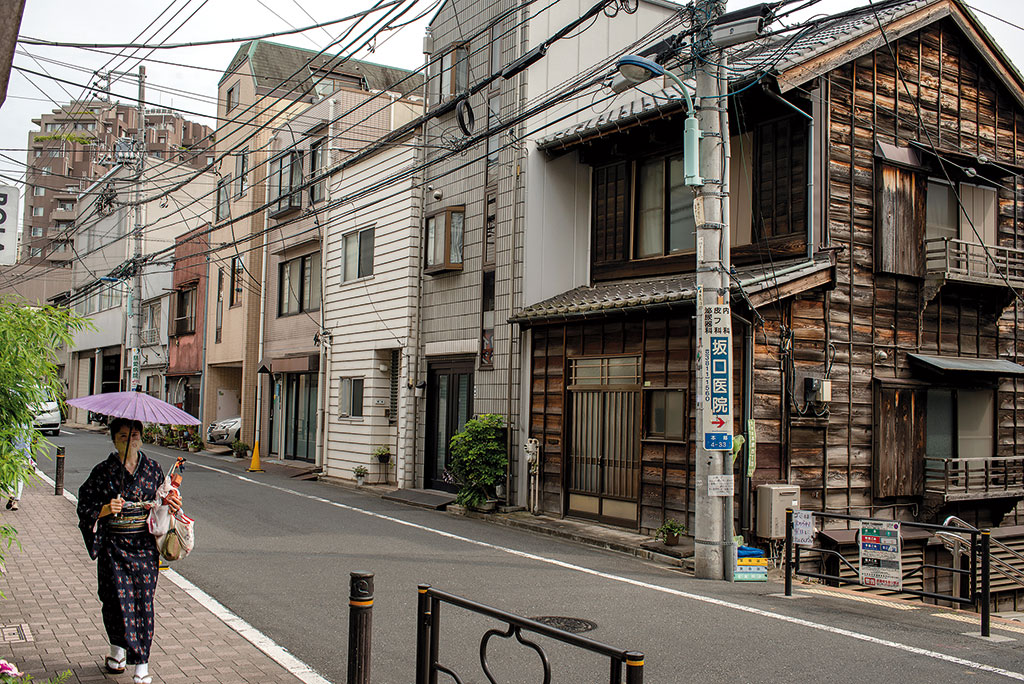 Hongo is one of the many districts in the capital where the numerous sloping streets are full of history.
Tokyo is often seen as a pedestrian-friendly place, probably because most of the more famous districts are pretty flat. However, the city of Edo – as Tokyo used to be called – was built on the eastern end of the Musashino Plateau whose loam formation (a mix of sand, silt and volcanic ash) is highly permeable and over time has been carved by the area's many rivers to form seven distinct plateaus divided by a branching network of valleys.
The result is that Tokyo is full of slopes and stairways, some of them quite steep. In the city's 23 special wards there are some 740 slopes (each one of them with a distinct name). As for stairways, the 17 wards comprising the hilly Yamanote area have as many as 2,939. In both categories, Bunkyo Ward is near the top of the list, and many of those slopes and stairways are concentrated in Hongo, Bunkyo's eastern district, famous for its many publishers, research institutes, and especially the University of Tokyo's main campus.
A walk around the area should start from Hongo- Sanchome Station on the Tokyo Metro Marunouchi Line. Heading north, our point of entry into the maze of backstreets and alleys is Tadon-zaka (zaka, or saka, means 'slope'). It derives its name from the fact that there used to be a high concentration of traders who sold tadon ('coal dumplings'), a kind of fuel made by mixing charcoal powder and red algae. Apparently, the term 'tadon' also refers to the fact that the final part of the slope was so steep that people who lost their balance tumbled down like rolling stones. Luckily, this section has been turned into a stairway with handrails up the middle.
Hongo is also a place where many writers have spent part of their lives, including NATSUME Soseki, MOrI Ogai, ISHIKAWA Takuboku, TSUBOUCHI Shoyo, MIzOGUCHI Kenji and HIGUCHI Ichiyo, so much so that one could almost say that modern Japanese literature was born here. TSUBOUCHI is considered a seminal figure in Japanese drama, but he wrote novels as well. Tosei Shosei Katagi [Portraits of Contemporary Students] was one of the earliest modern novels in Japan, and his book of criticism, Shosetsu Shinzui [The Essence of the Novel], gave new dignity to fiction writing. They both came out in 1885.
In 1921, 25-year-old MIYAzAWA Kenji left his home in Iwate Prefecture and moved to Tokyo after clashing with his father over his religious and social beliefs. It is said that the vegetarian MIYAzAWAwrote many of his stories while living in this area and subsisting on tofu and potatoes. However, he returned to Iwate after just seven months after learning that his beloved younger sister Toshi was ill. He would die in 1933 at the age of 37. Indeed, death at a young age is a common feature of several Hongo-based authors: ISHIKAWA Takuboku died at 26 and HIGUCHI Ichiyo at 24.
HIGUCHI's presence is still strongly felt around the area, both because a couple of places relating to her life still remain and because Hongo appears in some of her stories. In order to immerse ourselves in HIGUCHI's world, it's better to avoid Tadon-zaka's stairway for the moment and take instead a detour to the left where we can experience the evocative atmosphere of old Tokyo as it looked many years ago.
It is in this corner of the district, between Tadon-zaka and Abumi-zaka, that we discover a cluster of old wooden houses surrounded by shrubs and trees. They look quite run-down and it's a miracle that they have survived to this day. Exploring these labyrinthine alleyways brings back memories of a city that is all but forgotten elsewhere.
Finally, after descending yet another short flight of stairs, we reach the place where HIGUCHI lived for three years, from 1890 to 1893, between the ages of 18 and 21, with her mother and sister. While the building itself is gone, a well that is said to have been used by HIGUCHI can still be found in a quiet yard. The hand pump can still be used to draw water today, but if you want to drink it, you are advised to boil it first.
HIGUCHI lived at three different addresses around Hongo during her short life: when she was a child she lived across from the University of Tokyo's red Gate, while her masterpieces including the short story Nigorie [Troubled Waters] and the novella Takekurabe (translated in English under different titles: Growing Up and Child's Play) were written in a house in Hakusan Street where she died of tuberculosis.
After leaving HIGUCHI's hidden yard, we turn into a narrow residential street called Kiku-zaka Shimomichi (literally "the street under Kikuzaka"). It is said that a river used to flow along this street. Indeed, the ground on both sides rises as if it were river banks.
Another stairway lets us climb up one of the "banks" and reach Kiku-zaka, a gentle, 600-metre long slope that is the heart of the district. Nearly all the wooden structures disappeared during the war or due to age, and most of the shops and houses along the street are relatively new, but the area retains a nostalgic feel. The slope's name, by the way, is a reminder that this was once a broad area of kiku (chrysanthemum) fields. The chrysanthemums may have gone, but even now all the alleys and slopes are full of potted plants and seasonal flowers, which the residents put in front of their houses.
Today, Kiku-zaka is a quiet residential district, but there was a time when it was a lively commercial area filled with merchant houses with shop fronts called machiya. This building style was popular in the mid-Edo period (late 18th century) and the Meiji period (1868-1912) and consisted of a shop, a storehouse and the merchant's residence all under the same roof.
Luckily for us, a single example of machiya – the former Iseya pawn shop – has been preserved for posterity. Established in 1860, it remained in business until 1982, after which it was declared a Tangible Cultural Property, and today it can be visited at the weekend: its roof design, projecting lattice windows, and goblin-shaped roof tiles are clear signs of Edo-period architecture.
Originally, the pawn shop was actually located in Tokyo's Adachi Ward and it was relocated to its present address in 1887 – a huge task that required a great deal of money and the work of 396 artisans including 200 plasterers. Because of all the money and valuables stored inside the shop, they went to great lengths to ensure its was safe, particularly from the many fires that were a common occurrence at that time. The lattice work, for instance, was at one time made of brass, while below the hallway floorboards in front of the entrance we can still find a compartment to store kneaded mud to seal the storehouse door edges in the event of fire.
The Iseya pawn shop is another place that played an important role in HIGUCHI's life. She was born to a minor samurai family, but her father died when she was 17, leaving his wife and two daughters in poverty. HIGUCHI was named as head of the family, and she decided to become a writer while her mother and sister contributed to the family income by laundering and sewing kimono, but they continued suffering financial hardships. In her diary on 28 August 1892, she writes: "My work is yet to be recognised; there is no way to get even a cent," while on 15 March 1893, she reports: "Since yesterday, there is not even one cent left in the whole house." It was in those bleak times when she could not make ends meet that HIGUCHI took her family's few things of value to the pawn shop.
Bidding farewell to Iseya's dark memories, we continue exploring the slopes that branch out from Kiku-zaka and climb further up the plateau. In the past, Hongo had as many as 300 boardinghouses catering to the students who attended the nearby University of Tokyo and the many people who came from around the country to petition the ministries in Kasumigaseki. Among them was Homeikan. Built in the Meiji period, it survived the 1923 Great Kanto Earthquake and was later purchased by the current owner, the KOIKE family.
Many intellectuals and newsmen used to board here, and during the postwar reconstruction period, its three locations were full of petitioners. Then, in 1946, the government enacted an in business law, and the Homeikan began operating as a hotel, attracting both students on school trips and those who took the university entrance exams. In 2000, after overcoming many difficulties, the hotel was designated as a Tangible Cultural Property. However, the change in social trends and people's tastes has caused the Homeikan to struggle. For one thing, according to owner KOIKE Kunio, the declining birthrate has resulted in fewer school trips. Also, the Homeikan is a charming but aging building, and an increasing number of travellers now prefer the modern attractions that newer hotels can offer.
Finally, this year, the hotel posted a message on its website announcing that "due to various circumstances, we will be closed for a while from the end of May".
If you still have some energy left, Hongo has many more slopes that are waiting to be checked out, each one with its own unique story. Honmyojizaka, for instance, takes its name from a Buddhist temple that, during the Edo period, was located on the other side of Kiku-zaka and is known as the source of the Great Fire of Meireki, which reduced a good part of the city to ashes. Then, near the university's red Gate there is Miokurizaka (Send-off Slope). In the Edo period, people who were found guilty of certain crimes were expelled from the city. A bridge was built at the base of the slope, and it was there that they bade farewell to their families before departing in tears. Finally, there is Fujimi-zaka on the west side of the Water Supply Station Park from where, during the Edo period, Mount Fuji could be clearly seen beyond the Ochanomizu valley. There are many slopes with the same name scattered around Tokyo. Before the Meiji period, there were no tall buildings in Edo, and no pollution, and people could easily admire the sacred mountain even from the city centre.
On the way home, don't forget to climb Tadonzaka's steep stairway (Do you remember? We left it for last…) and pay a visit to the small but charming Bunkyo Furusato History Museum where you will find more interesting information about Hongo's storied past.
GIANNI SIMONE